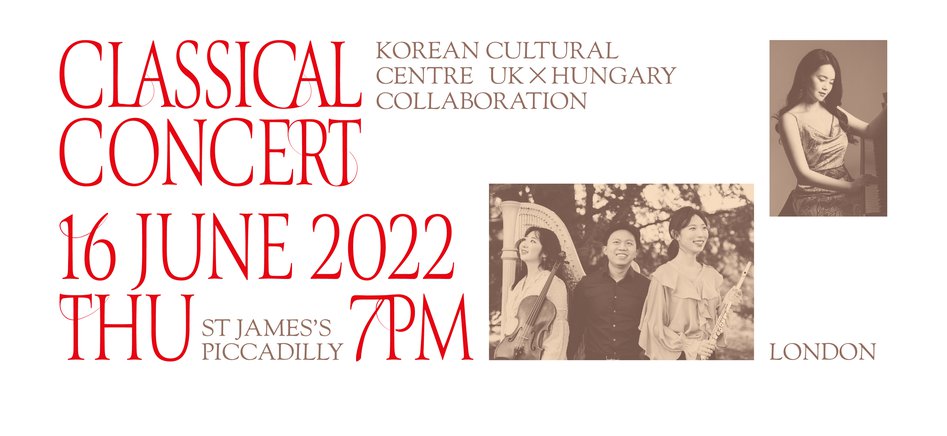 June's concert will prominently feature the music of Debussy
PART I PIANO SOLO
PART II FLARPIOLA TRIO
PIANO SOLO
HYUN-KYUNG LEE (PIANO)
FRANZ LISZT ACADEMY OF MUSIC/ BUDAPEST, HUNGARY


PIANO PARTITA NO.2 IN C MINOR, BMV 826 - J. S. BACH
SUITE BERGAMASQUE III CLAIR DE LUNE - C. DEBUSSY
MUSICA RICERCATA VII CANTABILE, MOLTO LEGATO - G. LIGETI


FLARPIOLA TRIO
REBECCA PARK (FLUTE), SUSIE CHOI (VIOLA), IAN LIM XIN ZE (HARP)
ROYAL COLLEGE OF MUSIC/ LONDON, UNITED KINGDOM


SONATA FOR FLUTE, VIOLA AND HARP - C. DEBUSSY
TERZETTINO FOR FLUTE, VIOLA AND HARP - T. DUBOIS
ARABESQUE - J. HOROVITZ
ARTIST BIOS:
HYUN-KYUNG LEE (PIANO)
Pianist Hyun-Kyung Lee, has won numerous international competitions. Ms. Lee has been chosen to audition in different countries and successfully led an official debut in South Korea with an orchestra. She got primary prizes such as 1st Prize, The 2nd from Korea-Asia Piano Open Competition, 2016; 2nd Prize, The 2nd Manhattan International Music Competition, 2016; 3rd Prize, The 3rd East Coast International Music Competition, 2017; and the 3rd Prize at the 3rd New York International Music Concours, 2017. She has collaborated with the Korean Cultural Center in Hungary to present various themes of the concerts. Ms Lee has been shown the outstanding performances such as Piano Solo Recital, 'Fall in Love with Schumann' 2019, 'Young Virtuoso Debut Concert' with Daejeon Philharmonic Orchestra, 2017, 'Young Artist Debut Concert' with Daegu MBC Symphony Orchestra, 2017 and 'The 4th Young Artist Debut Concert' with Jeju Philharmonic Orchestra, 2016. She is currently studying with Professors István Gulyás and László Baranyay at the Liszt Ferenc Academy of Music in Budapest, Hungary.
REBECCA PARK (FLUTE)
Rebecca Park is a Korean-Canadian flautist, currently studying with Gitte Marcusson and Adam Walker at the Royal College of Music where she is pursuing her Master of Performance degree. As a collaborator, Rebecca is currently involved in two chamber groups - a flute, viola, harp trio and a woodwind quintet at the Royal College of Music. She has also been active in larger ensembles including full orchestras and wind orchestras in both the RCM and the Royal Academy of Music, where she received her Bachelor's of Music degree. Rebecca has also been successful in placing in a total of eleven international competitions throughout her musical career- some of which include the Great Composers Competition, Salzburg Grand Prize Virtuoso Competition, and the Enkor International Competition. As a performer, Rebecca has been successful in performing in New York's Carnegie Hall at the age of fifteen where she performed solo flute in the Weill Recital Hall. Since then, she has given many solo performances in both the USA and UK. She has also performed in many masterclasses for widely known artists including William Bennett, Emily Beynon, Lorna McGhee, Paul Edmund-Davies, and Leone Buyse.
SUSIE CHOI (VIOLA)
South Korean violist/violinist Susie Choi graduated from Yewon Arts School in 2015, Seoul Arts High School in 2018 and currently studies with Yuri Zhislin at the Royal College of Music London. She started her music life since when she was 4, as a violinist. She has awarded numerous competitions including: The 39th Kyunggi Concours String/Violin 1st prize, Voice 1st prize(2007), The 37th Music Education News Concours 2nd prize(2008), Seoul Art Music Competition 1st prize(2011), The 3rd Seoul Orchestra Competition 1st prize(2011), SeoKyung Music/Musical/Jazz Concours 1st prize(2011). Moreover, she performed Violin Concerto 1st Movement by G. V. Viotti with 'Seoul Orchestra' in 2011 at the Sowol art hall and proved her talent. In 2014, during when she was studying violin at the Yewon Arts School, she met viola by destiny. Starting from the 48th Music Education News Concours, she has awarded various competitions. Notable awards include the 15th Korean Chamber Orchestra National Music Competition 2nd prize (no winner for 1st prize) (2014), the 10th Koreana Chamber Orchestra Music Concours 1st prize(2014), the 8th Sejong Arts & Culture Foundation National Music Concours 1st prize(2014), Global Artist Music Competition 2nd prize(2017). She has performed as a solo violist and chamber musician in many concerts. Notable concerts include 5th CCM special collaboration concert at Stay.round.G in South Korea(2016), Easter Concert in Torch Trinity Graduate University(2016), Just Vivace Festival Concert at STX Resort Mungyeong in South Korea(2017), Modern chamber music collaboration performance with traditional Korean instruments arranged by Chia Ying Tu at the SNU(Seoul National University) Tuesday Concerts; 100th Memorial Special Concert for Debussy in South Korea(2018), String band concert at St. Paul Cathedral with Maestro Mark Messenger(2018), RCM Chamber Concert(2018), Kings College Modern Music Society Concert with Composer Silvina Milstein(2019), Ukraine Mission Fundraising Concert in London(2019). In 2018, she played Viola Concerto by C. Stamitz with 'Bundang Chamber Orchestra' with Maestro ChangWoo Kang at Seongnam Arts Center Concert Hall and showed her musical beauty. Recently, she finished her recital in Korea at Ensemble Lian, concert titled "Violist/Violinist Susie Choi's House Concert <Variation>". She had master classes with Choong-Jin Chang (principal viola of The Philadelphia Orchestra), Maxim Vengerov, Maxim Rysanov, Antonello Farulli and Jennifer Stumm. She is continuing her music journey at RCM in London. Currently, she got the offers for postgraduate course from Royal College of Music, Royal Academy of Music and Guildhall School of Music and Drama. She is driven, passionate instrumentalist.

IAN LIM XIN ZE (HARP)
Malaysian harpist Ian first started learning the harp at the age of 15 with Ong Foong Huang in Kuala Lumpur, Malaysia. 2 years after, he frequently travelled to Singapore to have harp lessons with renowned harpist Katryna Tan. 4 years after learning the harp, he moved to London where he is currently studying his Bachelor of Music (Hons) in harp performance with Ieuan Jones. He has won several prizes, such as the RCM Harp Prize in 2021, 1st Prize for the 2018 Hong Kong Youth Performing Arts Festival Competition and 2nd Prize for the Vienna Virtuoso Competition in 2018. He was also a finalist in the 1st Camac Prize Taiwan Harp Competition (Open Pedal Harp Category) in 2016. Ian has performed with several professional orchestras, such as the National Symphony Orchestra (Malaysia) for the Final Fantasy World Tour in 2017, the Philharmonic Winds of Malaysia, and the Selangor Symphony Orchestra. Whilst studying at the RCM, he has performed in orchestral concerts with RCM Symphony and RCM Philharmonic, where he has worked with conductors such as Martyn Brabbins, Jac van Steen and Ryan Bancroft. He also rehearsed alongside the English National Opera, working side-to-side with ENO harpist Alison Martin. He has also performed in prestigious venues in the UK such as the Cadogan Hall. Throughout his harp studies, he has played for renowned harpists such as Marisa Robles, Catherine Michel, Chantal Matthieu, Jana Bouskova and Anneleen Lenaerts.