KCC HOUSE CONCERT: Programme for
July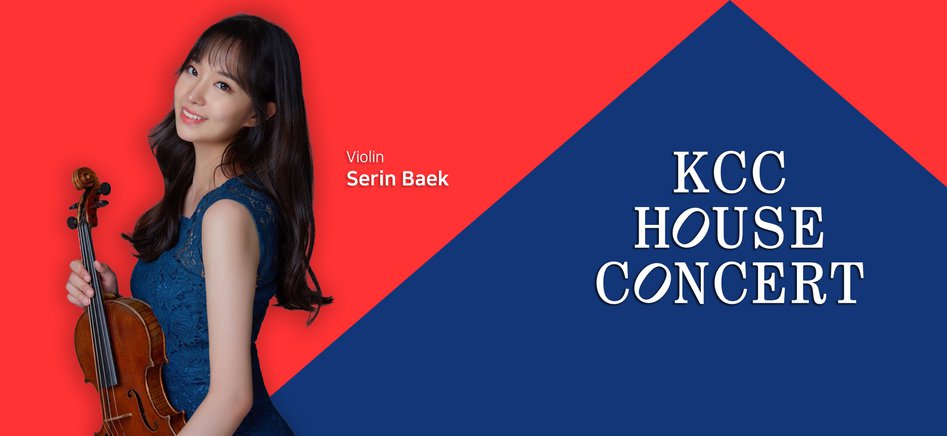 A variety of classical music performances to enjoy at home
Serin Baek(Violin), Thursday 29 Jul 7 pm
Programme:

Clara Schumann (1819 - 1896)
Three Romances for violin and piano, op.22
M.Ravel (1875 - 1937)
Tzigane


Check the Trailer here


Performers:
Violinist Serin Baek graduated from Yonsei University with First class honors and graduated from Royal Academy of Music with Distinction master's degree. She was offered the ABRSM Scholarship (A full scholarship officially sponsored by Queen Elizabeth including living expenses) during her studies and has once again received First class honors with high Distinction mark (the highest mark). She also has been awarded Diploma of Royal Academy of Music (DipRAM), an institutional prize awarded to student with outstanding performance in a Postgraduate Level Final Recital. Throughout her bachelor's degree, she had not only been given the role of the concertmaster at the university but was named the dean's list several times. Prior to her undergraduate studies, she graduated from Yewon school (middle school) and Seoul Arts High School, which are the most prestigious arts schools in Korea. Now, based on these academic achievements, she will further study her Artist Diploma at Royal College of Music.
She is currently an ambassador for Benedetti Foundation and has recently done her own recital in David Josefowitz recital hall with YouTube live streaming performances in Duke's Hall and Angela Burgess Recital Hall. She was officially invited to and performed at The Embassy of The People's Republic of China, Seoul and has received a Golden Medal in Vienna International Competition. She also performed with students from Indiana University, Jacobs School of Music at Kumho Art Hall. She is the winner of Korea Young Artist Competition, Seoul Philharmonic Competition, Korea String Association Competition, Korean Chamber Orchestra Competition, Seoul Orchestra Competition, Eumakchunchu Competition, Sungjung Competition, and Music Education News Concours. She was also awarded at Osaka International Competition.
Besides her various solo accomplishments, Serin Baek enjoys searching for a varied spectrum of music, not just being a soloist. She has collaborated with many major orchestras and instructors, including the conductor Myung-Whun Chung. She was invited to professional orchestras as a guest member and joined lots of programs. She also performed as a member of chamber music group and played as a school representative. In addition to these accomplishments, she has also performed in major concert halls in Seoul, including Seoul Arts Centre and Lotte Concert Hall.
Serin currently performs on the Ceruti from 1794 and Sartory bow on loan by the Royal Academy of Music.