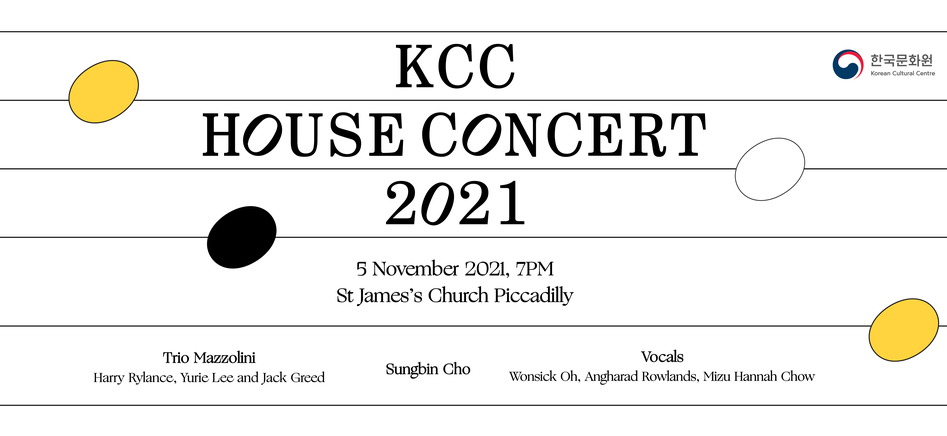 KCC House Concert
5 November 19:00 / St James's Church, Piccadilly
*ARTIST BIOS
(Click on the name below)


Harry Rylance (Piano), Yurie Lee (Cello), Jack Greed (Violin)

Sungbin Cho (Classical Guitar)

Wonsick Oh (Bass), Angharad Rowlands (Mezzo-soprano), Mizu Hannah Chow (Piano accompanist)
__________________________________________

Our first concert outside of our centre, this programme is designed to challenge classical conventions with amazing Korean artists performing classical music directly to the public. This is an exciting opportunity for us here at the KCC to bring our performances to a new and wider audience.
Audiences will be able to enjoy an exciting collection of both Western and Korean classical music. This will be a unique and experimental event, with the music providing a gateway into the respective cultures and bringing them together as one.
There will be performances of Piano Trio, Classical Guitar and Vocals. Don't miss this wonderful opportunity!

*Booking is essential

Trio Mazzolini
Harry Rylance (Piano), Yurie Lee (Cello), Jack Greed (Violin)
Mendelssohn Piano Trio No. 1 in D minor, Op.49

Sungbin Cho
(Classical Guitar)
Federico Moreno-Torroba
Montemayor (from 'Castillos de España')

Stephen Dodgson - Partita for Guitar
I. Allegretto con moto
II. Molto Vivace
III. Adagio
IV. Allegro

Federico Moreno-Torroba
Sonatina
I. Allegretto
II. Andante
III. Allegro
Antonio Carlos Jobim
A Felicidade (Arr. R.Dyens)

Intermission


Vocals
Wonsick Oh (Bass), Angharad Rowlands (Mezzo-soprano), Mizu Hannah Chow (Piano accompanist)
Rossini - Cruda sorte!... Già so per pratica
윤학준 - 마중
Massenet - Va! laisse couler mes larmes
윤학준 - 잔향
Korngold - Glückwunsch
정애련- 별을 캐는 밤
Walton - I was a constant faithful wife
장일남 - 신고산타령

Duration: Approx. 90 mins