KCC Home Theatre: Violin Concert - In Mo
Yang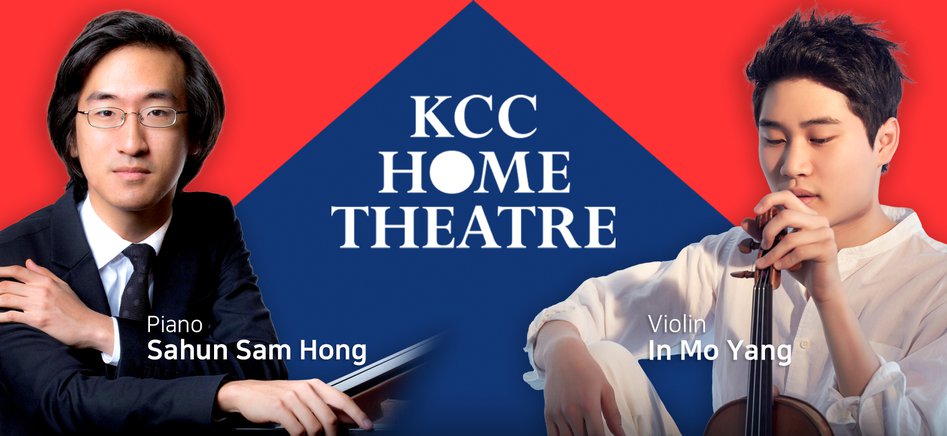 Violin Concert by In Mo Yang with Sahun Sam Hong (piano)
This week we'll be bringing you a violin concert by In Mo Yang with Sahun Sam Hong (piano) from the 2019 "Beautiful Thursday Concert Series" which the Kumho Asiana Cultural Foundation has hosted since 2007.
Yang presents a programme that encompasses all ages, including Baroque, Classical, and Romantic works. Yang opens this stage with the German composer Ries' La Capricciosa, before playing sonata for violin and piano by Beethoven. He will round out the concert with Grieg's sonata.
Streaming : 7pm, 1 October 2020 on the KCCUK Youtube channel
*Please note: this concert will be available to watch on our YouTube channel for two weeks after the stream.

Programme:
F. Ries La Capricciosa
L. V. Beethoven Sonata for Violin and Piano No.10 in G Major, Op.96
E. Grieg Sonata for Violin and Piano No.2 in G Major, Op.13
Performers:
In Mo Yang violin
In Mo Yang, who was praised by the Boston Globe for his "seamless technique and a tender warmth of tone" and "attractive ability to express inner sincerity through performance", was the winner of the 54th International Violin Competition "Premio Paganini" in Genoa, Italy, in 2015. In addition, he also swept up the following special prizes: youngest finalist, the best performance of the contemporary original piece, and performance most appreciated by the audience.
The top prize in the prestigious competition led him to be invited to perform at historic venues and with prestigious teams from all over the world. Examples include the debut recital at Weill Recital Hall in Carnegie Hall, an invitation to the concerto engagements with conductor Fabio Luisi and a special recital in Genoa using Paganini's own Guarneri Del Gesu violin.
Yang has performed at the Ravinia Festival, the Dresden Music Festival, and the Yehudi Menuhin Gstaad Festival. He has also worked with the Fairfax Symphony, Philharmonia Zurich and the Boston Philharmonic Youth Orchestra.
Yang made his concerto debut aged 15 with the KBS Symphony Orchestra. He graduated from the Korean National Institute for the Gifted in Arts in 2011 and was then admitted into the Korean National University of Arts as a prodigy in music. He has gained a Bachelor of Music degree at New England Conservatory, where he studied with Miriam Fried as a recipient of the Laurence Lesser Presidential Scholarship.

Sahun Sam Hong piano
Praised as an "artist already of enormous prowess" (Verbier Festival Newsletter) with "lots of clarity, confidence, and wisdom" (New York Concert Review), pianist Sahun Hong brings his colourful style and riveting energy to the solo, chamber, and concerto stage.
Hong won the Vendome Prize at Verbier and was the runner-up at the 2017 International Beethoven Competition, Vienna. He was also a finalist in the 2018 International German Piano Award and the 2017 American Pianists Awards.
He has been a Young Steinway Artists since 2010 and has been invited to perform with the ORF-Vienna, Milwaukee, Indianapolis, Camerata New York, Fort Worth, Richardson, Racine, Waco, Galveston, and Brazos Valley Symphony Orchestras. He has also performed on historic stages, including Carnegie Hall's Weill Hall, Lincoln Center's Alice Tully Hall, the Vienna Musikverein, Église de Verbier, Merkin Hall, and the Kennedy Center.
At the age of 16, Hong graduated magna cum laude from Texas Christian University (TCU) with a Bachelor of Music degree in Piano Performance, studying with John Owings. He is currently a student of Leon Fleisher in the Doctor of Musical Arts program at the Peabody Institute of Johns Hopkins University.