KCC Home Theatre: Chamber Series
I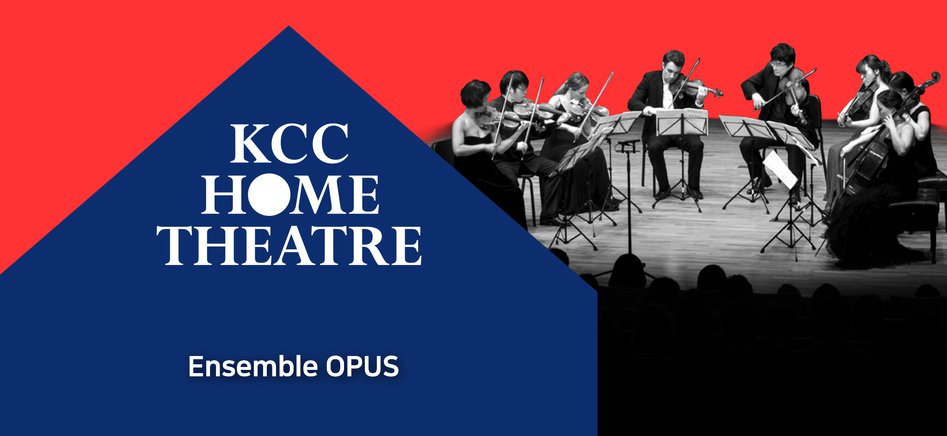 Chamber Concert I with Ensemble OPUS
Over the next two weeks the KCC Home Theatre will be showcasing highlights from the Sejong Chamber Series 2019, a series of orchestral performances by Korea's best chamber ensembles.
This week we'll be bringing you a concert by Ensemble OPUS which presents a fresh interpretation of Haydn's Hob V:16 – String Trio Op. 3 No. 6 on violin, viola and cello, followed by a performance of one of Schumann's most beautiful chamber music pieces, his Piano Quintet in E flat Major, Op. 44.
Live Streaming: Thursday 7 pm, 28 May 2020
*Please note: this concert will be available to watch on our YouTube channel for two weeks after the live-stream.
Programme:
J. Haydn Hob V:16 - String Trio Op.3 No.6 in C Major
R. Schuman Piano Quintet in E flat Major, Op.44
Performer:
Founded in 2009, Ensemble OPUS is under the direction of Korean composer Jeajoon Ryu and has Ju-Young Baek, violinist, as its leader. Along with its wide-range repertoire from baroque to contemporary, the ensemble first drew public attention in 2010 when it was invited to several music festivals in Korea such as Seoul International Music Festival. Since then, the ensemble has been invited not only to Seoul International Music Festival every year but also to numerous international music festivals around the world.
In 2011, it achieved remarkable acclaim for its performances in Casals Festival in Prades, France and St. Lizier Festival in Andorra. The following year, the ensemble was invited to perform at the Gorzow Philharmonic Hall in Poland and also had a successful concert in Bode-Museum, Germany with over 3,000 audience. As its stature has grown in Europe, the ensemble received high praise by German president Joachim Gauck for its performance in 2013 in Goslar, Germany. In 2015, Ensemble OPUS had a performance in Rennes, France as part of the celebrations to mark the 130th anniversary of the establishment of diplomatic ties between South Korea and France. Also Ensemble OPUS invited the Casals Festival in Prades to Korea as exchange concert with distingushed musicains from each side.
Ensemble OPUS performed with cellist Arto Noras, Li-wei, Henri Demaruette, pianist Ralf Gothoni, François Dumont, Peter Laul, Marek Szlezer, Juhani Lagerspetz, violinist Régis Pasquier, Gerald Poulet, Ning Feng, Christian Altenburger, Ilya Gringolts, Agata Szymczewska, Adam Barnett-Hart violist Hartmut Rohde, Clarinetist Michel Lethiec and composer Krzysztof Penderecki.