KCC Home Theatre: String Quartet - Abel
Quartet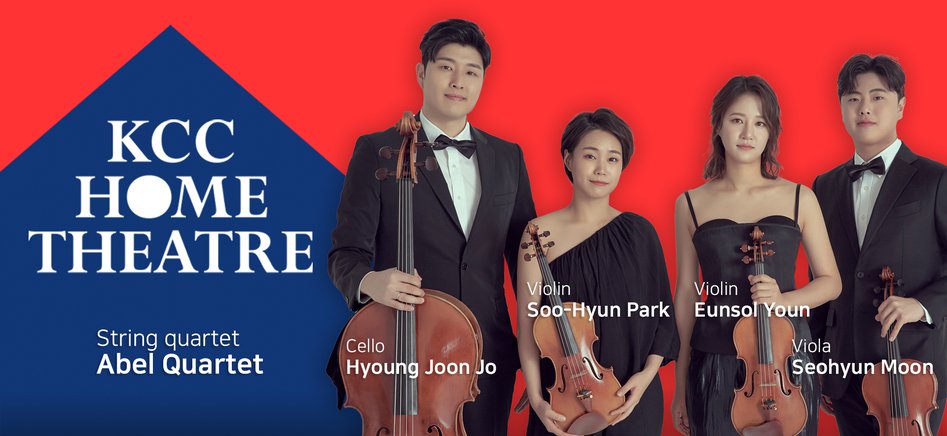 Abel Quartet, String Quartet with Eunsol Youn & Soo-Hyun Park & Seohyun Moon &Hyoung Joon Jo
This week we'll introduce to you a string quartet, Abel Quartet with Eunsol Youn (violin) & Soo-Hyun Park (violin) & Seohyun Moon (viola) & Hyoung Joon Jo (cello) from the 2020 "Beautiful Thursday Concert Series" which the Kumho Asiana Cultural Foundation has been hosting since 2007.
On this stage, they will mark the 250th anniversary of Beethoven's birth, and preform Beethoven string quartets No. 4, and 11, revealing themselves to be the next generation's flagship ensemble.
Streaming : 7pm, 8 October 2020 on the KCCUK Youtube channel
*Please note: this concert will be available to watch on our YouTube channel for two weeks after the stream.

Programme:
L. V. Beethoven String Quartet No.4 in c minor, Op.18/4
L. V. Beethoven String Quartet No.11 in f minor, "Serioso", Op.95
Performers:
Abel Quartet string quartet
The Abel Quartet is a string quartet composed of Eunsol Youn (violin), Soo-Hyun Park (violin), Seohyun Moon (viola) and Hyoung Joon Jo (cello). They are promising players each in their own right, with brilliant awards successes in international competitions already behind them.
The Abel Quartet were awarded second prize at the International August Everding Competition 2014 in the String Quartet category, first prize at the 6th Joseph Haydn International Chamber Music Competition in Vienna, and second prize at the 11th Concours international de musique de chambre de Lyon. Afterwards, they were awarded 3rd prize of "Concours international d'exécution musicale de Genève" and also at the International Chamber Music Campus by Jeunesses Musicales.
The quarter has been invited to perform as a quartet in residence at the Casalmaggiore Festival, in Italy, and at the Ticino Musica Festival, in Lugano. From 2019 onwards, they are also in residence at the Netherlands String Quartet Academy (NSKA), where they receive masterclasses by Marc Danel etc.
After its formation, the Abel Quartet studied in Munich under the supervision of professors Christoph Poppen and Hariolf Schlichtig, and is currently based in Vienna, where they study under Prof. Johannes Meissl.