Where Belfast Meets Korea : The Walking
Tour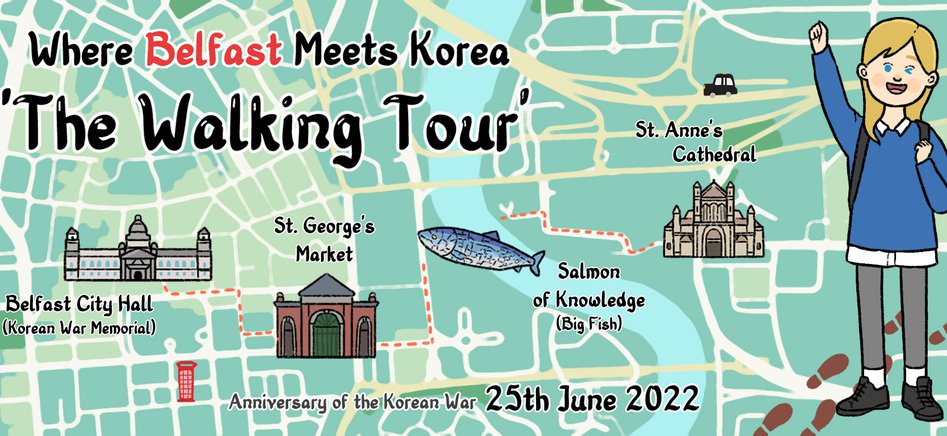 In partnership with the Korea Tourism Organisation London Office
What a wonderful opportunity to discover a little bit of Korea in the city of Belfast.
After the success of our previous walking tours, we are back by popular demand. This time, we explore the city of Belfast to commemorate the outbreak of the Korean War that began on the 25 June 1950.
In partnership with the Korean Tourism Organisation, we invite you to take a tour of the city of Belfast and introduce Korean culture. We also explore the history and friendly relationship between the UK and Korea, through key historic sites.
During the outbreak of the war, the ship, HMS Belfast, played a crucial role and supportive role of the South Korean and United Nations forces on land.
The walking tour will begin at 10 am and finish at 12:30 in the afternoon.

Our expert Belfast Blue Badge guide Silvia Ballocchi will introduce the best spots to discover Korean culture, from the Belfast City Hall's Korean War Memorial, to St. George's Market.
As we will be travelling to all locations on foot, we advise those who would like to take part, to come full of energy and with appropriate footwear. Some refreshments will be provided on the way.
To apply, fill in the application form provided in the link below by no later 15 June. Our computer software will randomly select 25 applicants who will be notified by email. This will be followed by a waiting list.
Should any applicant cancel, their space will be offered to the next person on the waiting list and so forth.


Tour details
Date: Saturday 25 June 2022
Time: 10.00 am – 12.30 pm
Venue: Various locations across Belfast*
Spaces: 25
Application deadline: Wednesday 15 June
Application form: apply here
*Exact meeting point to be confirmed with successful applicants via email.