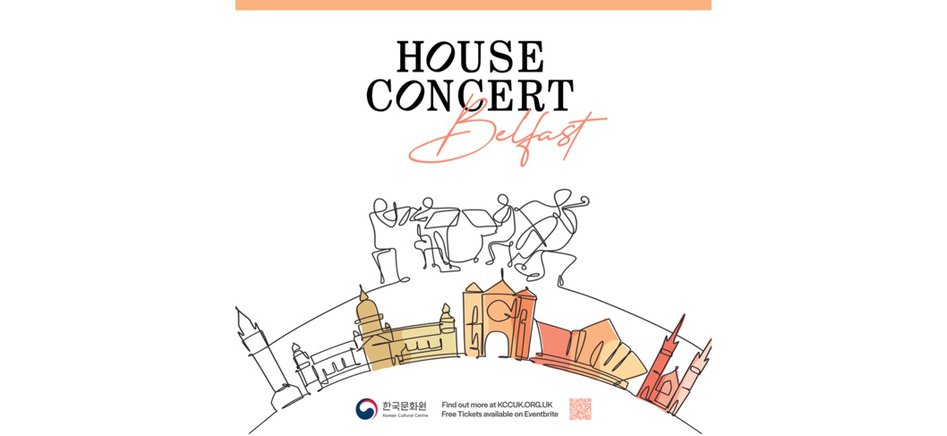 House Concert Belfast will be held as a part of 'Where Belfast Meets Korea: The Walking Tour'
Saturday 25 JUNE, 2 pm, Linen Hall Library, Belfast
The Korean Cultural Centre is coming to the city of Belfast to commemorate the outbreak of the Korean War, which began on the 25 June 1950. As a part of this, our house concert will be held at Linen Hall Library in Belfast which holds many books on the Korean war such as 'The Royal Ulster Rifles In Korea'. This library is also located opposite the Belfast City Hall's Korean War Memorial. This will be a great opportunity to think back about the past and the shared history of Northern Ireland and Korea.
We will present the traditional Korean song 'Arirang' along with 'Londonderry Air (AKA Danny Boy)'. Some classical music will also be performed.
____________________________
THE STRING QUARTET
Dvorak String Quartet No.12 in F major, Op. 96 "American"
I. Allegro ma non troppo
II. Lento
III. Molto vivace
IV. Finale: vivace ma non troppo
Arirang
Londonderry Air
____________________________
ARTIST BIOS
Mabelle Young-Eun Park, Violin
Mabelle Young-Eun Park is a violinist from Seoul, Korea and was born in Germany. She is currently studying at the Royal Academy of Music with full scholarship as an undergraduate student with So-Ock Kim. She is a recipient of the Harbour Foundation Award and is being generously funded by the foundation for her studies since 2020. She graduated from Yewon School and Seoul Arts High School, where she was on the academic honour roll each year and received merit-based scholarships. Mabelle won the Harold Craxton Prize in the year 2022 and is on The Frost Trust Advanced Specialist Strings Ensemble Training (A.S.S.E.T) scheme under the coaching of the Doric string quartet with her string quartet, supported by the Royal Academy of Music. She performed for the Drapers' Company 28th Annual Concert Series 2022 in Drapers' Hall. Mabelle was selected and sponsored by the Dongri Culture Foundation where she received the Music Potentiality Scholarship and was loaned instruments during her studies in Korea. She performed as a soloist at the Sejong Culture Center and gave invitational performances at the Moscow Music Center, Carnegie Hall in New York, and the Tokyo College of Music. She won 1st prize at the Seoul Youth Chamber Music Competition, along with the MTNA Competition in America, Washington Performing Arts Prize, Hanneum Philharmonic Orchestra Competition, Sung-jung Music Competition and more.
Kynan Walker, Violin
Kynan is a British-Japanese violinist born in 2002; he began his violin studies at the age of 6. Kynan discovered a special passion for orchestral and chamber music playing after winning a place in the National Youth Orchestra of Great Britain in 2017. He was appointed their Leader at the age of 16 and held that post for three consecutive years which led to numerous performances in the UK and Europe's most prestigious concert halls and festivals such as the BBC Proms in London's Royal Albert Hall and YoungEuroClassic in Berlin's Konzerthaus. Kynan is currently an undergraduate student at the Royal Academy of Music with a scholarship where he is under the tutelage of Philippe Honoré. Kynan is a member of the Edenis Quartet where they receive weekly tuition from John Myerscough as part of the Academy's prestigious Frost-ASSET scheme for string quartets. Opportunities have led to collaborations with Guy Johnston and Brett Dean, and forthcoming engagements include a world premiere by renowned British baritone and composer Roderick Williams OBE and a return to the Hatfield House Chamber Music Festival. Other chamber music engagements have including a debut performance at the Wigmore Hall playing Roxanna Panufnik's Oboe quintet with oboist Nicholas Daniels.
Jamie Howe, Viola
Jamie Howe (20) is currently in his second year studying viola under Jon Thorne and violin under Philippe Honoré at the Royal Academy of Music in London. A former leader of both the City of Belfast Youth Orchestra and the Ulster Youth Orchestra, Jamie attended sixth form at Chetham's School of Music in Manchester. In addition to benefitting from numerous masterclasses and expert coaching, Jamie developed a huge interest in chamber music. A particular highlight was the opportunity to perform alongside the Manchester Camerata as part of its series of Mozart piano concerti with soloist Jean-Efflam Bavouzet under the direction of Gábor Takács-Nagy. Jamie is a former member of the viola section in the National Youth Orchestra of Great Britain. Concert highlights with the orchestra include performances of Shostakovich's Symphony No. 11 at the London Barbican and Beethoven's Symphony No. 3 at the BBC Proms.
Danushka Edirisinghe, Cello
Danushka is a second year undergraduate student at the Royal Academy of Music. He started learning the cello at the age of 6 and in 2017, began studying at the Junior Department of the Royal Academy of Music with Ben Davies. In 2019 he gained a place in the National Youth Orchestra (NYO) of Great Britain before becoming the principal cellist of NYO 2020 and 2021. He performed in concerts all over the UK with NYO, including at the BBC Proms, as well as a concert in the Konzerthaus Berlin. Danushka is currently studying for his music performance degree at the Royal Academy of Music under the tutelage of Hannah Roberts with a full tuition fee scholarship sponsored by ABRSM. In his first year at RAM he won the May Mukle/Douglas Cameron Cello Prize. He has enjoyed being a part of many chamber music and orchestral concerts, having led the cello section of both the Academy Chamber and Symphony Orchestra.
Please bear in mind that tickets are on a first come, first served basis.
Please arrive between 1.30-1.50pm if possible so you can be seated when the performance begins.