Where London Meets Korea: Liberation Day Walking
Tour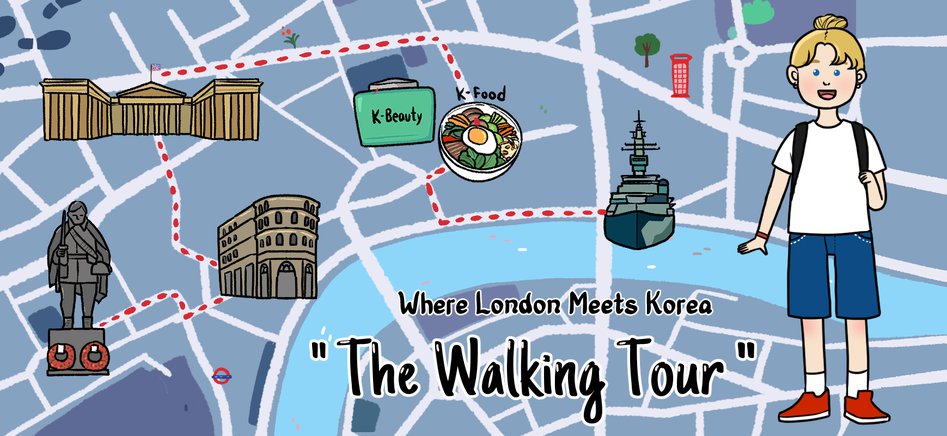 In partnership with the Korea Tourism Organisation London Office
Due to popular demand, our walking tour is back – and this time we're commemorating Gwangbokjeol (광복절, National Liberation Day) with added stops that are central to the historical relationship between the UK and Korea.
Gwangbokjeol is one of the most important dates in the Korean calendar, commemorating Korea's liberation from Japanese colonial rule in 1945.
We're inviting you on a walking tour of central London to explore the locations that played a crucial role in UK-Korean relations throughout the 20th century – from the Korean War Memorial to HMS Belfast.
Along the way, our expert Blue Badge guide Eun Sun Shin will introduce the best spots to discover Korean culture in London – from Korean street food and groceries to art galleries, K-Beauty and more…
And if that's not all, participants will be given a K-Goodie Bag courtesy of the Korea Tourism Organisation with all the information you'll need to help plan your eventual trip to Korea!
Apply below for the chance to take part.

Please note: we will be travelling to all locations on foot, except for the final stop which we will reach by boat. This may be strenuous for those unused to walking long distances – some refreshments will be provided but please come full of energy and with appropriate footwear!
Tour details
Date: Sunday 15 August 2021
Time: 10.00am – 13.00pm
Venue: Various locations across Central London*
*exact meeting point to be confirmed with successful applicants via email.
Spaces: 20
Application deadline: Wednesday 11th August
Application procedure: Fill in your application form here. Once the application window has closed our computer software will select at random the successful applicants first and then a waiting list, and the successful applicants will be contacted by email with further details. Should any applicants cancel, their place will be offered to the first person on the waiting list and so on.
COVID-19 Safety Requirements
We ask for your cooperation in following all UK government guidance for COVID-19 safety at the time of the tour. Spaces are limited to allow for social distancing where necessary. Depending on their regulations, you may be required to wear masks, submit to temperature checks and/or follow social distancing rules at any of the indoor stops on the tour (restaurants, shops, museums, etc). We strongly advise regular self-testing for COVID-19; the UK Government are offering free rapid home testing kits, which can be ordered here.