Woo Kwan's Korean Temple Food - Book Talk and Tasting
Event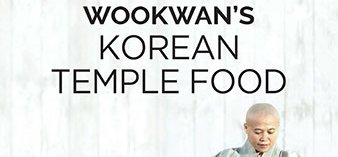 Woo Kwan's Korean Temple Food - Book Talk and Tasting Event
Date: Wed 2nd MAY 2018
Time: 6:30 pm – 8:30 pm
Venue: Korean Cultural Centre UK
The Korean Cultural Centre UK are delighted to introduce Korean Temple Food to London with the Buddhist nun and chef, Woo Kwan. Woo Kwan is a temple-food expert and leading practitioner of this discipline. We will also be celebrating the launch of her new cook book, Woo Kwan's Korean Temple Food, to be written in English.
On the 2nd May, Woo Kwan will share her philosophy and principles behind Korean temple food, described as "a perfect meal, full of nature's goodness", Attendees will be able to enjoy a selection of dishes and discuss the origins and meaning behind Korean Temple cooking.
APPLICATION PROCEDURE
▶Application Window: 9 April – 22 April 2018
* Application forms received outside of the application window will not be accepted.
▶How to apply:
Download the 'Application Form' from the KCCUK website. Complete the application process and submit via info@kccuk.org.uk with the subject 'Woo Kwan's Korean Temple Food'.
SELECTION PROCEDURE
▶ Attendees selection is based on the application. Please note that we may give priority to those who are interested in Korean Culture or active on social media. We will send you an e-mail regarding the result of the selection.