Online Korean Cuisine Class: Cooking with
Kimchi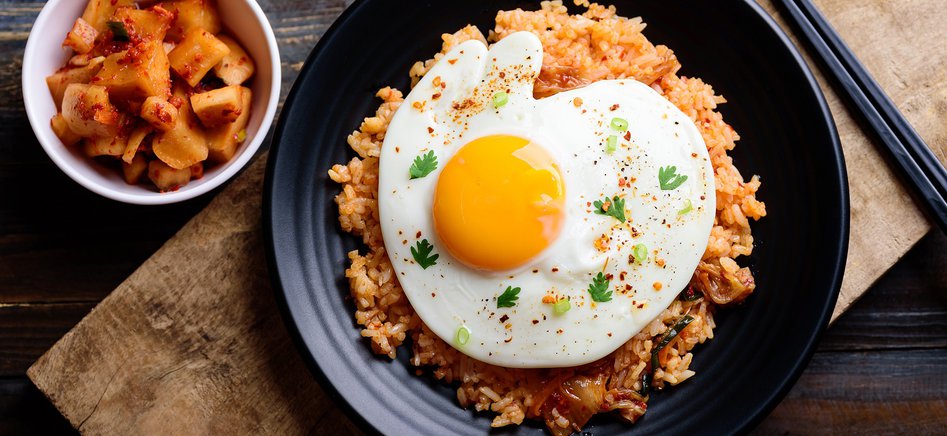 KCC Hansik Class
Reserve your place by 11 Apr 2021
For the second session of our Korean Cuisine Classes, the KCCUK presents another online class looking at the wonders of Kimchi. This time, you can get some cooking tips, using your homemade kimchi, which you made in the previous class.

The instructor, Da-Hae West is a Korean cookery teacher, consultant and author of K-Food. Da-Hae is an authority on Korean food, having worked behind the scenes on TV shows Gizzi Erskine's Seoul Food and John Torode's Korean Food Tour, as well as personally appearing on the BBC's One Show and The Travel Channel's Footie Shorts.

During this class, Da-Hae will introduce two delicious dishes made using Kimchi, which is Kimchi-jeon (Kimchi pancake) and Kimchi Bokkeumbap (Kimchi fried rice). The event features a demonstration of how to easily make these dishes using shop bought ingredients.

In May, we are planning to have a Korean Cuisine Workshop, so don't forget to check our website, newsletter and social media for more details of our upcoming events.



Introducing Kimchi
Kimchi is a staple in Korean Cuisine, which is served as a side dish with every meal. It's a fermented food made of cabbage and a variety of seasonings. There are a lot of varieties which include radish, onion, cucumber and different spices. It can be eaten on its own or used to make other dishes like kimchi fried rice or kimchi pancakes. Kimchi is known as a healthy super food, which contains a form of lactobacillus bacteria. These healthy microorganisms remove harmful bacteria and help to restore gut health.

Introducing Hansik
Hansik refers to Korean food, or Korean cuisine. According to the Korean Food Promotion Act, hansik specifically means "food made using food ingredients used in Korea, or similar ingredients, and food made using Korea's traditional cooking methods or similar recipes, as well as making use of tangible and intangible resources, activities and food culture related to that food."
Koreans usually eat rice as their staple food and have it with various side dishes. Basic side dishes included a soup or stew, kimchi, and sauces and pastes, as well as other various types of food made using meat, fish, and vegetables.


Event Details
Date: Friday 16 April 17:30 – 18:30 (BST)
Venue: ZOOM (Online)
Entrance Free - Booking Essential
Apply to info@kccuk.org.uk with your name, email by 11 April 2021.
The event is free of charge, but booking is essential.
* Privacy policy: This event will be audio and video recorded through ZOOM. By attending this event, you are consenting to being recorded.


Ingredients of Kimchi-jeon (Makes 12 small pancakes)
125 (4oz) self raising flour
200ml (7 fl oz) ice-cold fizzy water
125g (4½ oz) cabbage kimchi, drained and finely chopped
½ long red chilli, finely sliced (optional)
2 tablespoons kimchi liquid
1 spring onion, finely sliced
1 tablespoon gochugaru
½ teaspoon of salt


Ingredients of Kimchi Bokkeumbap (Serves 2)
1 tablespoon vegetable oil
100g (31/2oz) pork belly, finely chopped (for vegan, this could leave out or use vegan bacon)
150g (5oz) kimchi
400g (13oz) cooked short grain rice
1 tablespoon sesame oil
1 tablespoon sesame seeds
Pinch salt
2 eggs (for vegan, this could leave out or use vegan cheese)
2 spring onions finely sliced


You will also need:
Chopping board x 2
kitchen knife
large non stick frying pan
small frying pan to fry egg (optional)
Spatula/fish slice to flip the pancake
wooden spoon/plastic spatula
Mixing bowl
Small bowl
Scissors
Tablespoons, teaspoons
whisk
ladle
kitchen towel
2 x plates for serving


Image Credit: Shutterstock
Make your own kimchi by trying the recipe
below.