KFN2: Love Without Boundaries: Shorts
Night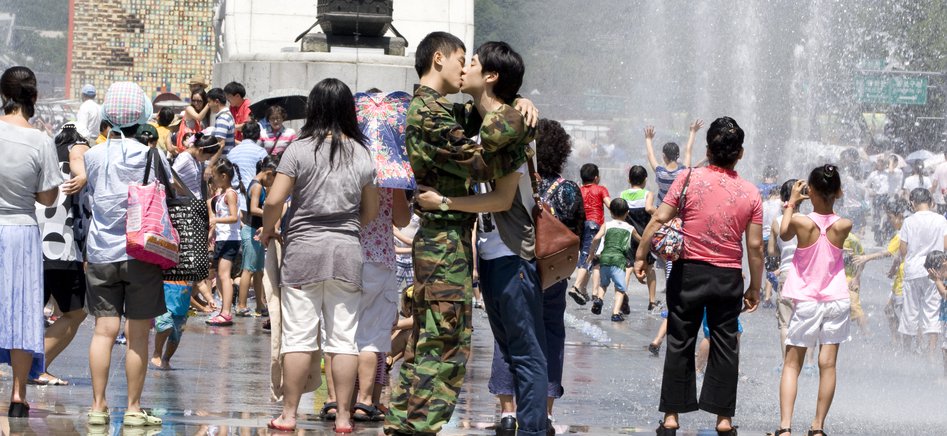 As part of the Korean Film Nights 2019 season, Love Without Boundaries.
Love Without Boundaries is a night of short films, revolving around a strong central theme of LGBTQ+ struggles within South Korea.
First Love (깊고 오랜 사랑)
Director: Kang Ji-Sook
Cast: Seo Woo-Rim, Jeong Haeng-Sim
28 mins, 2016 / Eng Subs
Written and directed by a young female filmmaker, this beautifully acted short film is a heartbreaking tale of the devastating impact of illness and death on loving couple Young-hee and Sun-jung. These two women, who have loved each other for forty years, face extreme prejudice and discrimination when Sun-jung is diagnosed with lung cancer, revealing the desperate need for legal recognition for same sex couples.
Sugar Hill (슈가힐)
Director: Lee Song Hee-Il
Cast: Park Jae-Hyun, Jin Kyung, Byun Jung-Joo
23 mins, 2000 / Eng Subs
The film is based on the true story of Kim and Lee, two men who have fallen in love. In a desperate attempt not to lose Lee, who is under pressure to get married, Kim, after much agony, introduces Lee to his unmarried sister as a prospective husband. With great tenderness toward his characters and a claustrophobic atmosphere, Lee Song Hee-il explores, in his first short film, the consequences of the societal pressure placed on homosexual men in Korea.
A Blind Alley (골목길)
Director: Oh Suyeon
Cast: Oh Woori, Lee Haeun
27 mins, 2017 / Eng Subs
The intense relationship between two best friends Moonjoung and Eunjae is tested when Moonjoung's behaviour suddenly becomes out of character, due to an incident she can't bring herself to reveal. At their school, rumours begin to circulate that one of the students is a lesbian. Moonjoung tentatively broaches the subject of her own sexual identity to Eunjae and together they must recalibrate their friendship.
A Space Man / (The second chapter from Yellow Hair 2 / 노랑머리 2)
Director: Kim Yoo-Min
Cast: Harisu, Yun Chan, Shin Yi
17 mins, 2001 / Eng Subs
A Space Man is the second chapter of the feature Yellow Hair 2, which explores eroticism and complex relationships through a fragmented narrative. Famously, Korea's first transgender entertainer Harisu made her film debut here as "J", whose identity is put into question by the many characters who do not expect her unabashed strength to show.
Just Friends? (친구사이?)
Director: Kim-Jho Kwang-Soo
Cast: Yeon Woo-Jin, Lee Je-Hoon
30 mins, 2009 / Eng Subs
The second in a trilogy of gay short films drawn from director Kim-jho Kwang-soo's own experiences, Just Friends depicts the relationship between Min-soo, a young man in the midst of his compulsory military service, and his lover Seok-i (played by star-to-be Lee Je-hoon [Bleak Night, I Can Speak] in his acting debut), and the strain caused by the discovery of their more-than-friendly relations by Min-soo's devoutly religious mother. Director Kim-jho deftly utilises both camp musical sequences and a moving, naturalistic portrayal of both characters, while exploring the short-sightedness of Korean institutions and the discrimination faced by gay men in love in Korean society.
The five short films play as part of the Korean Film Nights 2019 season, Love Without Boundaries.