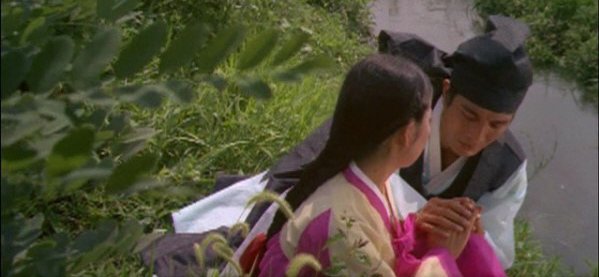 Part of our Trapped! The Cinema of Confinement Korean Film Nights season. Programmed in collaboration with the Birkbeck Film Programming and Curating MA course.
Watch a recorded introduction by Julia Martos from the KFN Trapped! Confinement curatorial team followed by Shin Sang Ok's exquisite costume drama 'Eunuch' on the Korean Film Archive's YouTube channel.
The Film and introduction will be avaliable in playlist created by LKFF. Live from Thursday 30 July, 7pm: https://youtu.be/nP6EJ34i8go
Considered one of the great masters of Korean cinema of the 1960s, Shin Sang-Ok brings us this colorful costume melodrama set in the feudal society of medieval Korea. In a prison-like palace, a whole community of eunuch soldiers are confined by their King along with his concubines. In an atmosphere of high sexual repression a love story arises: a noble and beautiful young concubine, sold to the monarch by her father, Ja-Oak, has a forbidden relation with an eunuch, Jong-ho. Their misfortunes and dreams guide us through the sensual setting of the palace to reveal what the true relationship between the protagonists is, and how the King's ambition will trigger a love triangle.
On top of that, Sang-Ok's concern for the condition of women in Korean social history can be rightfully found in Eunuch, where issues like motherhood or female sexuality are interwoven into the desire of the young concubine Ja-Oak to escape from an oppressive society.