Where Edinburgh Meets Korea: K-Pop Themed Walking
Tour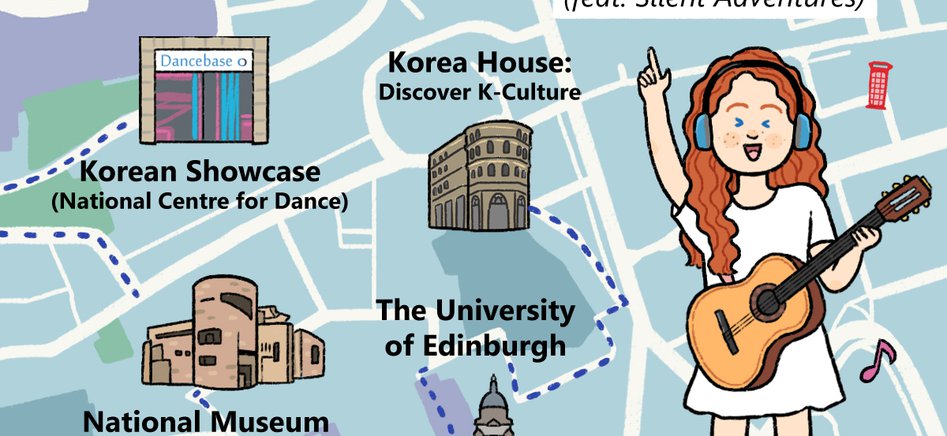 We take a walking tour through the city of Edinburgh but with a K-Pop twist!
In partnership with the Korean Tourism Organisation, we invite you to take a tour of the city of Edinburgh and introduce Korean culture. We also team up with the Silent Adventures team where we will rhythmically dance and walk through places in the city that share a connection with Korea.
Expect to hear some renowned K-Pop songs with popular songs from Silent Disco Tours as you take a walking/dancing tour with this great team.
As we will be travelling to all locations on foot, we advise those who would like to take part, to come full of energy and with appropriate footwear.
To apply, fill in the application form provided in the link below. Our computer software will randomly select 25 applicants who will be notified by email. This will be followed by a waiting list.
Should any applicant cancel, their space will be offered to the next person on the waiting list and so forth.
Tour details
Date: Sunday 7 August, 11am & Thursday 11 August, 3pm & Friday 26 August, 3pm
Venue: Various locations across Edinburgh*
Spaces: 45
Application deadline: 1st Tour - Thursday, 4 August
Application deadline: 2nd Tour - Sunday, 7 August
Application deadline: 3rd Tour - Tuesday, 23 August
Application form: apply here
*Exact meeting point to be confirmed with successful applicants via email.
Photographs, videos, and press photography
This event will be video recorded with photographs taken throughout the tour. By entering you will be giving your consent to being photographed and filmed. Footage will be used for our social media posts and our Youtube channel.