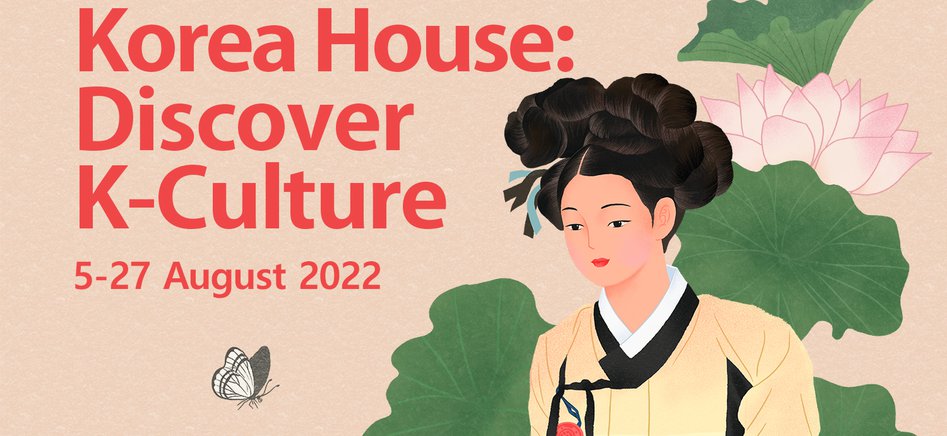 To celebrate Korean culture during Edinburgh' summer festivals season, the Korean Cultural Centre UK is opening a pop-up centre in Edinburgh this August.
The Korea House like our 'Korea Day', aims to bring Korean culture to various cities around the UK. We are bringing this extended month-long version to the city of Edinburgh with a variety of cultural activities for you to experience.



Hanbok
Hanbok (한복) is the traditional dress of the Korean people. It is worn on special occasions and anniversaries. The unique clothing lines of hanbok create a delicate flow in line with the body and is especially visible when the wearer of this clothing is moving. Unlike suits made to fit the body, hanbok is loose and expresses the richness and softness of the clothes. You will be able to try on hanbok and take selfies with your friends and family.
Handicraft
The wooden table setting displayed in the Korea House depicts the traditional handicrafts related to Korean food culture. The white porcelain tableware was traditionally used by the upper/ruling classes of the Joseon dynasty (1392-1910). Taking the theme of Korean language, hangeul, the items are made by the craftsmen from Korea.
Calligraphy
Seoye (서예) or Korean calligraphy, is the Korean tradition of artistic writing. In Asian cultures, calligraphy is more than the mere act of writing, it is also a way of training and disciplining the mind. There will be a Korean calligrapher who will write your name in the beautiful language of Korean. Do not miss out this unique experience.


Korean Traditional Games
If you have watched the popular Netflix drama - Squid Game, you will be familiar with some of the games we have prepared for you to enjoy.
Ddakji (딱지) or the paper flip challenge. You play by using folded paper tiles. The aim of the game is to flip over your opponent's card, by throwing one card as hard as possible at the other. If the paper cards on the ground turn over, you win.
Tuho (투호) or pitch-pot. The basic aim is to throw arrows into a pot. The game itself is simple and involves two teams taking turns throwing red and blue arrows into the pot. These days it is common to use rubber tipped arrows, rather than real ones.



K-Pop Installation
As part of the K-Pop exhibition organised by the Korean Culture and Information Service, there will be a K-Pop projection mapping installation in the Korea House. Showcasing the rise of K-Pop, the video will depict the history of K-Pop from the 1950s to the present.




Traditional Music by Gayageum Talent
3 - 12 August
Throughout the Festival, the social media sensation Gayageum Talent will busk around the city of Edinburgh. Travelling around the world with Korean traditional instruments, the team will share their music throughout various locations in Edinburgh this summer.

Korea House
5-27 August 2022
10:00-17:00, closed on Mondays
DoubleTree Hilton Edinburgh City Centre Conference Centre
34 Bread Street, Edinburgh EH3 9AF