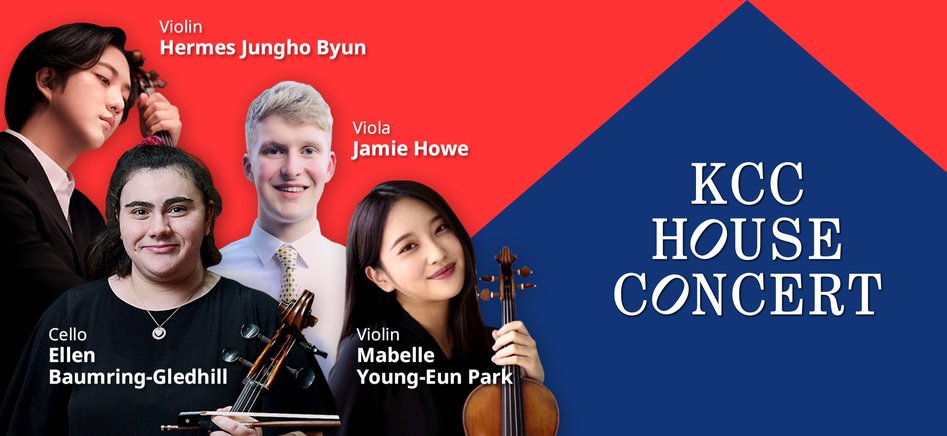 The Regency String Quartet
Mabelle Young-Eun Park, violin
Hermes Jungho Byun, violin
Jamie Howe, viola
Ellen Baumring-Gledhill, cello
Programme
Beethoven String Quartet No.4 in C minor, Op. 18
I. Allegro ma non tanto
II. Andante scherzoso quasi allegretto
III. Menuetto allegretto
IV. Allegro


Intermission


Mendelssohn String Quartet No.6 in F minor, Op. 80
I. Allegro vivace assai
II. Allegro Assai
III. Adagio
IV. Finale: Allegro molto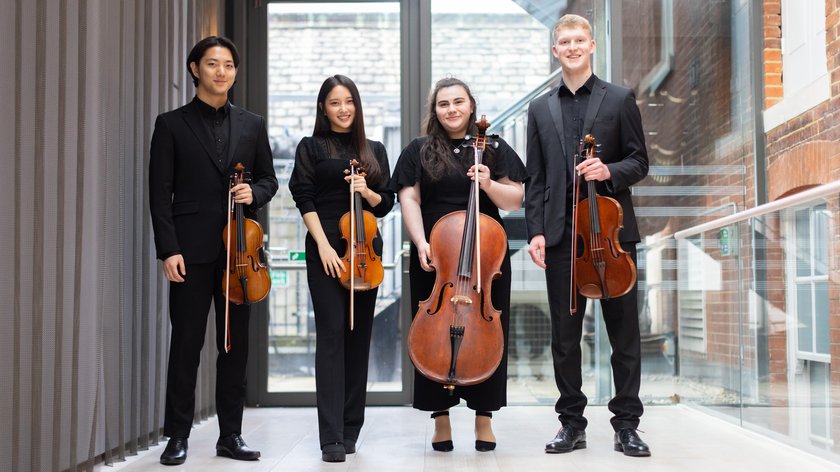 Artist Bios:
The Regency String Quartet was formed in September 2021 and brings together four undergraduate students from the Royal Academy of Music.
Mabelle Young-Eun Park has been a recipient of the Harbour Foundation Award since 2020 and has given performances at the Moscow Music Centre, Carnegie Hall, the Tokyo College of Music and the Sejong Arts Centre in Seoul; Hermes Jungho Byun won the Hwaseong Music Competition in South Korea (2018) and has performed in major concert halls including The Universal Arts Centre in South Korea and Carnegie Hall; Jamie Howe is a former leader of the City of Belfast Youth Orchestra and The Ulster Youth Orchestra as well as having been principal viola of the National Youth Orchestra of Great Britain, with whom he performed at London's Barbican Centre and the BBC Proms; Ellen Baumring-Gledhill was the only cellist to reach the strings category final of BBC Young Musician 2020 and in the same year won Junior Guildhall's Lutine Prize at the final which was held at Milton Court Concert Hall.
After only one month of playing together, the Regency String Quartet were selected by competition for The Frost Trust Advanced Specialist Strings Ensemble Training (A.S.S.E.T) and are coached and mentored by Alex Redington from the Doric String Quartet. They have also coached by Jon Thorne at the Royal Academy of Music. Recent performances include a recital at St Jame's Piccadilly in February 2022 where they played Haydn and Mendelssohn. Forthcoming engagements include an April House Concert at Korean Cultural Centre UK where they will play Beethoven and Mendelssohn.

'Register for a free ticket on Eventbrite (search 'KCC House Concert') or use a 'Book now' button on the top right.