KCC HOUSE CONCERT: Programme for
August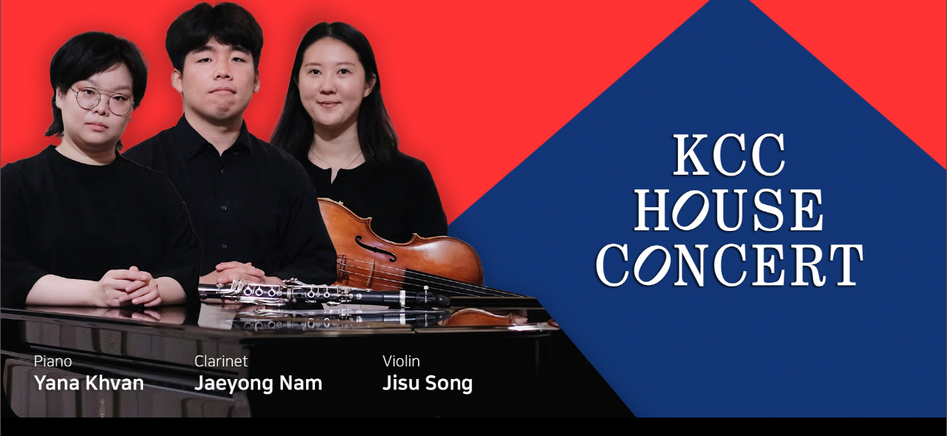 A variety of classical music performances to enjoy at home
Yana Khvan (Piano), Jaeyong Nam (Clarinet), Jisu Song (Violin), Thursday 26 Aug 7 pm
Programme:

W. A. Mozart - "Kegelstatt" Trio in E flat, KV 498
I. Andante
II. Menuetto
III. Rondò

Schumann Märchenerzählungen, op. 132 for Clarinet, Viola and Piano
I. Lebhaft, nicht zu schnell
II. Lebhaft und sehr markiert
III. Ruhiges Tempo, mit zartem Ausdruck
IV. Lebhaft, sehr markiert


Check the Trailer here


Performers:
Jisu Song is currently in her final year of postgraduate performance degree in the Royal Academy of Music in London, Jisu Song is a violist from South Korea. Born in a musical family, Jisu started with the violin at the age of 6 and continued playing through undergraduate studies studying under Professor Neri Kim. However, she was drawn by the warm and sonorous sound of the viola and started learning the instrument with violist Steven Lee. After a year on the viola she was accepted into the prestigious Asian Youth Orchestra in 2017, where she embarked on a world tour and performed over 20 concerts in Asia, America and Europe. In 2019, she accepted her offer from the Royal Academy of Music in London to pursue a Master of Arts in Performance degree, studying under Professor Paul Silverthorne and Yuko Inoue. Being a keen orchestral musician, Jisu has performed with numerous ensembles over the world, including the RAM Academy Symphony Orchestra and USP Chamber Orchestra in South Korea which she is a regular member.
Jaeyong Nam is a clarinetist at the Royal Academy of Music, where he studies with Chris Richards and Timothy Lines. Jaeyong was born in Korea, but later on moved to study abroad in Shanghai, China and Manchester and now London. He began learning the clarinet when he was 9 years old. Since moving to Shanghai, China in 2008, he self-taught the clarinet until he went on to study at the Royal Northern College of Music in Manchester with Nicholas Cox, Chris Swann and Antonio Salguero with an entrance scholarship. During his time in China, Jaeyong had also toured in many cities across the country, performing in several major concert halls such as the Shanghai Symphony Hall and the Qingdao Concert Hall as a part of the Yew Chung Foundation Orchestra and the New Shanghai Orchestra. As an orchestral musician, Jaeyong also has performed under numerous renowned conductors such as Jac Van Steen and Robert Trevino. Highlight of his recent orchestral playing includes performing Beethoven's symphony No.8 with Lorrenza Borrani, the leader of the Chamber Orchestra of Europe. He has also recently participated in masterclasses featuring world-renowned clarinetists from all around the World such as Andreas Ottensamer, Gabor Varga, Patrick Messina and Romain Guyot.

Yana gave her first performance debut at the age of 10, and since then she has played both as a soloist and as a chamber musician in all major venues of Moscow including halls of Moscow Conservatory and halls of Moscow International House of Music. She also performed in music festivals across Russia and in Estonia. Being a passionate chamber musician Yana has performed with numerous ensembles and was a student of the Head of Chamber music at the Tchaikovsky Conservatory Prof. A. Bonduryansky. Yana is a prize winner in of several international competitions. She has also participated in masterclasses given by Prof. P.Donohoe, Prof. J.Gorus and E.Kunz. Yana's repertoire includes a large variety of styles from baroque to contemporary music. She is especially interested in music of Soviet composers such as S.Prokofiev, D.Shostakovich, A.Schnittke and M.Weinberg. Being of Korean descent Russian-born pianist Yana Khvan began her studies at the Gnessin Moscow Special School of Music, where she studied with M.Egiazaryan. She later became a student at Moscow State Tchaikovsky Conservatory, where she studied with Prof. J.Katsnelson and graduated in 2019 with Distinction. She is currently studying at the Royal Academy of Music with Prof. Joanna MacGregor. She is a recipient of the RAM Scholarship and also was awarded grants from the Zetland Foundation in 2020 and 2021
"Yana is a multi-talented musician. She is a bright soloist as well as a sensitive chamber musician." - Roman Mints
"Natural pianism, noble sound and color variety is what makes Yana Khvan stand out as a pianist" - Jacob Katsnelson