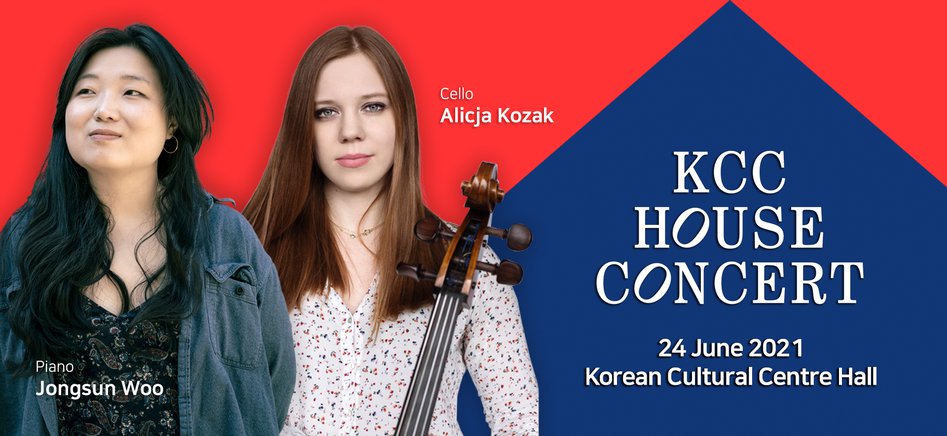 Live Classical Concert in the KCC hall
Jongsun Woo and Alicja Kozak, Thu 24 Jun 7 pm
Ticketing Reservation
Entry by advanced booking only (Admission free)
*The event is free of charge, but booking is essential.
Date: Thursday, 24 Jun 2021 7pm
Venue: Korean Cultural Centre
Apply to info@kccuk.org.uk with your name and email address.
*Due to social distancing matters, seats may be limited.
Please bear in mind that tickets are on a first come, first served basis.
We will email you before the concert starts, if you have seats reserved.
Guests will be asked to scan the KCCUK QR Code with the NHS App upon arrival. For guests who'd prefer not to use the NHS app please include your name and address in your booking email. Wearing of facemasks or face coverings is mandatory when inside the KCCUK, and we kindly ask that all visitors follow the latest Social Distancing Guidelines.


Programme
"I was born in Korea and project that culture, but I developed musically in Europe. I don't need to organise or separate elements of the cultures. I am a unity, a simple person. It's a synthesis."
- Isang Yun
Isang Yun's music beautifully combines both musical elements from East and West, resulting in compositions with an unique musical voice that is undoubtedly Yun's own. For example, in Space I, he explores Eastern philosophies such as Taoism and the sound world of Korean traditional instruments, using Western avant-garde compositional technique.
Beethoven Cello Sonata No.3 in A major, Op.69
I. Allegro ma non tanto
II. Allegro molto
III. Adagio cantabile - Allegro vivace


Interval

Isang Yun Espace I


Schumann Fünf Stücke im Volkston, Op.102
- Mit Humor
- Langsam
- Nicht schnell, mit viel Ton zu spielen
- Nicht zu rasch
- Stark und markiert


Isang Yun Nore


Jongsun's interview
Can you tell us the reasons why you chose these songs? and how you were inspired by Isang yun?
As a Korean-born pianist, raised in the UK, I struggled for many years with my cultural identity; growing up, I felt that I could not fully belong to either cultures. Isang Yun's music helped me realise that the whole is in fact greater than the sum of its parts. I chose to programme Beethoven's Cello Sonata in A major, Op. 69, as this piece is a great musical example of synergy between two very different sounding instruments. It is the first monumental work in the cello repertoire that has a perfectly balanced equilibrium between the roles of pianist and cellist.
What else inspired you by Isang Yun? and how did you synthesise Western and Korean music into your songs?
The other aspect that drew me to Isang Yun's music was the folk element, as illustrated in his piece Nore. Every culture has a history of folk music, passed down from generation to generation - Like languages, song and dance is an integral part of human expression. Schumann's Five Pieces in Folk Style are miniatures containing the simplicity, bold expression and humour of German folk songs and dances and I wanted to juxtapose these pieces with Isang Yun's Nore that draws on inspirations from soulful Korean Folk music 'pansori'.

Performers
Pianist Jongsun Woo is currently in her second year of Masters in Collaborative Piano at Guildhall School of Music and Drama, studying with Eugene Asti, Pamela Lidiard and Carole Presland. JongSun has performed in venues such as the Wigmore Hall, Crush Room Royal Opera House, Purcell Room Southbank Centre, St. John's Smith Square. She has made multiple appearances as a concerto soloist with orchestras in UK. As a chamber musician, JongSun performed Beethoven's complete works for 'cello and piano in 2017.
Jongsun started her studies with Patsy Toh at Junior Royal Academy of Music and the Purcell School. After graduating from Guildhall School of Music and Drama with First Class Honours in 2014, she then went on to win a full scholarship to study with Peter Serkin at Bard College Conservatory, New York. She has also participated in masterclasses with Ferenc Rados and Rita Wagner at Prussia Cove International Musicians' Seminar 2015& 2016 and has received guidance from Krysia Osostowicz and Richard Lester among others.
Cellist Alicja Kozak is a versatile musician in demand as a chamber, orchestra and solo player. She began her musical education at the age of 6 and completed her studies at the Frederic Chopin University of Music in Warsaw and Guildhall School of Music and Drama in London. She also spent one year in Hochschule für Musik Detmold in the class of prof. Alexander Gebert, as a part of Erasmus + scholarship program. Currently she holds a Junior Fellowship position at Guildhall School of Music and Drama in London. Alicja is a prizewinner of international competitions such as Spisak International Competition, Concurso Internacional De Musica Agustín Aponte, Gustav Mahler Prize Cello Competition as well as Danczowski Cello Competition - the oldest cello competition in Poland. She took part in various masterclass where she had the opportunity to work with artists such as Jens Peter Maintz, Peter Bruns, Reinhard Latzko, Emil Rovner, Jerome Pernoo, Romain Garioud and has been lucky to receive mentorship from members of the Bozzini Quartet, the Endellion quartet and the Dante quartet, as well as the members of the LA Philharmonic and Gould Piano Trio.
She was invited to participate in chamber music festivals such as ISA Festival (Austria), Musethica Festival, Guildhall Chamber Music Festival, Festival Ensemble (Poland) and TriAcademy Alliance (Shanghai), Usedomer Festival, Sinfonia Varsovia Festival, Aurora Festival (Sweden), Summer Festival in Paderewski Centre with Scharoun Ensemble of Berliner Philharmoniker. She performed as a soloist with orchestras in her native Poland in Zabrze, Koszalin, Zielona Gora, and gave solo recitals in Chamber Halls of National Orchestra of Polish Radio in Katowice, Zielona Gora Philharmonic, I.J. Paderewski Center, Southwark Cathedral, St. John's Smith Square, and many others. Alicja was selected for the 2020/2021 Foyle Future First - London Philharmonic Orchestra development program.