Cancelled: Jane Cho & Kumi
Matsuo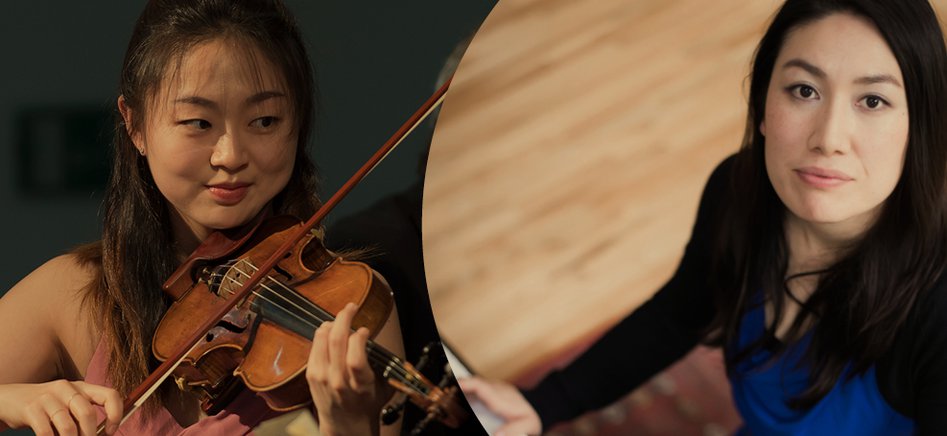 2020 KCC House Concert May
***In light of the spread of the Coronavirus (Covid-19), the Korean Cultural Centre UK has taken the decision to cancel this programme.
We apologise for the disappointment and inconvenience caused. If you have any questions on this, please contact us at info@kccuk.org.uk.
We really appreciate your patience and thank you for your continued support.***
PROGRAMME
Schubert Fantasy in C Major, Op. 159, D. 934
Ysaÿe Violin Sonata in D Minor, Op. 27, No. 3, "Ballade"
INTERVAL
R.Strauss Violin Sonata in E-Flat Major, Op. 18, TrV 151
I. Allegro ma non troppo
II. Improvisation: Andante cantabile
III. Finale: Andante – Allegro
Jane Cho
Jane (Hyeonjin) Cho, born in 1997 in Seoul, began playing the violin at the age of six. In 2006, she took up a place at the Yehudi Menuhin School in England where she studied with Professor Lutsia Ibragimova.
Chosen as one of the most promising musicians by the Kumho Asiana Group in 2011, she regularly gives concerts in Korea. In 2015, Jane was invited by Augustin Dumay to partake in his masterclass in Paris at the Louis Vuitton Foundation and gained a place at the Queen Elisabeth Music Chapel under the guidance of Augustin Dumay. Since then she has participated in projects with artists and professors such as Gary Hoffman, Miguel da Silva, Frank Braley and Pavel Vernikov, and was invited by the Kronberg Academy 'Chamber Music Connects the World' in 2016 to play with Gidon Kremer and Christian Tetzlaff. In the coming season, Jane will record her debut CDs with Augustin Dumay, Miguel da Silva and Henri Demarquette.
Jane plays with a Patigny bow kindly granted by Augustin Dumay, and on a 'Francisco Ruger detto il Per in Cremona dell'ano 1679' kindly granted by the Queen Elisabeth Music Chapel.
Kumi Matsuo
Kumi Matsuo is establishing an international career as a versatile solo pianist, chamber musician and accompanist. She studied at the Toho Gakuen College of Music, Tokyo, and then at the Royal College of Music, London studying with John Blakely and Ashley Wass. She completed her studies there with the award of the prestigious Artist Diploma with Distinction.
In 2012 she won first prize in the sixth Isidor Bajic Memorial Piano Competition in Serbia, and in 2013 won first prize in the fifth Louisiana International Piano Competition, USA. She is now a member of staff at RCM, working as Duo Coach to the String Faculty, as well as accompanying other instruments.