Jaeyong Nam & Harry
Rylance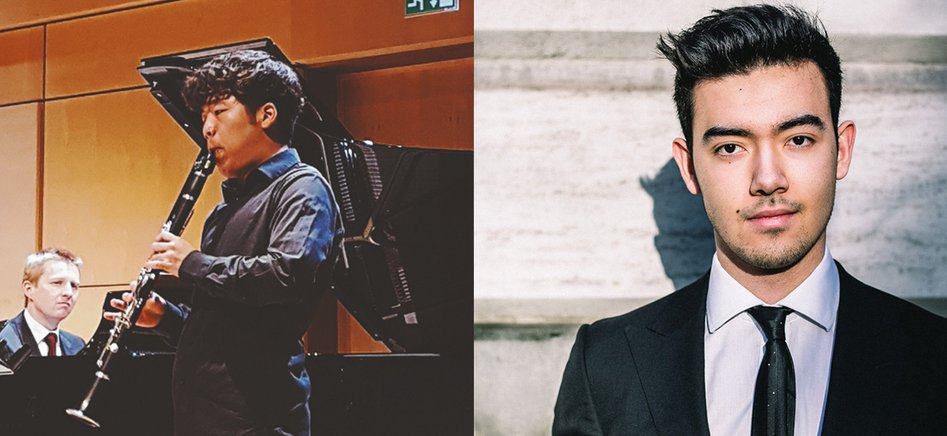 KCC House Concert
Jaeyong Nam (Clarinet) & Harry Rylance (Piano)
PROGRAMME
Liszt Transcendental Etude No.4 "Mazeppa"
Liszt Andante Lagrimoso
Brahms Clarinet Sonata No.2 Op.120
1st movement: Allegro amabile
2nd movement: Allegro appassionato
Robert Schumann - 3 Romances Op.94
I: Nicht Schnell
II: Einfach, innig
III: Nicht Schnell
Jaeyong Nam (Clarinet)
Jaeyong Nam is a clarinetist at the Royal Academy of Music, where he studies with Chris Richards and Timothy Lines. Korean born Nam has studied in Shanghai, China, Manchester and now London. He began learning the clarinet when he was 9 years old and was self-taught until he went to study at the Royal Northern College of Music in Manchester with Nicholas Cox, Chris Swann and Antonio Salguero on an entrance scholarship. Moving to China in 2008, Nam toured many cities across the country, performing at several major concert halls such as the Shanghai Symphony Hall and the Qingdao Concert Hall as part of the Yew Chung Foundation Orchestra and the New Shanghai Orchestra. He has also participated in masterclasses featuring world-renowned clarinettists such as Andreas Ottensamer, Gabor Varga, Patrick Messina and Romain Guyot.
Harry Rylance (Piano)
Harry Rylance is a pianist studying at the Royal Academy of Music, where he was awarded the Pisani Piano Award and K M Bayfield Scholarship. He studies with the Academy's Head of Piano, Joanna MacGregor. At 12 years old, he performed with the Liszt Chamber Orchestra in the Grand Hall of Budapest and also toured Asia as a featured soloist with the Liszt Academy Symphony Orchestra. His recent engagements have included performances at the Foreign & Commonwealth Office to an audience including the current Prime Minister and four former Prime Ministers, performances at the Royal Festival Hall with the London Sinfonietta, the Royal Albert Hall, Wigmore Hall, Winchester Cathedral, Dartington Music Festival, and at the Heidelberg Lied Academy Festival in Germany. Rylance will commence a Masters scholarship in September, continuing his studies with Professor MacGregor.