Cancelled: Chaeyoung Lee & Melody Lau & Bobie
Lai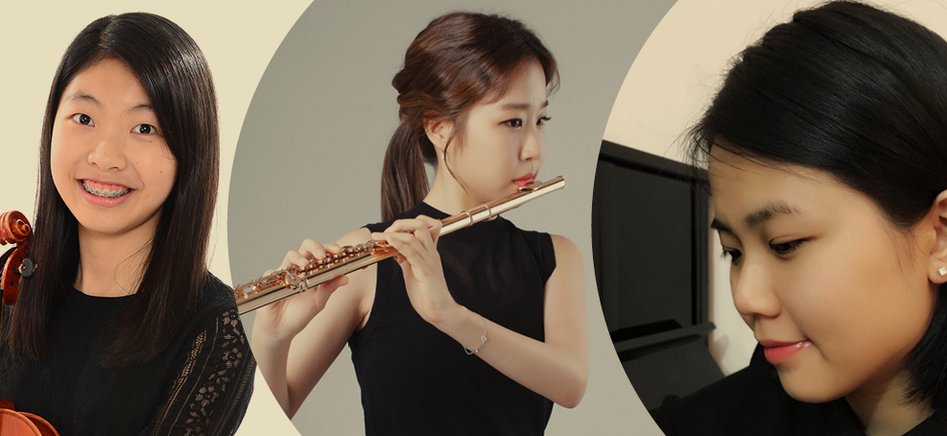 2020 KCC House Concert April
***In light of the spread of the Coronavirus (Covid-19), the Korean Cultural Centre UK has taken the decision to cancel this programme.
We apologise for the disappointment and inconvenience caused. If you have any questions on this, please contact us at info@kccuk.org.uk.
We really appreciate your patience and thank you for your continued support.***
Chaeyoung Lee (Flute), Melody Lau (Violin), and Bobie Lai (Piano)

PROGRAMME
J.S.Bach Trio Sonata in G Major, BWV 1038
I. Largo
II. Vivace
III. Adagio
IV. Presto
Cui 5 Petits duos, Op. 56
I. Badinage
II. Berceuse
III. Scherzino
IV. Nocturne
V. Valse
INTERVAL
Vivaldi Chamber Concerto in D Major, RV 84
I. Allegro
II. Andante
III. Allegro
Kummer Trio for Flute, Violin, and Piano Op. 75
I. Allegro non tanto
II. Andante poco adagio
III. Minuetto allegro non tanto
IV. Allegretto con moto
Chaeyoung Lee
Flautist Chaeyoung Lee was born in Seoul, Korea. She started learning the flute at age 13 with Uikyung Park. She graduated from Sunhwa Arts High School. Chaeyoung won the grand prize for the whole woodwind instruments and the first prize at the Seoul Art Competition. She has also won awards at the Haneum Music Competition and Seoul Music Competition.
Chaeyoung is now pursuing a BMus degree at Royal College of Music studying with Susan Milan. She has performed in masterclasses for Mathieu Dufour, Karl Heinz Schutz, Julien Beaudiment, Michel Moragues, Sandrine Tilly, Sandrine Francois, Claude Lefebre, Jose-Daniel Castellon, Henrik Wiese, Jonathan Keeble, Hideaki Sakai and Brad Garner.
Melody Lau
Born in Hong Kong, Melody Lau is a second-year undergraduate student at the Royal College of Music, studying with Professor Natalia Lomeiko. She plays a violin made by Benjamin Banks, and gratefully acknowledges its loan from the Royal College of Music, London.
Melody attended violin masterclasses at the Mozarteum International Summer Academy in 2013, 2014 and 2016 with Yair Kless, Pierre Amoyal and Maurizio Sciarreta. Melody Lau was a prize winner at the third and fourth Japan-Hong Kong International Music Competition. She also won several top prizes at the Hong Kong Schools Music Festival in the solo and chamber music categories.
Bobie Lai
Bobie Lai started playing the piano at the age of four and won her first award at the fourth TOYAMA Asian Youth Music Competition when she was nine. In 2014, she participated in the 18th Hong Kong (Asia Pacific) Piano Competition and won second prize in the Free Choice Youth class. In the same year, Lai took home first prize from the Hong Kong Artist Piano and Arts Competition.
Lai is now studying at the Royal College of Music with Professor Nigel Clayton, who has won prizes in every category of piano performance and was awarded the College's yearly prize for his Bachelor of Music degree.