The Everyday Beauty of Korean
Crafts

KCCUK Culture Series
What do you think of when you hear 'Korean Crafts'?
Maybe it's the najeonchilgi (mother-of-pearl lacquerware) found in traditional Korean markets, or the bright, multicoloured jogakbo (patchwork) made from leftover silk. More than other forms of art, the diverse range of Korean crafts preserved through time can reveal insight into everyday culture at all levels of society.
The KCCUK has been introducing UK audiences to a variety of Korean crafts since its opening through exhibitions and workshops on Korean ceramics, folk painting and more. This week's instalment in the KCCUK Culture Series takes a closer look at the different types of Korean crafts, with a focus on how these traditions are kept alive by artists today and where you can experience crafts on your trip to Korea.
Crafting through time: the development and preservation of Korean handicrafts
The category of "craft" is quite broad, connoting all types of household items, furniture, and other accessories that people have devised to make their lives more comfortable and convenient. This encompasses religious items used at temples, exquisitely decorated royal ornaments with their connotations of splendour and power, and of course the ordinary household objects or "folk" crafts used by the masses.
Each era in Korean history was accompanied by its own unique developments in craft. From the elaborate gold crowns of the Three Kingdoms period (57 BC – 668 AD) to the world-renowned celadon of Goryeo (918–1392) and the splendid mother-of-pearl lacquerware of the Joseon dynasty (1392–1897), each type of craft expresses the ideas, techniques and artistry of its time.
In Korea, special efforts to preserve these crafts in the face of rapid industrialisation have elevated them to the level of fine art. The development of machinery has meant that there is no longer any need for handicraft practitioners to devote expert and intensive labour to producing household items such as furniture or pottery. However, the National Intangible Heritage Centre and the Korea Cultural Heritage Foundation have worked to preserve these traditional art forms, with practitioners handing down their crafts to assistants just as masters would teach their crafts to apprentices in generations past. Handicrafts are now showcased in exhibitions and galleries, providing a unique window into Korea's past.
In a recent interview with KOREA Magazine, the new President of the Korea Craft & Design Foundation, Kim Tae-hoon, shared his vision for the direction of Korean craft culture. He advocates a shifting of the contemporary mindset towards crafts from 'display' to 'lifestyle', arguing that "crafts are a form of art intimately tied to the everyday." He also compares the achievements and approaches of the Korean and UK craft industries, and discusses how exchange with British institutions such as the Victoria and Albert Museum have played a part in promoting traditional Korean crafts abroad.
You can read the fascinating interview here.
From mulberry paper to the most beautiful knots you've ever seen: a closer look at Korean crafts
Strolling through a traditional Korean market or craft fair, you'll come across countless examples of Korean handicrafts. We've selected just a handful of the most prominent types to explore in more detail…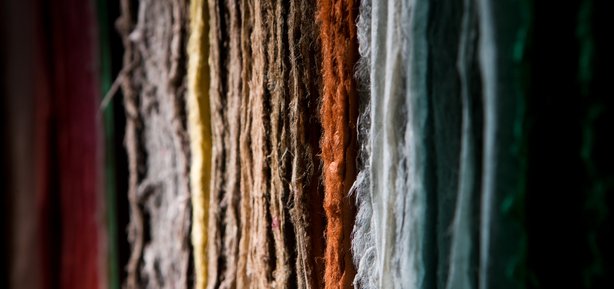 Hanji (traditional Korean paper)
Hanji literally means "the paper of Korea." Traditionally it is made using fibres from the bark of a mulberry tree, a material known for its strength and resistance to decomposition – the reason why Korea has managed to preserve some of the oldest surviving printed materials in the world. Hanji is used in a variety of different crafts as well as modern art, for example Joung Young-ju's collection The Living City which will be displayed at the Pontone Gallery in London until 5 July 2020 (find more details here).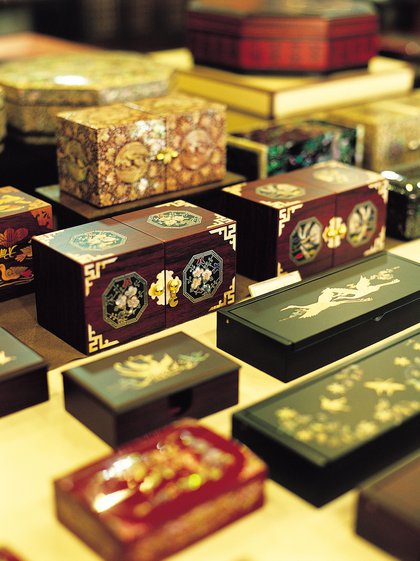 Najeonchilgi (Lacquerware inlaid with mother-of-pearl)
The term najeonchilgi refers to a traditional inlaying technique using mother-of-pearl, the iridescent layer that forms the inside of mollusk shells. Some of the most ornate examples of chests and other lacquer furniture can be seen in Korea's museums, but you'll find smaller and more affordable lacquerware including boxes and mirrors in most markets – their uniqueness and beauty makes for a brilliant souvenir.
Find out how traditional lacquer boxes are made in this video courtesy of the Victoria and Albert Museum.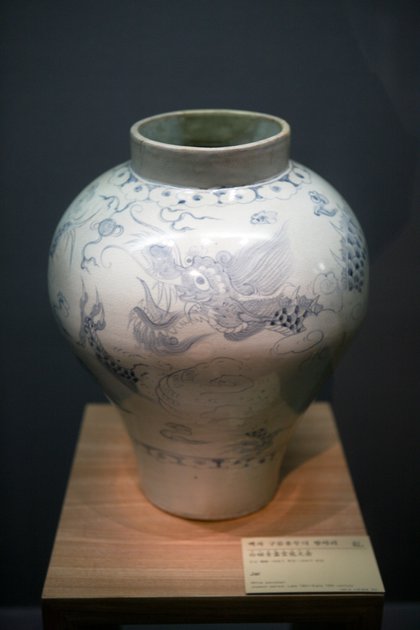 Korean ceramics
Korea has a long history of ceramics, with two representative techniques being the jade-green glaze of Goryeo celadon and the minimalism of the Joseon dynasty 'moon jar' – the most well-known example of the popular baekja or 'white porcelain' style of pottery developed during this era. A comprehensive introduction to Korean ceramics, as well as pictures and descriptions of individual jars and other pieces, can be found in the online collections of the National Museum of Korea.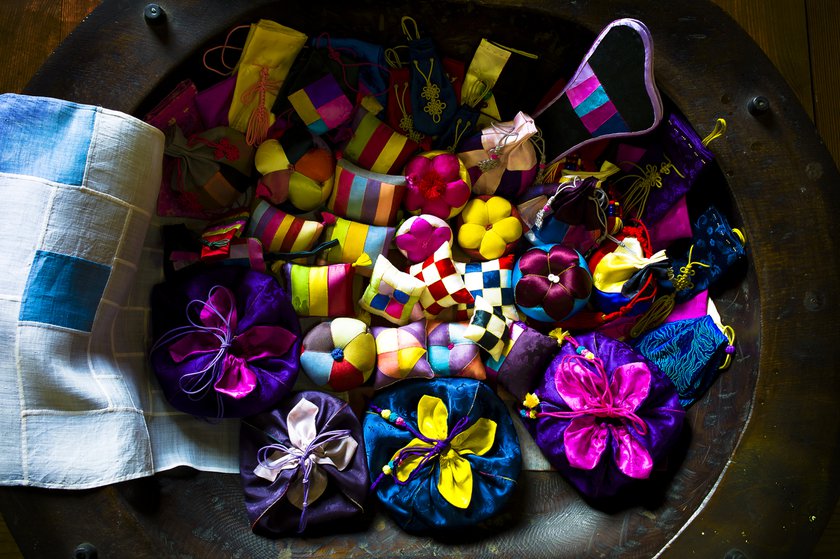 Korean hand embroidery & jogakbo (patchwork)
Of all the traditional handicrafts, there is perhaps none more time-consuming and requiring of exceptional skill than Korean hand embroidery. Traditionally associated with the domestic labour of women, embroidery has rarely in any world context been accorded the high status of other art forms of its time. However, in the current era of sewing machines and industrialised textile manufacture, it is hard not to marvel at the exquisite patterns of silk flowers and animals that traditionally were sown into ceremonial items of clothing such as the hwalot (bridal robe) by hand.
Find out more about the revival of traditional Korean embroidery in this video by Arirang News.
In accordance with ideas of frugality and simplicity advocated during the Joseon dynasty, leftover fabrics would be used in jogakbo, a traditional type of patchwork made by sewing scraps together into larger squares or rectangles. Jogakbo is traditionally associated with domestic wrapping cloths (known as bojagi) but its bright colours and abstract patterns also provide inspiration for beautiful items of clothing – from traditional hanbok to contemporary high fashion gowns such as Lie Sang Bong's 'organza origami dress'.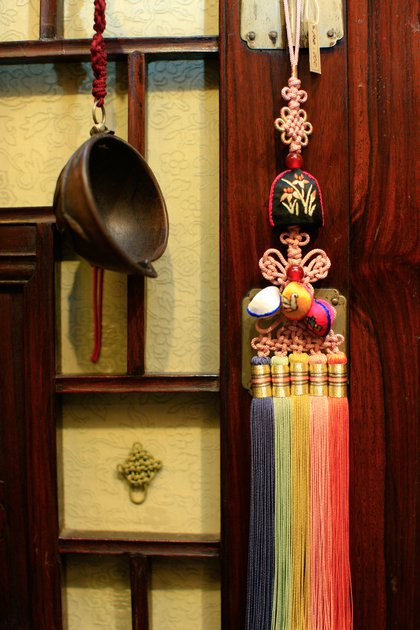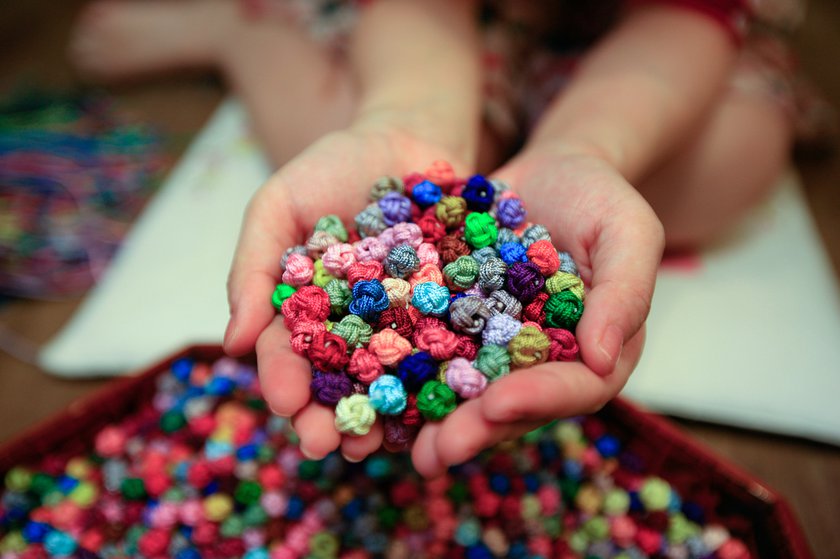 Maedeup (decorative knot making)
Maedeup is the traditional craft of knotting which derives from the early practice of using knots in fishing nets and agricultural tools. The practice developed into a decorative art form during the Three Kingdoms period, with colourful knots adorning all aspects of daily life including sedan chairs, flags, portraits and musical instruments. Particularly popular in the Joseon period were norigae pendants, which were made using knots and other decorative materials such as jade stones and attached to women's hanbok (traditional clothing) for good luck.
And to see the delicate process of knot making for yourself, watch this mesmerizing video by K-Heritage TV.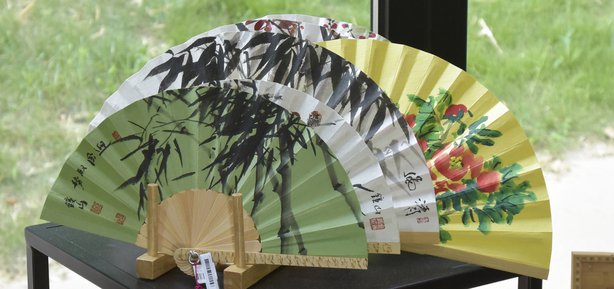 Hapjukseon (traditional folding fans)
Traditionally, Korean folding fans or hapjukseon were made using hanji and decorated with poems, calligraphy or landscape paintings. They were used for a variety of purposes; the upper classes bought fans to keep cool in the summer or as a stylish accessory, while pansori (Korean opera) singers waved the fans during performances and tightrope walkers used them to maintain balance.
Master hapjukseon craftsman Kim Dong-sik demonstrates the art of fan-making (also known as seonjajang) in this video by K-Heritage TV.
Keeping the traditions alive: Korean crafts in contemporary art and manufacturing
Increasing numbers of contemporary Korean artists are incorporating traditional crafts into their work, in an effort to preserve these traditions and create innovative art that fuses the historical with the modern. This trend has been recognised at an international level: of the 30 finalists for the 2020 Loewe Craft Prize, which recognises modern artisans who have contributed to the development of contemporary craft, six were from Korea. This includes Park Sung-youl and Kang Suk-keun (lacquer), Kim Kyeok and Cho Sungho (metal), Lee Jiyong (glass) and Kim Hye-jeong (ceramics).
Korean otchil (lacquer) craftwork has been recognised for the material's strong durability, antiseptic properties, and resistance to water and acid. It is now used not only in decorative art (such as for the finishing on najeonchilgi crafts) but for a variety of innovative products from smartphones to pressure cookers.
Ha Ji-hoon, a prominent Korean furniture designer and academic, is known for experimentation with crafts. His graduation piece at the Royal Danish Academy of Fine Arts's School of Design, "Jari (Mountain Chair)," became the first Korean-made furniture acquired by the V&A Museum.
The use of hanji (traditional paper) is also undergoing a revolution. The knitwear brand Second Skin manufactures "hanji-wear", which is not only eco-friendly but also highly durable. In 2019 the Korean fashion designer Sun Lee created a six-piece collection of hanji clothing based on the three principles of "ephemerality, disposability and sustainability". The pieces are attractive, unique and present a craft-based solution to the problem of waste within the fashion industry.
If you're keen to find out more we'd recommend the ARTMINING channel on YouTube which is supported by the Museum of Modern and Contemporary Art (MMCA) and features short introductory videos to contemporary Korean artists, many of whom are inspired by traditional crafts.
You can also read more about the modern preservation and development of Korean crafts in the May 2020 issue of KOREA Magazine, here.
Handicraft hotspots to explore on your trip to Korea
Crafts are an essential part of the history and culture of Korea, and when you visit the country you'll find a number of opportunities to see and experience traditional crafts for yourself. Here are just a few recommendations of places to visit.
Traditional markets - Traditional markets are a great place to browse and buy crafts as souvenirs to take home, from najeonchilgi boxes to jogakbo pencil cases. The largest and most popular markets in Seoul are Namdaemun and Dongdaemun, but you'll find a comprehensive guide to the different types of markets here, courtesy of KOREA.net.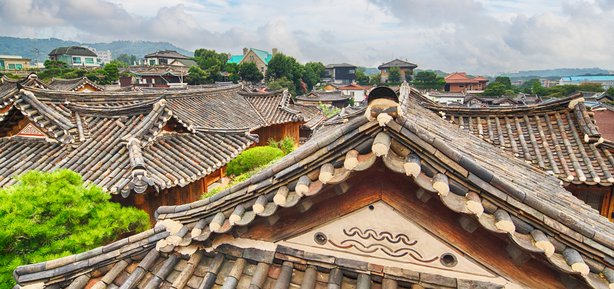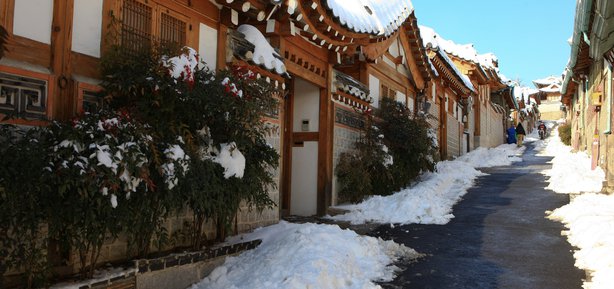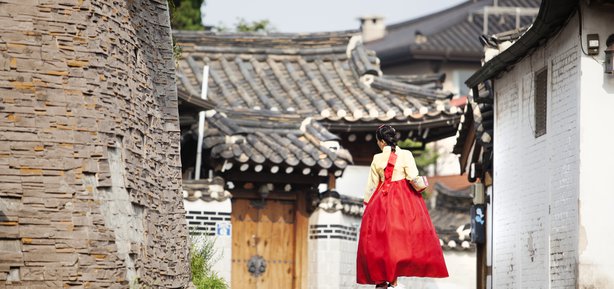 Bukchon Hanok Village - Bukchon is a neighbourhood located in Jongno-gu, Seoul comprised entirely of traditional Korean homes or hanok. The picturesque neighbourhood preserves tradition through more than just its architecture, offering exhibitions and workshops that introduce tourists to Korean crafts. Experience the crafts of Bukchon for yourself in this virtual tour by Arirang Culture.
Korea Craft & Design Foundation Gallery - The KCDF Gallery is a cultural complex dedicated to craft and design and located in the heart of Insadong, known as Seoul's culture district. Its exhibition spaces are a great place to explore and learn about Korean crafts, and the building is also home to a shop, library and lecture hall open to all visitors. Find out more at the KCDF website here.
NEW Hanji Culture and Industry Centre in Seoul - The new Hanji Culture and Industry Centre was opened by the KCDF on 20th May 2020 to promote the art of traditional Korean paper. Approximately 400 different handcrafted local hanji products from 18 traditional hanji workshops are currently on display in the centre's first floor exhibition space. The centre also plans to hold regular workshops and seminars for visitors keen to learn more.
Ye's Park, Korea's biggest crafts village in Icheon, Gyeonggi-do - Ye's Park is an exciting tourist attraction packed with unique architecture, handicraft workshops and multiple opportunities to try your hand at Korean pottery, glass crafts and more. Some highlights are the Cera Guitar Cultural Centre – which is shaped like a giant guitar and offers music classes and ukulele-making workshops – and Yaeji Workshop, which specialises in crafts using hanji. Read more.
Craft Trend Fair - Organised by the Korea Craft & Design Foundation, the annual Craft Trend Fair will mark its 15th anniversary this year (3-6 December). The event connects consumers to craft professionals and has seen a steadily increasing number of visitors from an estimated 52,000 in 2017 to over 73,000 last year. Nearly 70% of visitors are aged between 10 and 29, attesting to the event's appeal to the younger generation. Free admission is available to those who register a month prior to the event.
Cheongju Craft Biennale & Traditional Crafts Festival - Since 1999, the Cheongju Craft Biennale has featured a wide selection of craftworks including ceramics, lacquer, textiles and metals. This international event attracts 3,000 artists from 60 countries every year, with an average of 40,000 visitors. Cheongju's Traditional Crafts Festival has more behind-the-scenes resources than the biennale, such as traditional craft-making demonstrations, as well as exhibitions and seminars. A selection of craft bazaars and eclectic performances add to the excitement of this yearly event. The 2020 festival will be held from 25-27 September. Visit the website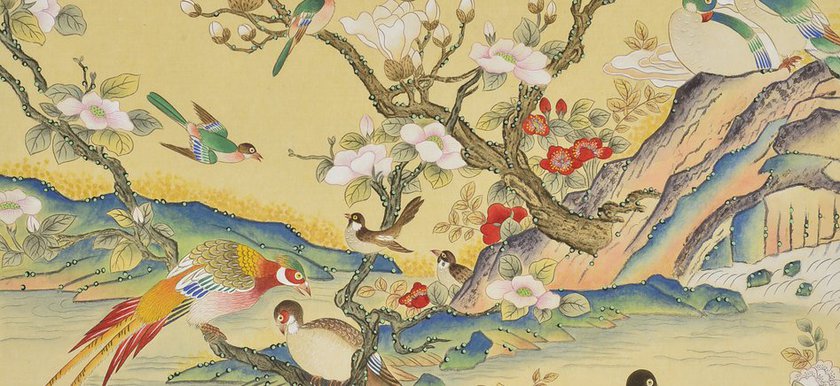 Crafts & Design exhibitions and events at the KCCUK
The KCCUK strives to introduce the UK to traditional Korean crafts through both exhibitions and hands-on workshops. Some of our previous exhibitions include:
Minhwa: The Beauty of Korean Folk Paintings (2019) - By definition, minhwa is the artwork of the common people. Flourishing in the 19th century, minhwa was widely created by unknown artisans to decorate homes and to celebrate joyful family occasions such as weddings and birthdays. This exhibition – in partnership with the Keimyung University Korean Minhwa Centre - presented the five different traditional categories of minhwa, namely flowers, animals, scenery, iconology, bookshelves and stationery.

Munbangsau: Friends of the Scholar (2018) - This exhibition – co-presented with the Cheongju Craft Biennale and coinciding with London Craft Week 2018 – was based on munbangsau, the four essential writing tools used by Confucian scholars (seonbi) during the Joseon dynasty. As part of the exhibition workshops were held featuring master craftsmen from Chungcheongbuk-do, a province in Cheongju, Korea, that is renowned for the preservation of traditional Korean craftsmanship.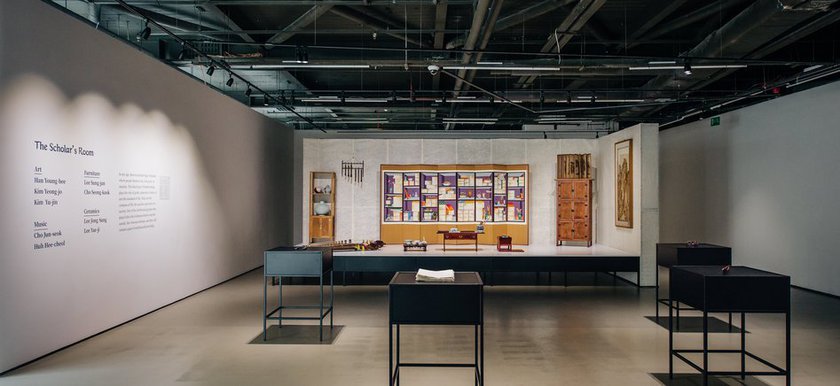 Between Serenity and Dynamism: Korean Ceramics (2017) – with the Korean Craft and Design Foundation - Presented by the KCDF in conjunction with London Craft Week 2017, this exhibition explored the beauty and heritage of Korean ceramics. The focus was on the contrast and harmony between the traditional and more contemporary forms of the craft that exist in Korea today.
Human, Place, History: Living breath of Bukchon, a reservoir of Royal Craftsmanship (2015) - This exhibition introduced UK audiences to Bukchon Hanok Village, traditionally a residential quarter for high-ranking officials and now one of the leading and most loved cultural sites in Seoul. Bukchon produces highly talented craftsmen, providing furniture, jewelry and other artworks formerly associated with Korean royalty.
MOON JAR: Contemporary Translations in Britain (2013) - The Korean Moon Jar has an iconic, almost mythological status. This exhibition explored contemporary responses to the Moon Jar and its symbolic position in Britain today through the work of four leading UK potters and one from Korea. The artists were each invited to present their work alongside the historic vessel, re-contextualising it through their individual ceramic practice.
Since our opening in 2008 we have also held a variety of craft-related workshops at the KCCUK including minhwa (folk painting), Korean calligraphy, hand embroidery, jogakbo (patchwork) and more. Keep an eye out on the Crafts & Design section of our website for upcoming exhibitions and events.
Top image © Korea Tourism Organization