MOON JAR: Contemporary Translations in
Britain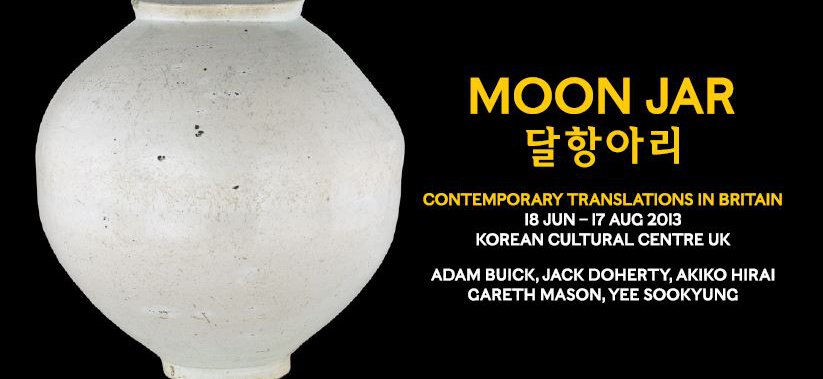 Marking 130 years of Anglo-Korean relations our summer exhibition celebrates these ties through the work of four leading UK potters and a Korean artist; Adam Buick, Jack Doherty, Akiko Hirai, Gareth Mason and Yee Sookyung.
In 1883 the UK was the first country in Europe to form diplomatic relations with Korea, then known as the Hermit Kingdom for its isolationist policy. One of the early visitors to Korea was the renowned Studio Potter Bernard Leach (1887-1979) who purchased a 'Moon Jar' on his second visit to Korea in 1935. The Moon Jar resonated so strongly with Britain's most important twentieth-century potters that it has since become a symbol of UK-Korea relations.
The Korean Moon Jar or dal-hang-a-ri has an iconic, almost mythological status. The exhibition explores a contemporary response to the Moon Jar and its symbolic position in Britain today. The artists have each been invited to present their work alongside the historic vessel, re-contextualising it through their individual ceramics practice.
* A weekly programme of classes and lectures will place the Moon Jar in a new light by providing both a deeper understanding and a fun way to enjoy the exhibition. Our programme will appeal to all groups, with events tailored to the young and the curious as well as those with a more detailed knowledge of pottery and ceramics.
Events are free but Booking is Essential (Limited Numbers)
To book your place on each programme, please RSVP to info@kccuk.org.uk or call 020 7004 2600 with your name and the event you would like to join.
Week 1
Gallery Tour
Mon. 24 June 15:00 / KCCUK exhibition area
An informal guided tour with the Curator of the exhibition
Week 2
Lecture: 'The Pots that gave me joy', Bernard Leach's personal collection
Mon. 1 July 18:30-20:00 / KCCUK multi-purpose hall
Bernard Leach collected ceramics throughout his long life, from Chinese bowls of the 11-13thc, Korean porcelain from the 17-18th c, Japanese tea wares to English slipware. The illustrated lecture will consider the meaning and the message of this collection to Leach, his ceramic work as well as his prints and drawings. Professor Simon Olding is a writer and curator, and Director of the Craft Study Centre, University of the Creative Arts.
Week 3
Children's Clay Workshop: 'The Jar of Stories'
*Sat. 13 July 11.30, 13:15, 15:00 / KCCUK multi-purpose hall
A Drop-in Workshop for children aged 7 – 10 years: Explore a world in clay to create a lunar landscape using ceramic techniques such as sprigging, slip-trailing, modelling and stamping. Make textures, figures and reliefs, illustrating traditional Korean and European folktales about the moon. A Moon Jar, made by Akiko Hirai, will be a collaborative piece created with the Workshop attendees, decorated, glazed, fired and then displayed at the KCC for the remainder of the exhibition. The drop-in session is led by Amy Thornley Heard and Mei Wong.
Week 4
Lecture: Treasures of Korean Ceramics from the National Museum of Korea
Mon. 15 July 18:30-20:00 / KCCUK multi-purpose hall
This lecture explores the history of Korean ceramics through selected masterpieces from the National Museum of Korea, Seoul. The National Museum of Korea houses an exceptional collection of Korean ceramics from the Neolithic period to the modern day. The lecture will discuss the significance of Korean ceramics to our understanding of Korea's history and culture. A specialist in Chinese and Korean ceramics, Ms. Heena Youn is currently completing her PhD at SOAS and tutoring on the Introduction to the Art and Archaeology of East Asia in the Department of the History of Art and Archaeology.
Week 5
Symposium: 'Joining Hemispheres: Bridging History and the Contemporary'
Mon. 22 July 14:00 / KCCUK multi-purpose hall
This will be an afternoon of exchange, interaction, new perspectives and discussion with the Curators and Participating Artists. With specific historical references to the Korean Moon Jar, the presentations and discussion will provide a deeper understanding of how culture and art are shaped by context.
Week 6
Storytelling Session: Folktales about the Moon
Mon. 29 July 11:00, 15:00 / KCCUK multi-purpose hall
The interactive storytelling session with Sef Townsend will be a chance for children from 7-12 years to hear some of the wonderful stories about the Moon that are found in all cultures around the world including Korea. Sef Townsend is an experienced workshop leader, musician and storyteller and has been working in performance and education in Britain and overseas for more than 25 years.
Week 7
Gallery Tour
Mon. 5 August 15:00 / KCCUK exhibition area
An informal guided tour with the Curator of the exhibition
Week 8
Creative Writing Workshop
Mon. 12 August 14:00 / KCCUK multi-purpose hall
Taking the Moon Jar as a starting point, this workshop explores creative approaches to writing about objects. Writer and Craft Historian, Dr Eleanor Flegg will help to tease the story from the empty page. The workshop is open to writers, ceramists, students, intellectuals, absolute beginners, innocent bystanders and young people from the age of 12.