Korean Sounds - East Meets West:
Dance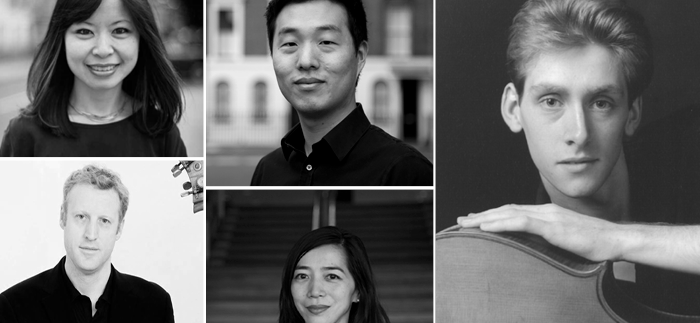 Korean Sounds - East Meets West: Dance
The final concert of the series is based around the theme of Dance. Dance and music have been inseparable from the very beginning with their origins being in ancient rituals.
Members of the National Orchestra of Korea performs traditional ensemble music 'Sinawi' and 'Daepungryu' as well as contemporary pieces written by Sung Kook Kim and Ji Hye Choi. 'Sinawi' was originally performed by shaman-musicians during rituals that accompanied theshaman's songs and dances. 'Daepungryu' is a music that is still widely performed in shamanic rituals, mask dances, and on festive occasions.

The Philharmonia Chamber Players will then take to the stage. Antonín Dvořák's interest in dance music came from his Czech background with traditional Bohemian folk dances being part of his heritage. His much-loved string quintet No. 2 Op. 77 is put alongside Ástor Piazzolla'sLibertango.
<Programme>
Traditional instrumental ensemble music Daepungryu / 대풍류

Sung Kook Kim Three Colour Fire / 삼색화
Traditional instrumental ensemble music Namdo Sinawi / 남도시나위

Ji Hye Choi House of Emotions / 감정의 집
(Interval)
Dvořak String Quintet No. 2, Op. 77
- Allegro con fuoco
- Scherzo. Allegro Vivace
- Poco Andante
- Finale. Allegro Assai
Piazzolla Libertango (arr. Julian Milone)
<Artists>
National Orchestra of Korea
Hyung Hee Moon daegeum (transverse bamboo flute)
Min A Kim piri (double-reed oboe)
Soo Ryun An haegeum (two-stringed vertical fiddle)
Yang Sook Moon gayageum (plucked zither)
Ea Jin Kang ajaeng (bowed zither)
Je Ho Yeon percussion

Seung Ho Lee percussion

Eun Cho cello (guest performer)
The National Orchestra of Korea, an orchestra of traditional Korean instruments, was founded in 1995 as a resident company of the National Theater of Korea. Since its foundation, the company has proudly presented contemporary versions of traditional Korean music. The Orchestra has invited well-known international composers and conductors to secure its own repertoire and sounds, and what is more, each year it develops and presents various concerts that communicate Korea's traditions with its audience. In this quest, the Orchestra's goal is to present concerts of high quality music that are enjoyed by everyone and that highlight the identity of the National Orchestra of Korea.
Philharmonia Chamber Players
Lulu Fuller violin
Eugene Lee violin
Yukiko Ogura viola
Richard Birchall cello
Michael Fuller double bass
The Philharmonia Chamber Players are a unique feature of the Philharmonia Orchestra's artistic programme, giving audiences the chance to hear a rich variety of repertoire for small ensembles at prestige venues around London. It is an opportunity to show a little glimpse of what is at the heart of the Orchestra with every performance being specially programmed to complement any platform and occasion. The Philharmonia Chamber Players relish the chance to share the joy and passion of intimate music-making with audiences of all ages and levels of musical knowledge.