Korean Sounds - East Meets West: Christmas
Concert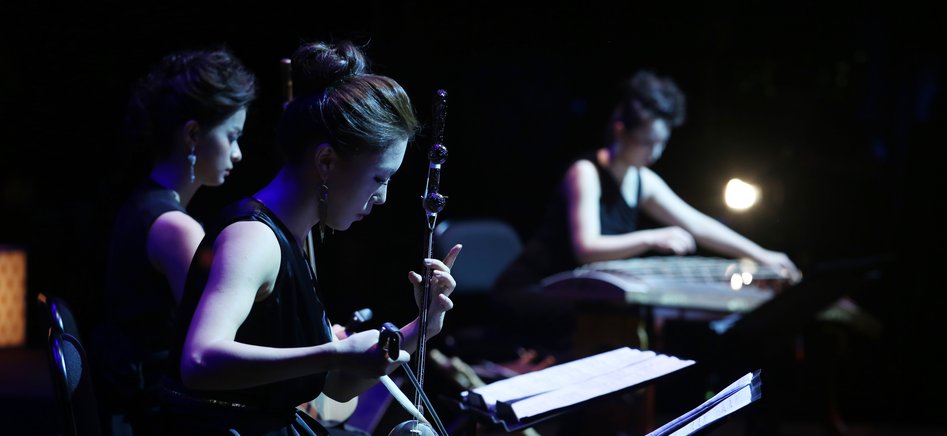 Korean Sounds Series – 6
Korean Sounds: East Meet West returns for its final instalment of 2016, with a rare opportunity to hear traditional Korean and classical music in one place. This Christmas concert gives people the chance to listen to a selection of carols re-interpreted with traditional Korean instruments, as well as a movement from Hadyn's Piano Trio in G and Dvořák's Piano Quintet in A.
Repertoire:
Daeung Baek Monggeumpo Taryeong for Five Instruments
Byeong-gi Hwang Soyeopsanbang for Guemungo solo
Daeseong Kim Darangswi for Haegeum solo
A Christmas Carol Collection I
- It Came Upon the Midnight Clear
- Merry Christmas for Everyone
- We Wish You a Merry Christmas
Interval
P. Tchaikovsky The Seasons for solo piano, op. 37a January and op.37b December
P. Tchaikovsky March, Dance of the Sugar Plum Fairy and Trepak from Nutcracker Suite for String Quartet
Leroy Anderson A Christmas Festival arr. for Piano Quintet
A Christmas Collection II
-O Holy Night / Tenor
-Panis Angelicus / Soprano
-Adeste Fideles(Oh come all ye faithful) / Tenor & Soprano
Performer(s):
The Contemporary Gugak Orchestra
Since its establishment in 2004, the Contemporary Gugak Orchestra of the National Gugak Center has steadily expanded its musical programme. With over 90 periodical concerts and 150 planned performances to date, the company has rapidly made a name for itself in Korea and beyond. Whilst inheriting the creative spirit of traditional music, it has embraced the history of Korea's creative music and developed a diverse programme of events. With a constantly evolving programme, the company strives to reflect the trend of the times, playing a key role in developing and expanding the base of creative Gugak music.
Members from the Contemporary Gugak Orchestra of the Korean National Gugak Centre:

Eunjung Lim Gayageum (Korean zither with twelve strings)
Sunhee Lee Geomungo (six-stringed Korean zither)
Myunghoon Lee Daeguem (bamboo transverse flute)
Joonhyung Lim Sogeum (small bamboo transverse flute)
Sewon Hwang Piri (double-reed oboe)
Sora Lee Haegeum (fiddle-like string instrument)
Jaechun Yang Janggu (double-headed drum)
Piano Quintet
Grace Yeo (Pianist)
Grace Yeo studied at Guildhall School of Music & Drama for her master studies as a scholarship student. Recently she completed Advanced Diploma course (Doctoral level 8) with Prof. Christopher Elton at Royal Academy of Music. Since winning the Beethoven Society of Europe's Piano Competition in 2009, She has given recitals and concerto performances throughout Great Britain, as well as in France, Italy, Germany, Finland and South Korea. The Independent Newspaper celebrated the "sparkling authority" of Grace's return recital at the Wigmore Hall in December 2013, "displaying her talents across a wide variety of styles." by. Her forthcoming engagements include appearance of piano concerto at Royal Albert Hall in April 2017 and solo recitals in Provence, France and South Korea.
Nicolas Dupoint (1st Violinist)
With over 70 concerts a year, Nicolas Dupont is one of the most active Belgian chamber musicians of his generation. As a founding member of the Kugoni Trio (violin-saxophone-piano) and the Duo Andaluza (violin-guitar), Nicolas has commissioned a large number of pieces by Belgian composers, and has made recordings for Belgian, Swiss, English and Dutch radio and television. He took part in the festivals Musica Mundi (BE), Encuentro de Musica de Santander (SP), Pablo Casals Festival (FR), CCC Chamber Music Festival (USA), Eckelshausener Musiktage (GER) and Buma Classical (NL) amongst others, and has performed with Yuzuko Horigome, Mihaela Martin, Rohan De Silva, Julius Berger, Frans Helmerson and Valentin Erben.
Ivo Stankov (2nd Violinist)
Ivo Stankov has become one of Bulgaria's leading and most versatile artists of his generation. Described by the press as "a stunning virtuoso" he has captivated audiences in the UK and in Europe with his "commanding" style and "spirited" performances. As a soloist he has performed with the English Chamber Orchestra, and with some of Bulgaria's most established orchestras. Also, Ivo has made a number of recordings for the Bulgarian National Radio. His debut CD album of Beethoven's violin sonatas was described as "an excellent record" and was awarded five stars by Britain's oldest classical music magazine Musical Opinion. In addition to his busy performing career Ivo is a Violin professor in the Junior department of the Guildhall School of Music & Drama. His upcoming engagements include performances with London Mozart Players, Isle of Wight Orchestra, and Pazardjik Symphony Orchestra - Bulgaria.
Ugne Tiskute (Violist)
Ugne Tiskute, young and vibrant Lithuanian born violist, has completed her Master degree with distinction from the Royal Academy of Music, London with Paul Silverthorne and her Advance diploma at the same institution. Ugne has recently appeared as a soloist with Clio Gould Sainsbury Ensemble and was a guest conductor and soloist at the International Avanti Festival. She has been performing in various concert venues across Europe and China such as Wigmore Hall, Shanghai Oriental Art Centre, Palacio de Festivales in Cantabria, Kunsthaus in Weiz/Austria, St. Johns Smith Square, and Lithuanian National Philharmonic Hall.
Yoonkyung Cho (Cellist)
Cellist Yoonkyung Cho studied at the Juilliard School for a Master of Music with Timothy Eddy. She has performed as a soloist and chamber musician at major venues including Wigmore Hall, Elgar room in Royal Albert Hall, Cadogan Hall. She has been awarded at the Musicians' Company Prince Prize Competition in addition to the Audience Prize in London. Also, she won the Second Prize at the Johannes Brahms International Competition in Pörtschach (Austria) and the Concerto Competition at Royal College of Music and performed with RCM Philharmonic Orchestra. Also, she has been awarded by Albert Cooper Music Charitable Trust. Yoon-Kyung is currently based in Berlin as an academist of Staatskapelle Berlin conducted by Daniel Barenboim.
Jihyun Kim (Tenor)
Jihyun Kim has participated in masterclasses with Jaume Aragall, Renato Bruson, Salvatore Fisichella, and Bonaldo Giaotti. He has been awarded at the Ottavio Ziino (Finalist), Giulietta Simionato (Second Prize), Wilhelm Stehnhammar (Special Prize), Les Azuriales (Second Prize) and Toulouse International Singing competitions (Special Prize) in Europe. He has performed in many Opera, Zweiter Priester and Erster geharnischter Mann DIE ZAUBERFLÖTE (L'Opera National de Bordeaux), Erster Gefangener FIDELIO, Gastone de Letorieres LA TRAVIATA, Roderigo OTELLO (Royal opera house).

Yerim Hyun Soprano
South Korean born lyric soprano Yerim Hyun is currently a Masters Student at the Guildhall School of Music, under the tuition of Susan McCulloch. Prior to that, she graduated with first class (honours) from the Royal Northern College of Music, under the tutelage of Susan Roper.
Yerim is a passionate singer who cares deeply about the emotive potential of voice and the pleasures that operatic song can bring. She is a current recipient of the Guildhall Trust Scholarship and has won the Elsie Thurston Prize. Her recent opera roles include performances as Susanna in the GHSM production of Le Nozze di Figaro, and whilst at RNCM as Leone in La Vie Parisienne, and Lucinda in La Buona Figliola.Yerim has taken part in masterclasses with Sir John Tomlinson, Julius Drake, Anthony Spiri and Lynne Dawson. She has performed in numerous concerts; most recently the English Song Festival and the Italian Song Project. Beyond the regular academic duty, Yerim continues to with celebrated weekly solo choir performances at her local church.