Korean Sounds - East Meets West:
Virtuoso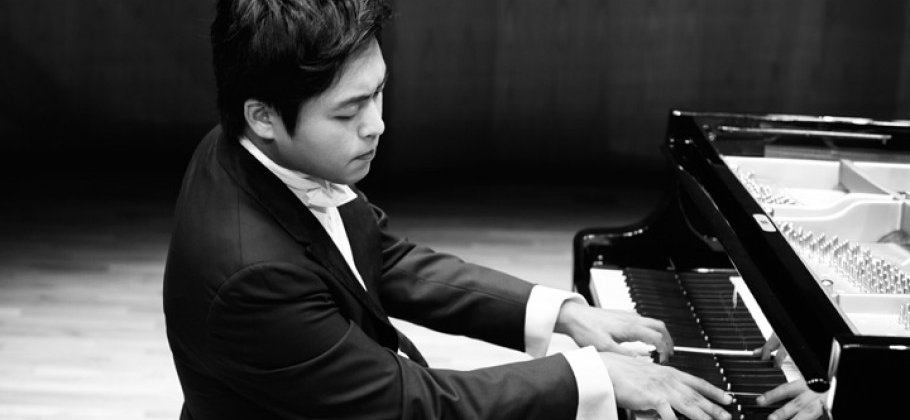 with Members of the National Gugak Center and Sun Wook Kim
Korean Sounds - East Meet West: Virtuoso
with Members of the National Gugak Center and Sun Wook Kim
Wednesday 21 June, 7.30pm
Kings Place, Hall One
Tickets from £9.50 online
The second concert in the series is all about virtuosity, meaning great technical skill. This concert highlights great masters of their instruments and their dazzling technical command.
In the first half of the concert Gayageum master Kyoung-A Moon (Member of the National Gugak Center) will perform a Gayageum Sanjo – the solo music for the gayageum, a 12-stringed zither. Sanjo starts in a slow tempo and gradually gets faster and ends with a very fast rhythm, giving the soloist ample opportunity to show the various aspects of the instrument whilst creating a memorable performance for the audience.
In the second half pianist Sunwook Kim, who many of us know as the winner of the Leeds International Piano Competition, plays Liszt's Années de pèlerinage No. 2 Italie. Liszt was one of the most significant composers of the piano repertoire and a famous virtuoso pianist himself. He 'created' a new piano technique and many of his piano compositions are still amongst the most technically challenging in the repertoire.
Programme:
Kim Juk-Pa Gayageum Sanjo
- Dasreum, Jinyang, Jungmori, Jungjungmori, Jajinmori, Hwimori, Sesanjosi
Liszt Années de pèlerinage II, S.161 Italie
- Sposalizio (Marriage of the Virgin, a painti ng by Raphael) in E
- Il penseroso (The Thinker, a statue by Michelangelo) in C-sharp minor
- Canzonetta del Salvator Rosa (Canzonetta of Salvator Rosa; this song Vado ben spesso cangiando loco was in fact written by Giovanni Bononcini) in A
- Sonetto 47 del Petrarca (Petrarch's Sonnet 47) in D flat
- Sonetto 104 del Petrarca (Petrarch's Sonnet 104) in E
- Sonetto 123 del Petrarca (Petrarch's Sonnet 123) in A flat
- Après une lecture de Dante: Fantasia Quasi Sonata (After Reading Dante: Fantasia Quasi Sonata) in D minor
Artists:
Sunwook Kim piano
Members of the National Gugak Center and its members:
Kyoung-A Moon gayageum – Korean zither with 12 strings
Hyung-Soo Kang janggu – double-headed drum
Bio - Kyoung-A Moon
Kyoung-A Moon is a Gayageum musician from the Folk Music Group at the National Gugak Center, she majored in Gayageum at Chonnam National University and then Ajaeng at the Yong In University Graduate School. Since then she has acquired Korea's Important Intangible Cultural Property No. 72 'Jindo Shaman Ritual for Ensemble Music' as well as the Seoul Intangible Cultural Property No. 39 'Ajaeng Sanjo'.
Bio - Hyung-Soo Kang
Hyung-soo Kang, is a percussionist who has received B.A. and M.A. degrees from Chonbuk National University, worked at the Chonbuk Gugak Orchestra and Seongnam Gugak Company and is now a member of the Folk Music Group at National Gugak Center. He won the grand prize at the 6th Park Dong-jin Master Singers and Master Drummers Contest and he is currently working as an assistant for transmitting the value of 'Pansori Gobub', Seoul Intangible Cultural Property No. 25.
Bio - Sun Wook Kim
London-based Sunwook Kim came to international recognition when he won the prestigious Leeds International Piano Competition in 2006, aged just 18, becoming the competition's youngest winner for 40 years, as well as its first Asian winner. His performance of Brahms's Concerto No.1 with the Hallé Orchestra and Sir Mark Elder in the competition's finals attracted unanimous praise from the press. Since then, he has established a reputation as one of the finest pianists of his generation, appearing as a concerto soloist in the subscription series of some of the world's leading orchestras, including the London Symphony Orchestra (Gardiner, Harding), Concertgebouw Orchestra (Chung), Berlin Radio Symphony (Janowski), NDR Sinfonieorchester Hamburg, Finnish Radio Symphony (Oramo, Manze, Sokhiev), Philharmonia Orchestra (Ashkenazy, Valcuha, Gardner), London Philharmonic (Sinaisky), Radio-France Philharmonic (Chung), NHK Symphony (Steffens), Hallé Orchestra (Elder), and the Bournemouth Symphony Orchestra for his BBC Proms debut in Summer 2014.
In 14/15 he completed a highly acclaimed residency with the Bournemouth Symphony Orchestra and returns there this season for a performance of Tchaikovsky's 1st Concerto. Since their Leeds finals together in 2006, Sunwook Kim has also enjoyed an ongoing relationship with the Hallé Orchestra and Sir Mark Elder. At the start of last season they gave a 6-concert tour together with Rachmaninov's Concerto No.3 and recorded Brahms's Piano Concertos No.1 & 2 for release next year on the Hallé's own label. Other recital concerto highlights include a performance of Unsuk Chin's Piano Concerto with the Radio-France Philharmonic at the prestigious Festival d'Automne in Paris, and debut projects with the Deutsche Kammerphilharmonie Bremen (Schumann with Paavo Järvi), Hamburger Symphoniker (Rachmaninov 3), Opera di Roma (Beethoven 4) and Hong Kong Sinfonietta (Brahms 1).
Recitals highlights to date include regular appearances in the "Piano 4 Etoiles" series at Salle Pleyel in Paris, as well as debuts at the Wigmore Hall, the London International Piano Series (Queen Elizabeth Hall), Stockholm Konserthuset, Teatro Colon Buenos Aires, La Roque d'Antheron International Piano Festival in France, Kioi Hall in Tokyo, Symphony Hall Osaka, Brussels Klara Festival, Beethoven-Haus Bonn, Klavier-Festival Ruhr and Mecklenburg-Vorpommern Festspiele. In 12/13, he presented a complete cycle of the Beethoven Sonatas at the LG Arts Centre in Seoul. Future recital plans include returns to the "Piano 4 Etoiles" series at the Philharmonie in Paris and Wigmore Hall in London.