Kimchi-bokkeum-bap (Kimchi Fried
Rice)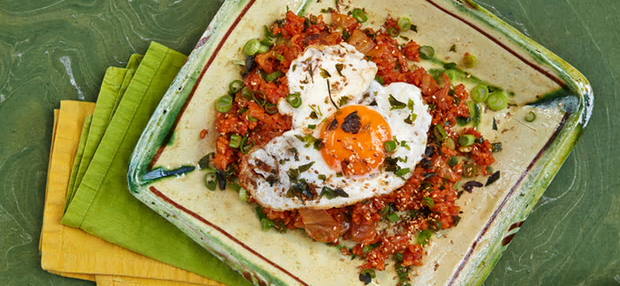 The KCC Hansik Challenge
It is one of the delicacies of Korea, cooked conveniently by stir frying cooked rice with diced kimchi. Depending on the individuals' preference, beef, pork, vegetables or egg can be added while cooking.
Ingredients (serve 4)
4 cups cooked rice (2 lb, 920g)
7 oz (200g) Baechu-kimchi (napa cabbage kimchi)
5 oz (150g) ground pork
⅓ carrot (2 oz, 60g)
½ onion (3⅓ oz, 100g)
4 eggs
4 tablespoons vegetable oil
1 tablespoon soy sauce
salt, ground black pepper as needed

Preparation
Chop the kimchi into ½-inch (1-cm) pieces. Rough chop the carrot and onion into small bite sized pieces.
Cooking
Heat a large skillet over high heat. Add the vegetable oil and stir-fry the onion over medium heat until it turns translucent. Add the pork, carrot and kimchi.
When the pork is fully cooked, add the rice and continue stir-frying. Finally season to taste with soy sauce, salt and black pepper.
In a separate frying pan, fry the eggs sunny side up style. Place the kimchi fried rice in the individual bowls and top each bowl with a fried egg.
Tip
Finely chopped beef, pork, chicken or vegetables (peas, zucchini, broccoli) may be stir-fried together according to the diner's preference. For great combination, fried eggs are placed on top of spicy kimchi-bokkeum-bap.
Recipe source: Korean Food Promotion Institute (Korean Food Foundation)