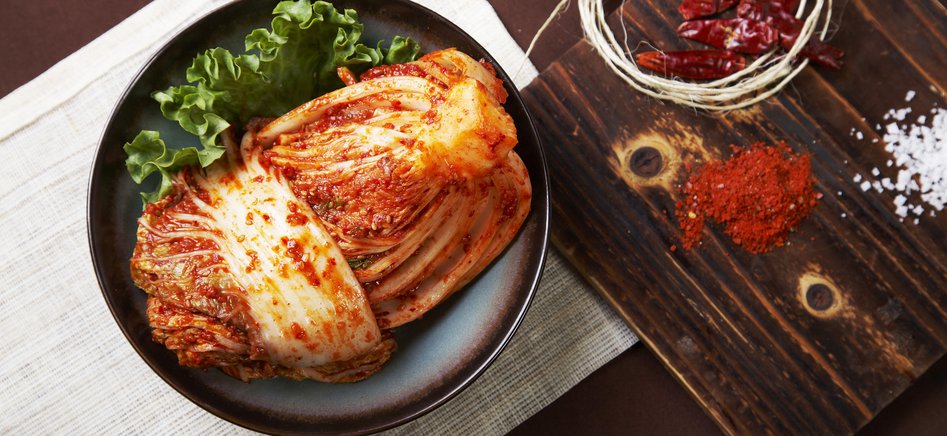 Online Korean Cuisine Class
Reserve your place by 14th March
For your 2021 cooking inspiration, the KCCUK presents a series of online Korean Cuisine Classes, starting with Kimchi. Kimchi is a spicy traditional Korean side dish made with cabbage. As the love of fermented food continues in the UK, it is a perfect time to try making your own.
The instructor, Da-Hae West is a Korean cookery teacher, consultant and author of K-Food. Da-Hae is an authority on Korean food, having worked behind the scenes on TV shows Gizzi Erskine's Seoul Food and John Torode's Korean Food Tour, as well as personally appearing on the BBC's One Show and The Travel Channel's Footie Shorts.
During this class, Da-Hae will introduce Kimchi and Kimjang culture, which is an annual tradition in Korea where people come together to make and share Kimchi. The event also features a demonstration of how to easily make kimchi using shop bought ingredients that you can follow along to.
In April, we are planning to have another cuisine class about some cooking tips, using your homemade kimchi, so don't forget to check our website, newsletter and social media for more details.


Introducing Kimchi
Kimchi is a staple in Korean Cuisine, which is served as a side dish with every meal. It's a fermented food made of cabbage and a variety of seasonings. There are a lot of varieties which include radish, onion, cucumber and different spices. It can be eaten on its own or used to make other dishes like kimchi fried rice or kimchi pancakes. Kimchi is known as a healthy super food, which contains a form of lactobacillus bacteria. These healthy microorganisms remove harmful bacteria and help to restore gut health.


Event Details
Date: Thursday 18 March 17:30 – 18:30 (UK time)
Venue: ZOOM (Online)
Entrance Free - Booking Essential
Apply to info@kccuk.org.uk with your name, email by 14 March 2021.
The event is free of charge, but booking is essential.
* Privacy policy: This event will be audio and video recorded through ZOOM. By attending this event, you are consenting to be recorded.


Ingredients
500g White cabbage
2 Tbsp salt
2 Tbsp fish sauce
6 long red chillis, roughly chopped
1 apple, roughly chopped (skin can stay on)
1 thumb size piece of ginger, peeled and roughly chopped
4 cloves garlic, peeled
3 spring onions, roughly chopped
You will also need:
1 large bowl
1 medium bowl
1 blender or food processor
Large Tupperware container or sterilised jar
Disposable gloves
Tablespoons
Chopping board
Knife
Colander
Image Credit: Shutterstock