Yor-K 2022: Screening of An Omnivorous Family's
Dilemma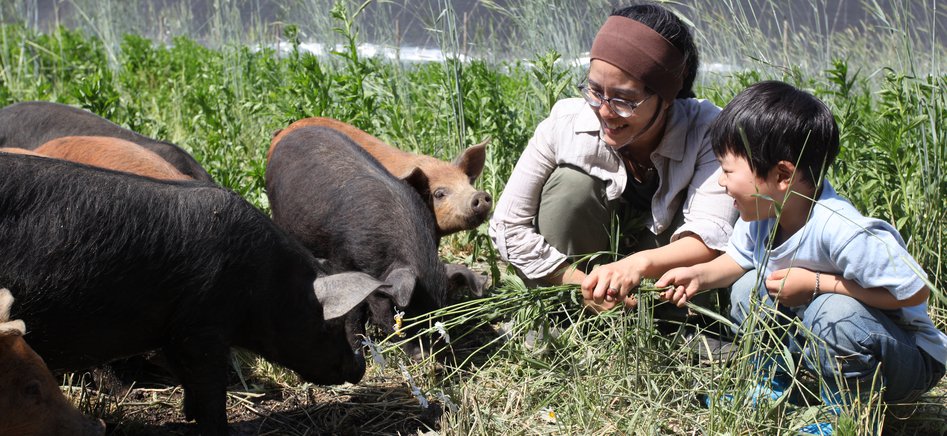 A Korean documentary film presented at the Berlin International Film Festival 2015.
'An Omnivorous Family's Dilemma' follows filmmaker Yun Hwang as she tries to find out what kind of life pigs lead before they are sold for meat.
TECHNICAL INFO
2015│HD│105min│Color │Documentary│16:9
In Korean with English Subtitles
Exhibition Formats : DCP, HDCAM
CREDITS
Director Yun HWANG
Producer Il-kwon KIM
Production Studio DUMA, CinemaDAL
Cinematography Jeong-hoon SHIN, Ku-yeong KIM
Editing Yeon-jeong LEE, Yun HWANG
SYNOPSIS
This film takes place when there was a nationwide slaughter of livestock to put a stop to the foot-and-mouth disease. Filmmaker Yun realizes that she has never seen a pig before, and starts a journey searching for pigs. Yun goes deep into the mountains to meet a pig farmer who raises his pigs in a traditional manner. As Yun observes the daily routines of a mother pig Shipsoon and her piglet Donsoo, she discovers new facts she has never known before. As she develops a bond with the lovely pigs and acknowledges another side of the farm and meat industry, it becomes difficult for her to enjoy pork cutlets as she used to. And to make matters worse, her husband and young son Doyoung are not making her choice of daily menus easier. As she falls into a dilemma, her awareness about eating animals begins to penetrate everyday level.
DIRECTOR'S NOTE
It was 2011 during the winter time, when the news was lightly speaking about burying 3.5 millions of livestock in the land. At that time, I realized that I had never even seen a real pig before in my life. I had enjoyed pork cutlets so much but I have never seen a living pig. What a strange situation it was. It was rather easy for me to see either tigers or gorillas in the danger of extinction. Ironically, I was well aware of tigers but not pigs. I met the pigs on my dinner table not on the farm. For this reason, I started my journey to meet pigs to get to know them. Also, I wanted to show my son the real pig. While I was spending time with my son at a pig farm, we learned about them. Although the pigs have their own language, we found out the way to communicate with them. The universal language, love has made it possible.
FILMMAKERS
YUN HWANG (Ms.) – DIRECTOR
Starting with her documentary Farewell (2001), she has continued to make documentaries venturing beyond a human centered perspective to explore the ironies of modern civilization from non-human animals' standpoint. As a three-part series along with Farewell, she has directed Silent Forest (2004) and One Day on the Road (2006).
Farewell was screened in many film festivals including International Documentary Film Festival Amsterdam (IDFA) and received Excellence Award in YAMAGATA International Documentary Film Festival, Woonpa Award (award for the best Korean documentary) in BUSAN International Film Festival, and Audience award in Seoul Independent Film Festival.
Yor-K 2022 is a sustainability themed day-festival that celebrates contemporary and traditional Korean culture. Organised in collaboration with the Korean Cultural Centre, the festival is packed with family friendly activities and opportunities to experience the food, music and art of Korea.
Date and time
Sat, 28 May 2022
15:00 – 17:00 BST
Location
CC/101 - Critical Listening/Screening Room (1st floor), York St John Creative Centre
York St John University
Lord Mayor's Walk
York
YO31 7EX