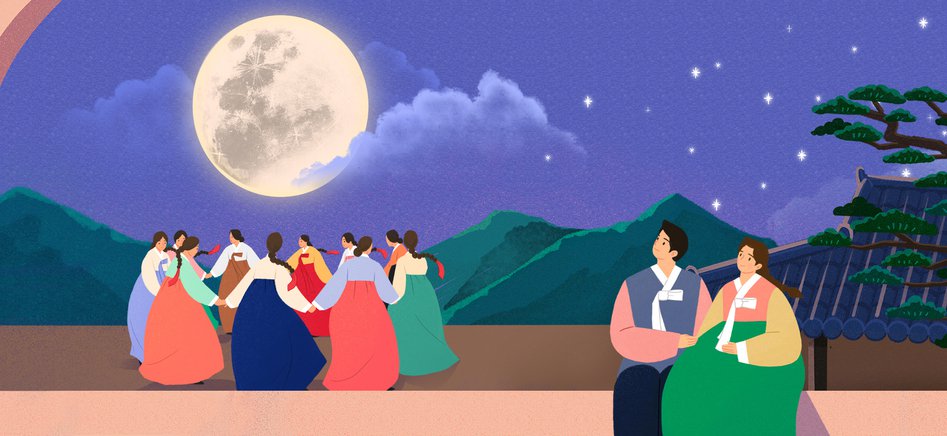 Experience authentic Korean customs with Chuseok Festival 2021
Celebrate the Autumnal equinox with Korea's Thanksgiving Holiday, Chuseok (추석)
Chuseok is one of the biggest and most important holidays in the Korean calendar along with Seollal (Lunar New Year's Day). This year, Chuseok falls on the 21 September 2021.
For this holiday it is customary for Koreans to visit their hometown to spend quality time with their family, gathering to share food and stories and to give thanks to ancestors.
To commemorate Chuseok, we are holding special celebrations at the KCCUK and we invite you to join us and experience traditional Korean culture in its most beloved form.
The Chuseok Festival 2021 will allow you to experience the key Chuseok traditions:



1. Hanbok (한복, traditional Korean clothing)
As Chuseok is a celebration of harvest and abundance, the holiday period is made joyful with various entertainment and folk games such as samulnori (사물놀이, traditional percussion quartet), talchum (탈춤, mask dance), ganggangsullae (강강술래, Korean circle dance), and ssireum (씨름, traditional Korean wrestling). Ganggangsullae is performed during Chuseok, and in this dance, women dressed in hanbok, join hands in a large circle and sing together on the night of the first full moon and on Chuseok. You can try some of beautiful hanbok at the KCCUK and feel free to take selfies!
2. Songpyeon (송편, half-moon rice cakes)
In the morning of the day of Chuseok, family members gather at their homes to hold memorial services called Charye (차례) in honour of their ancestors. During Chuseok's charye, freshly harvested rice, alcohol, and songpyeon are prepared as an offering to the family's ancestors. After the service, family members sit down together at the table to enjoy delicious food. At the KCCUK, you will be able to try songpyeon!
3. Traditional Handicraft
During Chuseok, many of the palaces and museums in Korea prepare events dedicated to this festive season. One of their biggest offerings often includes workshops and open sessions where visitors can learn more about traditional Korean handicrafts or join in in classes to make them. These workshops are usually open to all ages and tend to be quite popular amongst families.
This year, the KCCUK will have some exciting workshops to celebrate Chuseok, including crafting sessions where visitors will be able to make their own traditional lanterns and ornamental pendants, such as norigae (노리개) - an item often used with hanboks.


Special Programme: Screening Snap
During the Chuseok holiday, families in Korea enjoy entertainment such as televised drama and music performances together. As the different generation gathers, the most loved genre is comedy. For celebrating Chuseok, we have prepared a screening of non-verbal performance Snap, which won the 'Best Production From Asian Arts Awards' in Edinburgh Festival Fringe 2016. The Screening starts at 7:00 pm. The event is free of charge, but booking is essential. Find out more here.
*challenge* Snap and Tag Us to win a prize!
Participants will have the chance to earn stamps for a card by participating our workshops, those who fill their card will win a K-Goodie bag. Ensure that you follow our Instagram account @kccuk and tag us to win!
Spaces are limited so apply now for the chance to take part.
Event Details:
Date: Sunday 26 September 2021
Time slots:
(Slot 1) 11.00am – 12.00pm
(Slot 2) 13.00pm – 14.00pm
(Slot 3) 15:00pm – 16:00pm
(Slot 4) 17:00pm – 18:00pm
(SNAP Screening) 19:00pm – 20:00pm
on the 'Best Production From Asian Arts Awards' in Edinburgh Festival Fringe 2016. The Screening starts at 7:00 pm. There is an additional slot created for this performance
Venue: Korean Cultural Centre UK
Spaces: 15 per each slot
Registration Deadline: Friday 24th September
COVID-19 Safety Requirements
We ask for your cooperation in following all UK government guidance for COVID-19 safety at the time of the event. Spaces are limited to allow for social distancing where necessary. Depending on the regulations, you may be required to wear masks, submit to temperature checks and/or follow social distancing rules at the Korean Cultural Centre UK. We strongly advise regular self-testing for COVID-19; the UK Government are offering free rapid home testing kits, which can be ordered here.

Photographs, videos and press photography
This event will be video recorded with photographs taken through the venue. By entering and by your presence here, you consent to be photographed and filmed. Footage will be used for social media posts and our Youtube channel.