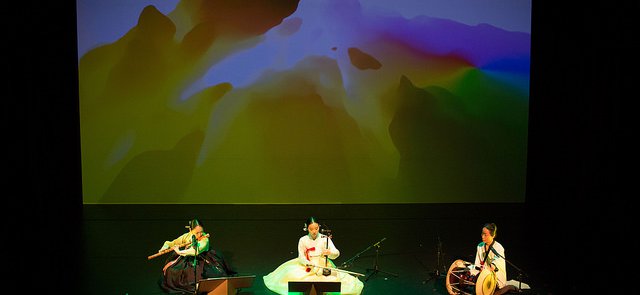 Korea Day in Nottingham
Friday 9 March, 7 30 pm at Lakeside Arts, Nottingham
[Programme]
K-Pop Dance
The University of Nottingham Korean Society K-Pop Dance Group
Traditional Korean Music and Dance
'The Shilla Ensemble'
Korea day in Nottingham is specially programmed to showcase The Shilla Ensemble's range with a mixture of traditional Korean music and dance pieces performed on the Daegeum- bamboo transverse flute (Hyelim Kim), Haegeum-fiddle like string instrument (Jihee Yoon), Janggu-double-headed drum (Jeunghyun Choi) and traditional dance (Haein Song).
The Shilla Ensemble is a traditional Korean music group based in the UK. Inspired by the philosophy of the Shilla dynasty, one of the most culturally affluent periods of Korean history, the group aims to present an inclusive approach to traditional Korean culture. Performances by the ensemble typically include music or dance works varying from traditional repertoires to newly composed pieces, and are based on a flexible music-making process. The inspiration behind this flexibility is both traditional and contemporary in the sense that fundamentally the creative process is based on equality and diversity.
The ensemble is lead by Hyelim Kim, a Daegeum flutist, composer and researcher, who believes that this ensemble's Korean heritage can act as an artistic inspiration for the contemporary and cosmopolitan environment of the UK.