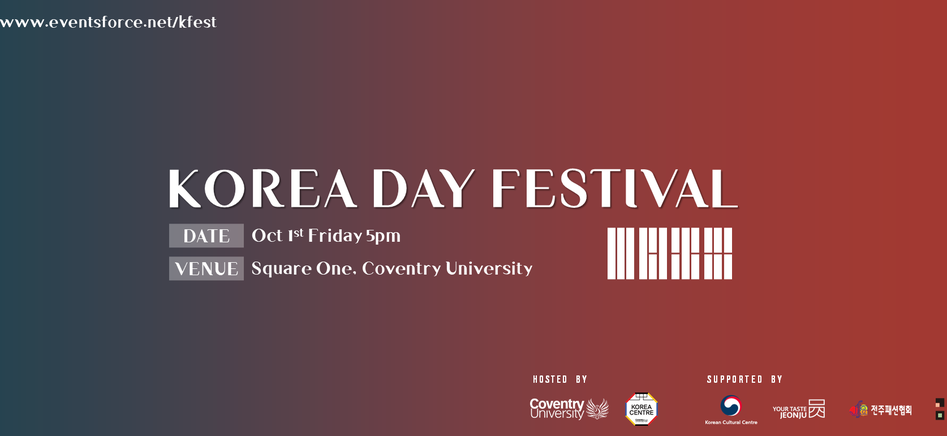 In partnership with the Korean Cultural Centre UK (KCCUK)
Coventry University are pleased to invite you to our Korea Day Festival.
Join us for a celebration of friendship and understanding between Korea and the UK featuring performances from Y Dance Project, KDSCU (K-Pop Dance Society Coventry University), Korean Senior Citizens UK, the Hanji Handok supported by the Jeonju Fashion Association and renowned Royal Opera House stars Haegee Lee and David Junghoon Kim.
Date: Friday 1 October 2021
Time: 5pm
Venue: Square One Bar, Cinema & Entertainment Venue Inside the Hub, Coventry University 4, Jordan Well, Coventry CV1 5QT
Fee: £5 per person
The full programme is available here.


Korean Day Festival Art Exhibition
On 1 October we will also be launching our Korean Day Festival Art Exhibition, with works from artists Young Sook Park, Chan Hyo Bae, Mee Kyoung Shin, Dong Won Lee, Kum Young Kown, Byung Chan Kim, Hyun Jung Koh and Young Hun Ham. The exhibition will be on display until 31 October at CU Coventry, 8 Mile Lane, Coventry CV1 2TU.
Debra Jeffree LLB, Compere
Debra Jeffree was an Associate Professor at Coventry University for over 30 years during which time she held a wide range of academic, professional and managerial responsibilities in the School of Strategy and Leadership and Coventry Law School.
Latterly Debra taught business law and employability skills to undergraduate business students, was involved with student conciliation and played a leading role in student recruitment and admissions.
Debra is a senior teaching fellow of the Higher Education Authority and in addition to business law has taught a wide range of subjects including Land and Property Law, Business Organisations and Principles of English Law. Her research interest was the management and training needs of solicitors.
Prior to joining the University Debra gained experience of consumer advice, mediation within the criminal justice system and high-volume residential conveyancing in private practice and has been a consultant and external examiner to the National Association of Estate Agents.
Y Dance Project (From 5:10pm and 5:40pm)
Y Dance Project is a dance company exploring movement vocabularies combined with Korean dance and Contemporary dance and challenging various formats, including screendance, installation arts, and music.
Y Dance Project mainly focuses on the issues of society in dance works, bringing Korean tradition and culture.
Jeonju Fashion Association (Hanji Fashion Show from 5:15pm)
Jeonju Fashion Association, located in Jeonju City, has dedicated itself to developing Hanji fashion, grafting the practicality of Hanji into the beauty of hanbok. They introduce Hanji as sustainable fashion material under the theme of 'Hanji Fashion: Dreaming Sustainable City and Future'.
KDSCU (K-Pop Dance Society Coventry University) (From 5:45pm)
KDSCU are a family that have good quality time together, and whose bonds assure that no one walks alone. They gather together twice a week for dance classes to learn amazing KPOP dances and few times a month to just spend time together with some good food, a movie or other fun activities like ice skating or mini golf. For past three years the society have created many amazing friendships that are lasting till now among almost 400 members through the past years. They are family in the exact meaning of this word. They support each other in every problem, and share together one, amazing thing: our passion for KPOP.
Kil Chan Lee, Calligrapher (From 6pm)
Mr Kil Chan Lee is a Korean traditional calligrapher. He is the trustee of the Korean Culture and Arts based in New Malden. He actively promotes the beauty of Korean calligraphy in the UK.
Korean Senior Citizens, UK (From 6.30pm)
Senior Citizens UK, led by Mrs Sunhwa Griffiths, have been actively promoting Korean culture in the UK, especially in New Malden and Kingston upon Thames. Its members perform traditional Korean music and dance, and they also promote Korean traditional poetry and calligraphy
David Junghoon Kim, Royal Opera House (From 6.55pm)
An alumnus of the Jette Parker Young Artist Programme, Korean tenor David Junghoon Kim is the winner of the much-coveted Francisco Viñas, Voci Verdiane and Toulouse singing competitions. Since his graduation from the programme in 2017, Kim has made a series of notable debuts and appearances: as Alfredo in a new production of La Traviata in Cologne, Macduff Macbeth at the Royal Opera House, Rodolfo La Boheme in Zurich and Stuttgart; Roméo Roméo et Juliette at Grange Park Opera, and Leone de Casaldi in concert performances of the world premiere of Donizetti's L'ange de Nisida with Sir Mark Elder at the Royal Opera House - recorded and later released by Opera Rara. In the 2020/21 season Junghoon Kim returns to English National Opera as Rodolfo La bohème in their 'Drive & Live' series at the Alexandra Palace. Junghoon Kim was also invited to make his company debut with The National Theatre Opera, Prague as Rodolfo La bohème. Future seasons bring appearances at the Royal Opera House and Glyndebourne Festival Opera and to sing Verdi Requiem with Royal Scottish National Orchestra. Last season, Kim made company debuts with English National Opera as Rodolfo in a new production of Luisa Miller, and as Duke of Mantua Rigoletto with Welsh National Opera, as well as a return to Oper Stuttgart to jump in as Rodolfo in Andrea Moses's production of La bohème. Recent highlights include several important house debuts; Macduff Macbeth and Rodolfo La bohème at Opernhaus Zürich, Rodolfo La bohème at Oper Stuttgart, Italian Singer Der Rosenkavalier at Teatro Municipal de Santiago de Chile, Edgardo Lucia di Lamermoor at Dorset Opera Festival, and his Verdi Requiem debut with the Oslo Philharmonic and Jun Märkl. A graduate of the Seoul National University, he made his professional debut as Rodolfo La bohème, subsequently joining the Jette Parker Young Artists Programme from 2015-17. As a member of the JPYAP, roles included Italian Singer Der Rosenkavalier, Venditore Il tabarro, Arturo Lucia di Lammermoor (also covering Edgardo), Ruiz Il trovatore, Flavio Norma, Nathanael Les contes d'Hoffmann, Lamplighter Manon Lescaut, Gastone La traviata, Augustin Moser Die Meistersinger von Nürnberg, Count Lerma and Herald Don Carlo and Pong Turandot.
Haegee Lee, Royal Opera House (From 6.55pm)
Born in South Korea, Haegee Lee trained at Seoul National University and the Conservatoire National de Région Pierre Barbizet, Marseille. She now studies with Isabelle Vernet. Her awards include First Prize in the Concours de Bach, Marseilles, and Second Prize in the first Korean Classical Singers Association International Vocal Competition, Seoul. She now lives in London. Between 2017 and 2019, Haegee Lee was a member of the the Jette Parker Young Artists Programme at the Royal Opera House, Covent Garden, where she sang the roles of Frasquita Carmen, Sandman Hänsel und Gretel, Papagena Die Zauberflöte and Xenia Boris Godunov, as well as appearing in the annual Summer Performances as Elvira L'Italiana in Algeri, Zerbinetta Ariadne auf Naxos and Gilda Rigoletto. She also covered roles including Micaëla La Tragédie de Carmen, Marie La Fille du Régiment, Donna Anna Don Giovanni and Azema Semiramide. Her broadcasts include The Dengineers: Opera House Den for CBBC. Recent engagements have included Frasquita Carmen and Gilda Rigoletto for Welsh National Opera and an Opera Gala at the Kukje Art Center, Seoul. Her current engagements include a return to the Royal Opera, London, as Papagena Die Zauberflöte, for whom she will also cover Gilda Rigolett.
Artwork courtesy of the Korea Centre, Coventry University