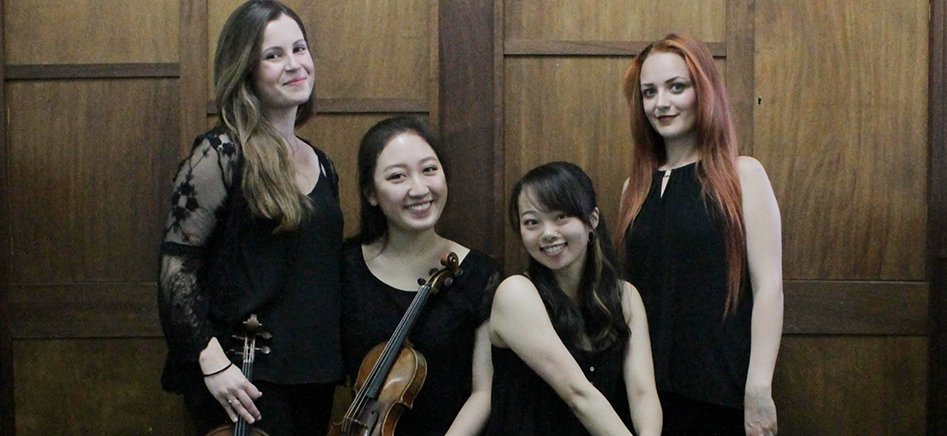 KCC House Concert
Haim Choi (Violin), Ines Soares Delgado (Violin), Kasia Ziminska (Viola), Shizuku Tatsuno (Cello)
Programme
Grieg String Quartet in G minor, Op.27
Mozart String Quartet "Spring" No.14 K387 in G Major
Schumann String Quartet No.3 in A minor, Op.41/3

Free admission but RSVP required. Please click the 'RSVP now' button in the top right corner of this page.


Biography
Salomé Quartet
The Salomé Quartet is a multinational ensemble formed in 2016 by four prizewinning students of the Royal College of Music in London: Haim Choi (South Korea), Ines Delgado (Portugal), Kasia Ziminska (Poland) and Shizuku Tatsuno (Japan). The musicians have performed worldwide in venues including Muzikverein (Vienna), Mozarteum (Salzburg), Unesco Hall (Paris), Lutoslawski Concert Studio (Warsaw), Tel Aviv Opera House (Israel) and Wigmore Hall, Barbican Centre, Southbank Centre, Royal Albert Hall, Cadogan Hall in London.
In 2017 the quartet won the Royal College of Music String Quartet Competition, Helen Just & Susan Cornell Prize and the Sacconi Quartet Prize and was the Quartet in Residence at the Oundle School. In 2018, the group made their debuts at the Cadogan Hall and Kings Place, and future concerts in the season will see the group perform around the UK, including Milton Court, Barbican, and Sacconi Chamber Music Festival in Kent.
The young ensemble enjoys performing new music by contemporary composers, and have recently premiered a piece by the Turner Prize winning artist Martin Creed at the O2 Forum. The group has worked under the tutelage of renowned musicians such as Chamber Orchestra of Europe principle Mats Zetterqvist, as well as the Sacconi, Harlem and Fitzwilliam Quartets. The Salomé Quartet gracefully acknowledge the generous support from the Leverhulme Trust, Stanbridge Drake Brockman Award, Calouste Gulbenkian Foundation Award and the Orpheus Award.