Cancelled: Salomé
Quartet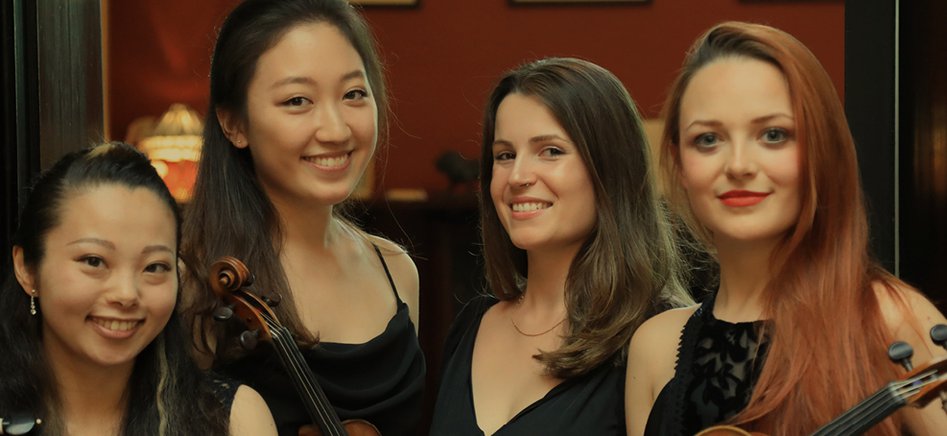 2020 KCC House Concert June
***In light of the spread of the Coronavirus (Covid-19), the Korean Cultural Centre UK has taken the decision to cancel this programme.
We apologise for the disappointment and inconvenience caused. If you have any questions on this, please contact us at info@kccuk.org.uk.
We really appreciate your patience and thank you for your continued support.***
Haim Choi (Violin), Inês Soares Delgado (Violin), Kasia Ziminska (Viola), and Shizuku Tatsuno (Cello)
You can RSVP for this event from Monday 1 June 12:00.

PROGRAMME
Haydn String Quartet in D Minor Op.76 No.2 "Fifths"
I. Allegro
II. Andante o più tosto allegretto
III. Menuetto. Allegro ma non troppo
IV. Vivace assai
Shostakovich Two Pieces for String Quartet Op.36
I. Elegy
II. Polka
INTERVAL
Mendelssohn String Quartet No. 2 in A Minor Op. 13
I. Adagio – Allegro vivace
II. Adagio non lento
III. Intermezzo: Allegretto con moto – Allegro di molto
IV. Presto – Adagio non lento
Salomé Quartet
Salomé Quartet is a multinational ensemble formed in 2016 by four prizewinning students of the Royal College of Music in London: Haim Choi (South Korea), Ines Delgado (Portugal), Kasia Ziminska (Poland) and Shizuku Tatsuno (Japan).
The four musicians have performed worldwide in venues including Muzikverein (Vienna), Mozarteum (Salzburg), Unesco Hall (Paris), Lutoslawski Concert Studio (Warsaw), Tel Aviv Opera House (Israel), as well as Wigmore Hall, Barbican Centre, Southbank Centre, Royal Albert Hall and Cadogan Hall in London. In 2017 the quartet won the RCM String Quartet Competition, Helen Just & Susan Cornell Prize, and Sacconi Quartet Prize. They were also invited as Quartet in Residence at the Oundle School. Last season saw the group perform around the UK and abroad, including Milton Court, Barbican Centre, Wigmore Hall, Royal Opera House, Sacconi Chamber Music Festival in Kent, and Tel-Aviv Opera House, among others, as well as completing an Artist Residency at the Leighton House Museum.
The quartet has been invited to attend the prestigious Keshet Eilon International Mastercourse in Israel. They are looking forward to new residencies at the Wye Valley Festival and Greenwich Cutty Sark, as well as performing as Young Artists at Chiltern Arts Festival and Highgate International Chamber Music Festival. The ensemble enjoys performing new music by contemporary composers, and has recently premiered a piece by a Turner Prize winning artist, Martin Creed, at the O2 Forum. The group has worked with renowned musicians such as Mats Zetterqvist, Simon Rowland Jones, Paul Roczek, Chaim Taub, Garth Knox, Grigory Kalinovsky, and ensembles such as Sacconi, Chilingirian, Harlem, Austrian, Aviv, and Fitzwilliam Quartets.
Salomé Quartet are grateful for the generous support of the Leverhulme Trust, Calouste Gulbenkian Foundation, Orpheus Award, and Joan Weller & Jessie Sumner Scholarship.