Minhee Cho & Sooyeon Lee & HyunJeong
Hwang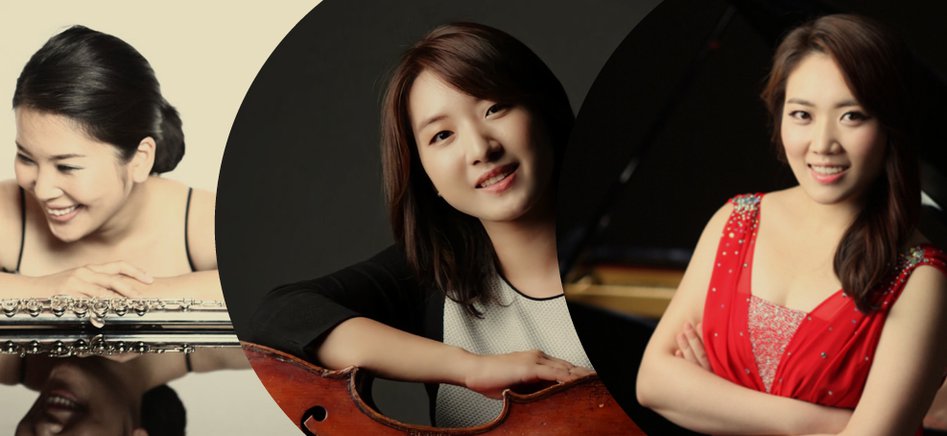 2020 KCC House Concert August
Minhee Cho (flute) & Sooyeon Lee (cello) & HyunJeong Hwang (piano)
PROGRAMME
Kuhlau Trio in G Major, Op.119
I. Allegro moderato
II. Adagio patetico: Sostenuto assai
III. Rondo: Allegro
Farrenc Trio for Flute, Cello, and Piano, Op.45
I. Allegro desico
II. Andante
III. Scherzo
IV. Finale
INTERVAL
Debussy Piano Trio No.1 in G Major, L.3 (Arr. J. Franz for Flute, Cello, and Piano)
I. Andantino con moto allegro - Allegro appassionato
II. Scherzo
III. Intermezzo. Andante espressivo
IV. Finale. Appassionato
Minhee Cho flute
Korean flutist Minhee Cho completed her masters' course in flute under the guidance of William Bennett at the Royal Academy of Music in 2017. She received her BMus from the Royal College of Music (Sue Thomas) with a scholarship after transferring from Ewha Women's University in 2009. Before she joined the Royal College of Music she studied under Trevor Wye, one of the most prominent flutists in the world. Cho currently gives recitals throughout the UK and private tuitions.
Sooyeon Lee cello
Before moving to Japan, Sooyeon Lee attended the Preliminary School of the Korean National University of Arts (KNUA), the Sunhwa Arts School and the Seoul Arts High School (Korea) with Hee-Song Song. While in Japan Lee studied with Tsuyoshi Tsutsumi for 2 years. She returned to Korea to complete her Bachelor of Music at Yonsei University, studying with Sung-Won Yang. During her undergraduate studies she attended 2 master classes by Prof. Jo Cole, who encouraged her to study with her at the Royal Academy of Music (London) where she graduated with a Master of Arts in Cello Performance receiving a Distinction and the Dip. RAM award for outstanding performance in the Final Recital in 2016.
HyunJeong Hwang piano
HyunJeong Hwang is a keen pianist with a passion for her classical and romantic repertoire, she enjoys an active and multifaceted musical life, performing as a soloist and chamber musician. More recently, she won 2nd prize in the Lazar Berman Competition in Italy and was also offered to be an official accompanist at the Grand Virtuoso Prize in London for the winning concert at the Elgar Room, Royal Albert Hall. Her performances at international festivals include the Amalfi Festival in Italy, the Gabala Music Festival in Azerbaijan, and the Puigcerda Festival in Spain. Since 2013, she has attended the Puigcerda Festival and performed Beethoven's Fourth Concerto in 2016 with the Kyiv Orchestra. In London she has studied with Daniel-Ben Pienaar, Colin Stone at the Royal Academy of Music and continued her doctorate at the Guildhall School of Music and Drama.