Ji Young Kim, Mihály Berecz and Saki
Kato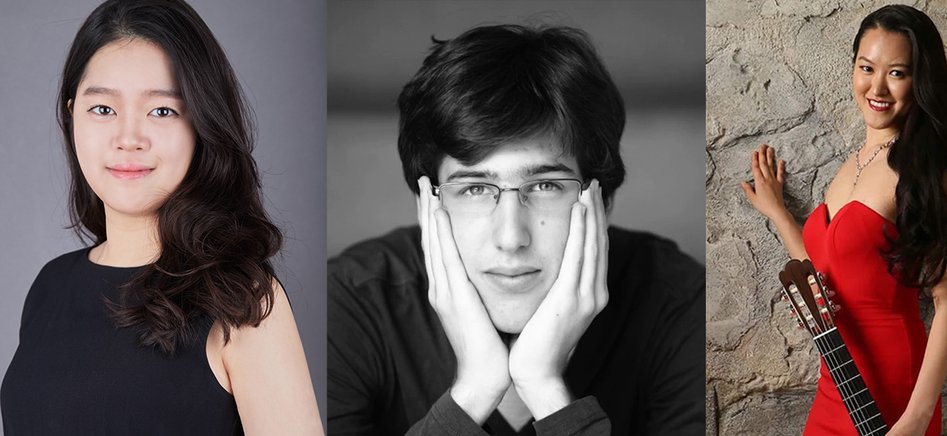 KCC House Concert
Ji Young Kim (Flute), Mihály Berecz (Piano), Saki Kato (Guitar)
PROGRAMME
Mozart Rondo in D Major, K. Anh. 184 Dutilleux Sonatine for flute and piano
ll. Andante
lll. Animé
Godard Suite de trois morceaux, Op. 116
I. Allegretto
II. Idylle
III. Valse Piazzolla Histoire du tango for flute and guitar *Guitar: Saki Kato
Tchaikovsky Lenski's Aria from "Eugene Onegin"
Jolivet Chant de Linos
Ji Young Kim Flute
Ji Young Kim is a Korean flautist, currently in the third year of her undergraduate studies at the Royal Academy of Music with William Bennett, Kate Hill and Helen Keen (piccolo). As a soloist, she has won several competitions including the Korea Flute Association Competition 3rd Prize and the Seoul Flute Competition 2nd Prize. She recently won 1st Prize at the All Flutes Plus Competition at the Royal Academy of Music. Her recent performances include lunchtime and early evening concerts with her quartet (two flutes, cello and piano), a guitar chamber music concert and a guitar open day concert in the Angela Burgess Recital Hall at the Royal Academy of Music.
Mihály Berecz Piano
Born in Budapest, Hungary in 1997, Mihály Berecz began studying the violin at the age of six at the Szent István Király Zeneművészeti Szakközépiskola in Budapest. Whilst continuing to play violin in orchestras, three years later he chose to devote his studies to the piano with Edit Major and Erzsébet Belák. Berecz is currently a third-year undergraduate at London's Royal Academy of Music studying with Christopher Elton and Joanna MacGregor. As winner of the Debut Berlin International Concerto Competition in 2017, Berecz made his debut at the Philarmonie, Berlin in June 2017 with the German National Orchestra. Berecz previous awards include gold prize in the II. Manhattan International Music Competition and the Harriet Cohen Bach Prize at the Royal Academy of Music.
Saki Kato Guitar
Saki Kato is a Japanese classical guitarist who has performed extensively all over the world, including concerts in the U.K., Taiwan, China, Australia, Italy, the USA, and Japan, where she gave her first performance of Rodrigo's Concierto de Aranjuez at the age of twelve. Having won many guitar competitions in Japan, she entered and became the first Japanese winner of the Guitar Foundation of America's Youth Solo Competition aged eleven, with a perfect 100% score from each of the judges. Currently, Kato studies at the Royal Academy of Music in London with Michael Lewin and has been supported by the F. G. Fitch Bequest Scholarship, the Blyth Watson Award, and the Julian Bream Trust, for whom she will be performing at Wigmore Hall in autumn 2019, which will include the world premiere of a piece by Edward Cowie.