Jenny Lee & Artur
Haftman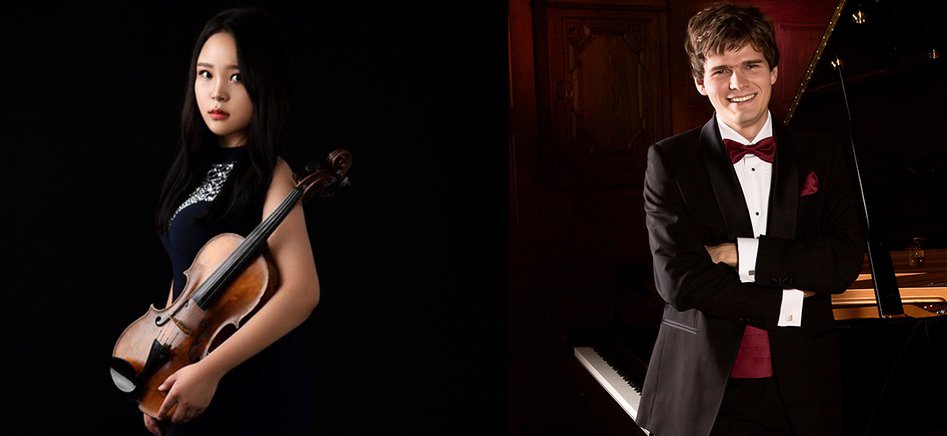 KCC House Concert 25 June 2019
Jenny Lee (Viola) & Artur Haftman (Piano)
PROGRAMME
Schumann Adagio and Allegro for Viola and Piano
I. Adagio. Langsam, mit innigem Ausdruck
II. Allegro. Rasch und feurig - Etwas ruhigert -Tempo
Bach Cello Suite No. 1 in G Major for Solo Viola
Brahms Sonata for Viola and Piano in F minor, Op. 120
II. Andante un poco adagio
Mozart Piano Sonata in B flat Major, K. 281
I. Allegro
II. Andante amoroso
III. Rondeau. Allegro
Chopin Nocturne D flat Major, Op. 27 No. 2
Chopin Polonaise A flat Major, Op. 53
Vieuxtemps Sonata in B flat Major for Viola and Piano
Maestoso – Allegro
Jenny Lee Viola
Jenny is currently studying at the Royal College of Music as a second-year undergraduate student. She previously attended LHS as a principal violist of both LHS orchestra and LHS Chamber Ensemble and learned under Jack Rosenberg of Juilliard School of Music from 2012. She also played in Joo Young Oh's chamber orchestra in the summer of 2015. In addition, Jenny was appointed concertmistress of the New York Classical Youth Orchestra from 2013 to 2014 and principal violist from 2014 to 2017. As a result, she had many opportunities to perform at the Lincoln Center, Carnegie Hall, Lefrak Concert Hall, DiMenna Center, SIA Chamber Hall and Merkin Hall with the K-Radio Philharmonic Orchestra.
Artur Haftman Piano
Pianist Artur Haftman was born in Poland in 1994 and is currently studying for a Master of Performance at the Royal College of Music in London with Dmitri Alexeev. He began playing the piano at the age of seven studying with Ewa Kubiak-Kubacka and later with Jolanta Reszelska. At the Royal College of Music, he is the recipient of the prestigious Kenneth and Violet Scott Award. He is also supported by Drake Calleja Trust, Talent Unlimited Musical Charity, The Hanna and Zdzislaw Broncel Charitable Trust and 'Konfraternia Artystów Polskich'. Artur is the winner of numerous international competitions including First Prize in the International Music Competition 'Musicaclassica' in Moscow (2012), and 7th International Chopin Competition in Narva – Estonia (2010).


RSVPs will be available 1-2 months prior to the event. To reserve your place, please visit this page again.