Cancelled: Jaeyong Nam & Yurie Lee & Harry
Rylance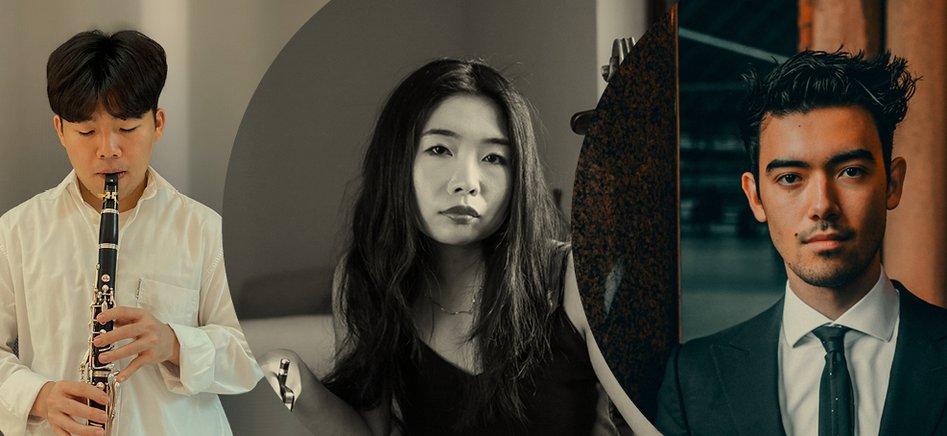 2020 KCC House Concert September
***In light of the spread of the Coronavirus (Covid-19), the Korean Cultural Centre UK has taken the decision to cancel this programme.
We apologise for the disappointment and inconvenience caused. If you have any questions on this, please contact us at info@kccuk.org.uk.
We really appreciate your patience and thank you for your continued support.***
Jaeyong Nam (clarinet) & Yurie Lee (cello) & Harry Rylance (piano)


PROGRAMME
Beethoven Clarinet Trio Op. 11
I. Allegro con brio
II. Adagio
III. Tema con variazioni
Wagner/Liszt Tannhäuser Overture
INTERVAL
Brahms Clarinet Trio Op.114
I. Allegro
II. Adagio
III. Andantino grazioso
IV. Allegro
Jaeyong Nam clarinet
Jaeyong Nam is a clarinettist at the Royal Academy of Music, where he studies with Chris Richards, Mark Van de Wiel and Timothy Lines. Nam began learning the clarinet when he was 9 years old. Since moving to Shanghai, China in 2008, he self-taught the clarinet until he went on to study at the Royal Northern College of Music in Manchester with Nicholas Cox, Chris Swann and Antonio Salguero with an entrance scholarship. During his time in China, Jaeyong also toured many cities across the country, performing at several major concert halls including the Shanghai Symphony Hall and the Qingdao Concert Hall as a part of the Yew Chung Foundation Orchestra and the New Shanghai Orchestra. As an orchestral musician, Jaeyong has also performed under numerous renowned conductors such as Jac Van Steen and Robert Trevino. Highlights of his recent orchestral playing include performing Beethoven's symphony No.8 with Lorrenza Borrani, the leader of the Chamber Orchestra of Europe. He has also recently participated in masterclasses featuring world-renowned clarinettists such as Andreas Ottensamer, Gabor Varga, Patrick Messina and Romain Guyot.
Harry Rylance piano
Harry Rylance is a pianist based in London. A recent graduate at the Royal Academy of Music studying under Head of Piano, Joanna MacGregor, he has performed as a soloist and collaborative musician in the UK, USA, Canada, Hungary, Germany, France, Korea and New Zealand. Recent engagements in the UK have included performances at the Royal Festival Hall, the Royal Albert Hall, Wigmore Hall, the Foreign Office, and live on BBC Radio 3. Harry has an international background having studied in Korea, Hong Kong, New Zealand, Hungary, and the USA before returning to the UK in 2015. During his time in Hungary he studied at the Franz Liszt Academy of Music with a number of teachers including the late Zoltán Kocsis. At the Royal Academy of Music he was the recipient of numerous awards, including the Christian Carpenter Recital Prize and the Isaacs and Pirani Piano Trio Prize.
Yurie Lee cello
Renowned for her musicianship and devotion to collaborative projects, Yurie Lee is quickly gaining recognition as a versatile cellist. This past season saw her as Principal Cello with the Royal Academy Symphony Orchestra under the batons of Sir Mark Elder and Jac van Steen. She is a member of "Trio Mazzolini" with whom she went on tour to Toronto, Canada to perform. They also made their radio debut on CBC Radio with their performance of the Weinberg Piano Trio live at the Glenn Gould Studio. Lee began playing the cello at the age of five before joining the Junior department at the Royal Academy of Music with a scholarship. She later received a scholarship for her studies with Jo Cole on the Bachelor of Music Degree in which she graduated with First Class Honours. She is currently pursuing a Master of Arts Degree at the RAM under the guidance of Nadege Rochat, kindly supported by a Scholarship and the Countess of Munster Musical Trust Derek Butler Award. Yurie plays on a Betts Panormo cello c.1800 which is kindly on loan from the Royal Academy of Music.