Cancelled: Hui-Ti (Eric) Wang & Yoon Seok (John)
Shin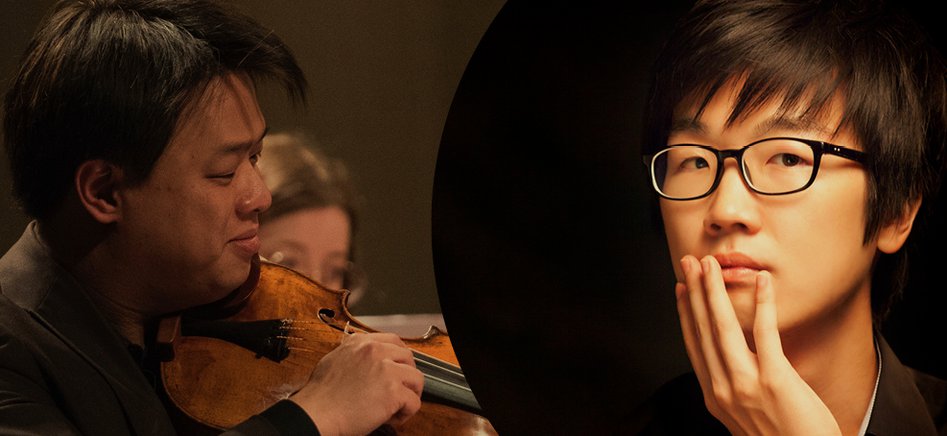 2020 KCC House Concert July
***In light of the spread of the Coronavirus (Covid-19), the Korean Cultural Centre UK has taken the decision to cancel this programme.
We apologise for the disappointment and inconvenience caused. If you have any questions on this, please contact us at info@kccuk.org.uk.
We really appreciate your patience and thank you for your continued support.***
Hui-Ti (Eric) Wang (viloin) & Yoon Seok (John) Shin (piano)
PROGRAMME
MOZART Sonata No.21 for Violin and Piano in E minor, K.304
I. Allegro
II. Tempo di Menuetto
PAGANINI Nel cor più non mi sento for Solo Violin, MS 44
CHOPIN
Nocturne in B major, Op.32 No.1
Polonaise in A flat major, Op.53 'Heroic'
BRAHMS Scherzo from 'F-A-E' Sonata for Violin and Piano, WoO 2
INTERVAL
ISANG YUN Königliches Thema for Solo Violin
BEETHOVEN Sonata No.5 for Violin and Piano in F major, Op.24 'Spring'
I. Allegro
II. Adagio molto expressive
III. Scherzo: Allegro molto
IV. Rondo: Allegro ma non troppo
MONTI Csárdás for Violin and Piano
Hui-Ti (Eric) Wang violin
British-Taiwanese Violinist Hui-Ti (Eric) Wang is considered one of the most promising violinists of his generation, as the Concertmaster of the Commonwealth Orchestra, he has given Concertos at venues such as the Buckingham Palace, St James Palace, Glasgow Symphony Hall and Windsor Castle. He also gives recitals in Carnegie Hall, Wigmore Hall, St James Piccadilly and St John's Smith Square. Currently, he is recording his first solo album at the Abbey Road Studios including works by Bach, Paganini and Stravinsky.
He plays on an Andrea Guarneri of Cremona 1671.
Yoon Seok (John) Shin piano
Following success at several major international and national competitions, notably 3rd prize at the 2nd Manchester International Concerto Competition (2009), Korean pianist Yoon Seok (John) Shin is much in demand. With over 50 performances per year, at venues across Europe, Asia and the UK, Shin has developed a busy international career as a solo recitalist, concerto soloist and chamber musician. Praised by many acclaimed critics for his poised, polished and innovative performances Shin is currently a Young Steinway Artist.
Shin has appeared at the Steinway Hall, St. John's Smith Square, the Southbank Centre, St Martin-in-the-Fields, St James's Church Piccadilly, London, Master Musicians International Recital Series in the North East UK, Konserthuset – The Nobel Prize Award Hall in Stockholm, Sweden, Seoul Sejong Center Chamber Hall and the Seoul Arts Center Concert Hall.
Shin graduated from the Royal College of Music, London after completing the prestigious Artist Diploma and the Master of Music in Advanced Performance. Previously, he gained his Bachelor of Music in Performance from Trinity Laban Conservatoire of Music and Dance, London and was awarded 1st Class Honours as well as being the recipient of the City Livery Club Prize (2009).