KCC Home Theatre Series: Julie Park & Michel
Xie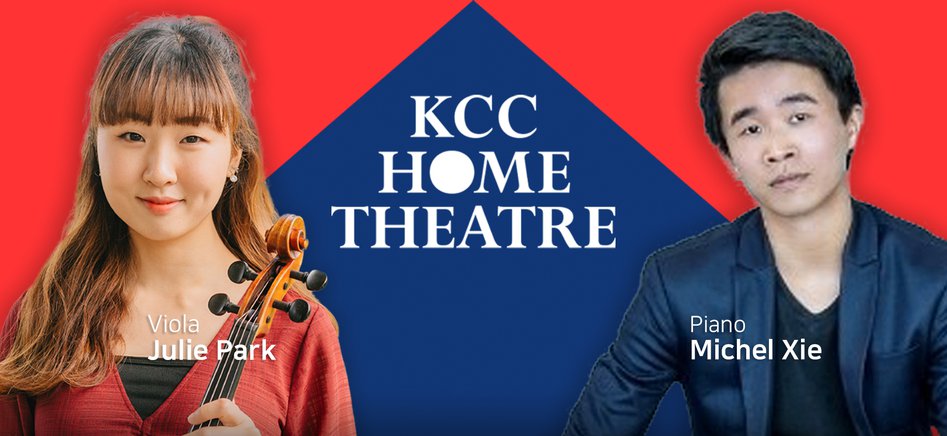 A variety of classical music performances to enjoy at home
PROGRAMME
Frank Bridge (1879-1941) Two pieces for viola and piano Pensiero Allegro appassionato
Robert Schumann (1810-1856) Adagio and Allegro, Op 70
Robert Schumann Fantasiestücke, Op 73, arr for viola and piano
I. Zart und mit Ausdruck
II. Lebhaft, leicht
III. Rasch und mit Feuer
PROGRAMME NOTES
Violist Julie Park and Pianist Michel Xie are currently studying for an Advanced Diploma at the Royal Academy of Music under a substantial scholarship. They have worked together as a viola piano duo for the past 3 years and have gained success in numerous competitions, auditions, performing in various, prestigious concert halls around the UK.
Today they have prepared a combination of English and German repertoire, which showcases not only the virtuosity of the viola, but also a rich lyricism between the two instruments. They will be starting off with two pieces- Pensiero and Allegro Appassionato for Viola and Piano by Frank Bridge and conclude with two works by Robert Schumann- Adagio and Allegro, and the Fantasiestucke.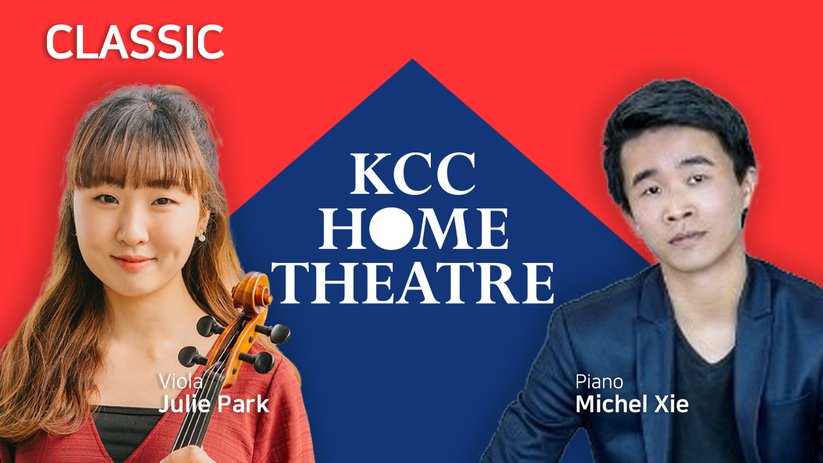 PERFORMERS


Julie Park - viola
Korean-New Zealander violist Julie Park is currently studying for a Master of Arts at the Royal Academy of Music with Martin Outram. She is supported by the prestigious ABRSM International Postgraduate Scholarship which provides for full tuition and maintenance. In 2020/2021, she will be the first violist to study for an Advanced Diploma at the Royal Academy of Music as a Bicentenary Scholar.
As a concerto soloist, she has performed with the Baden-Baden Philharmonia Orchestra, the Auckland Philharmonia Orchestra and the UOA Symphony Orchestra. She was the winner of the APO's Young Soloist of the year, 2016 Viva La Viola Competition, Auckland Chamber Music Society Prize Competition and gained 2nd place at the Curtis Young Artist Summer Program Concerto Competition and the UOA Graduation Gala Concerto Competition
She has led orchestras including the AYO, NZSO National Youth Orchestra, Curtis Young Artist Symphony Orchestra, Royal Academy Symphony Orchestra, Royal Academy Chamber Orchestra, and the Sainsbury Royal Academy Soloists. In 2018/2019 Julie completed the competitive LSO String Scheme.


Michel Xie - piano
Dutch pianist Michel Xie graduated from the Conservatory of Amsterdam with Bachelor and Masters degrees in Piano Solo Performance under the tutelage of Frank van de Laar and Frank Peters. He also received harpsichord and fortepiano lessons from Richard Egarr and Olga Pashchenko.
Currently he is based in London where he pursues a second Masters degree in collaborative piano at the Royal Academy of Music with Michael Dussek. A prize winner of several competitions such as Prinses Christina Concours (1st prize), SJMN (3rd prize) and winner of the Vrienden Cultuurprijs 2017, Xie enjoys an active life as a soloist and chamber musician. He has performed with professional orchestras such as Het Gelders Orkest and Orkest van het Oosten and has appeared on chamber music festivals a.o. IKFU (Janine Jansen), Grachtenfestival Amsterdam and Schiermonnikoog.
He also participates in projects involving music education for young children in The Netherlands where he acts as a presenter and performer in interactive concerts. He received masterclasses from Håkon Austbø, Paul Badura-Skoda, Malcolm Bilson, Pascal Devoyon, Peter Donohoe, Christopher Elton, Andrei Gavrilov, Matti Raekallio and Lilya Zilberstein.