KCC Home Theatre: Solo Piano Concert - Jong Hai
Park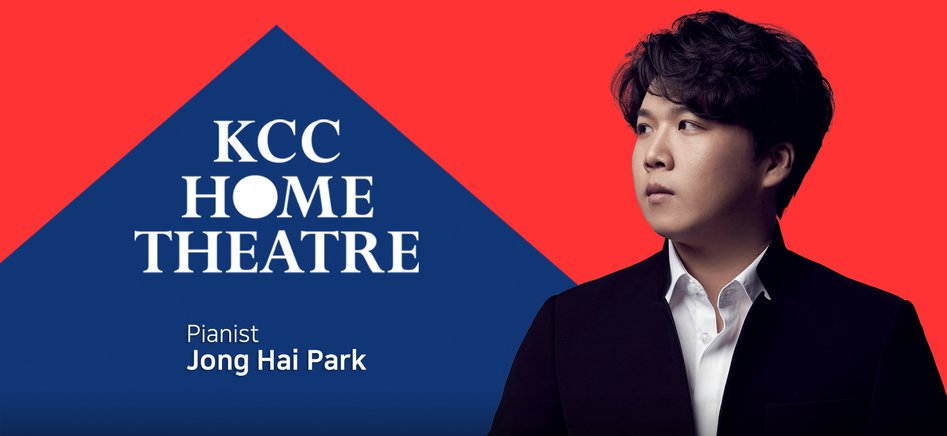 Solo Piano Concert "All Variations in the World" by Jong Hai Park
Over the next four weeks, the 2nd season of the KCC Home Theatre Series will be showcasing highlights from the "Beautiful Thursday Concert Series", originally recorded across 2019-20. The programme has been hosted by the Kumho Asiana Cultural Foundation since 2007.
This week we'll be bringing you a solo piano concert by Jong Hai Park called "All Variations in the World". Park explains that he has loved variations since he was young, and the process of making many different kinds of music under one theme has always been very attractive to him.
Focusing on the theme of "variations", the way Park unfolds music in numerous forms and shapes provides a glimpse into his endless musical imagination, Park has continuously drawn attention for his improvisation and musical potential.
Streaming : 7 pm, 17 September 2020 on the KCCUK Youtube channel
*Please note: this concert will be available to watch on our YouTube channel for two weeks after the stream.

Programme:
L. V. Beethoven 15 Variations and fugue in E-flat Major, "Eroica Variations", Op.35
J. Brahms 25 Variations and Fugue in B-flat Major, Op.24
Performer:
Jong Hai Park piano
"An exceptional pianist who has developed his technical abilities down to the smallest detail and gives voice to the music with passionate verve. His tone has symphonic qualities but he can also speak in a whispered pianissimo. He combines strong inner motivation, emotional honesty and the highest degree of professionalism." Such was the praise garnered on Jong-Hai Park on his Runner-Up Prize at the 2018 Concours Géza Anda. Park dominates the keyboard with superb musicianship and inspiration and is in much demand in prestigious classical institutions in Europe.
Park stood out from early on in his career, and in 2008, while at the Korea National University of Arts, he was Runner-Up at the Nagoya International Music Festival, and also Runner-Up at the Hong Kong International Piano Competition. In 2009, Park won second place at the Dublin International Piano Competition, as well as being awarded a special prize for the best concerto performance and for the best performance of Mozart. In 2010 he won the young performer award at the Queen Elisabeth Competition. Other awards include the 2011 Arturo Benedetti Michelangeli Prize from the Eppan Piano Academy, Runner-Up at the 2015 Top of the World IPC at Tromsø, Norway, and Special Prize at the 2016 Cleveland International Piano Competition.
Park gave his first concert with the Greater New Haven Concert Orchestra in 2000. Since then, he has made frequent appearances with major orchestra, such as the Nagoya Philharmonic Orchestra, Hong Kong Chamber Orchestra, Royal Chamber Wallonie, RTE National Symphony Orchestra, National Orchestra of Belgium, Calgary Philharmonic Orchestra and Bucheon Philharmonic Orchestra.
He also has given numerous piano recitals as a soloist, including at the Kumho Prodigy Concert Series, Kumho Young Artist Concert Series, Yamaha Rising Star Concert and in the I'Oratoire du Louvre in Paris.
Currently, Park studies with Arie Vardi at the Hanover University of Music Drama and Media.