KCC Home Theatre: Flute Concert - Sunghyun
Cho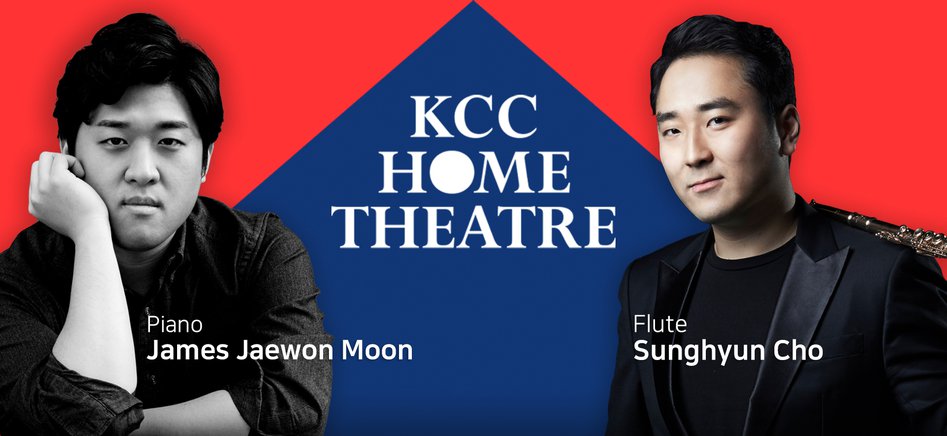 Flute Concert "Germany vs. Russia" by Sunghyun Cho with James Jaewon Moon (piano)
This week we'll be bringing you a flute concert by Sunghyun Cho with James Jaewon Moon (piano) from the "Beautiful Thursday Concert Series", originally recorded in 2019 by the Kumho Asiana Cultural Foundation.
Cho hinted that the solo concert is filled with the theme of "Germany vs. Russia". In the first part of "Germany," Clara Schumann's Romance composed for the violin and Brahms' clarinet Sonata No. 2 will be played in an arranged version for the flute and piano, followed by the "Russia" part, Lensky's Aria in Tchaikovsky's opera " Eugene Onegin". He will round out the concert with Robert Schumann's 3 Romances.
Streaming : 7pm, 24 September 2020 on the KCCUK Youtube channel
*Please note: this concert will be available to watch on our YouTube channel for two weeks after the stream.

Programme:
C. Schumann 3 Romances for Violin and Piano, Op.22
J. Brahms Sonata for Clarinet and Piano No.2 in E-flat Major, Op.120/2
P. Tchaikovsky Lenski's Aria from Eugene Onegin
R. Schumann 3 Romances for Oboe and Piano, Op.94
Performers:
Sunghyun Cho flute
Sunghyun Cho, the flautist who recently became the youngest assistant professor at Yonsei University's College of Music, is also the principal flautist of Cologne's Gürzenich Orchestra under the direction of François-Xavier Roth.
Cho has emerged as a new figure in the flute world by winning the first International Flute Competition "Severino Gazzelloni" in Italy in 2012 after winning the British Flute Association Competition, International Flute Competition "Friedrich Kuhlau" and Beijing International Music Competition. Since then, he has been invited to Falaut Festival, Emilia Romagna Festival, Cava de' Tirreni Festival, Agimus Festival, Slovenian Flute Festival and Milano's Incontri Musicali Series, and was appointed as a judge at the 3rd Gazzelloni Competition. In 2015, he was the runner-up in Prague Spring International Competition, and appeared in series such as the Schwetzingen Festival in Germany, the Cremona Wind Festival in Italy, and the Kammermusik Cologne.
Cho, a graduate of the Hanover University of Music, Drama and Media, and the Munich National University of Music, introduced his first solo album under the Italian Palout label in 2012, and released the first album of the Veits Quintet on the German ARS label in 2016. He is also an artist of Japan's Sankyo Flute and the music director of Korea Flute Art Centre.

James Jaewon Moon piano
James Jaewon Moon made his debut at the Sydney Opera House Concert Hall at the age of 12 and since then, has performed with the West Australian and Queensland Symphony Orchestras, Ku-ring-gai Philharmonic Orchestra and the Bacău Philharmonic Orchestra.
Moon won prizes at the Yamaha Youth International Piano Competition, has been a prize-winner in the Sydney International Piano Competition of Australia, A.M.A. Calabria International Piano Competition, Lev Vlassenko Piano Competition, Delia Steinberg International Piano Competition and Ku-ring-gai Concerto Competition.
Moon went to the Sydney Conservatorium of Music and studied with Arie Vardi at the Hanover University of Music Drama and Media.