Pork Belly Bulgogi, Red Onion, Perilla & Soy
Vinaigrette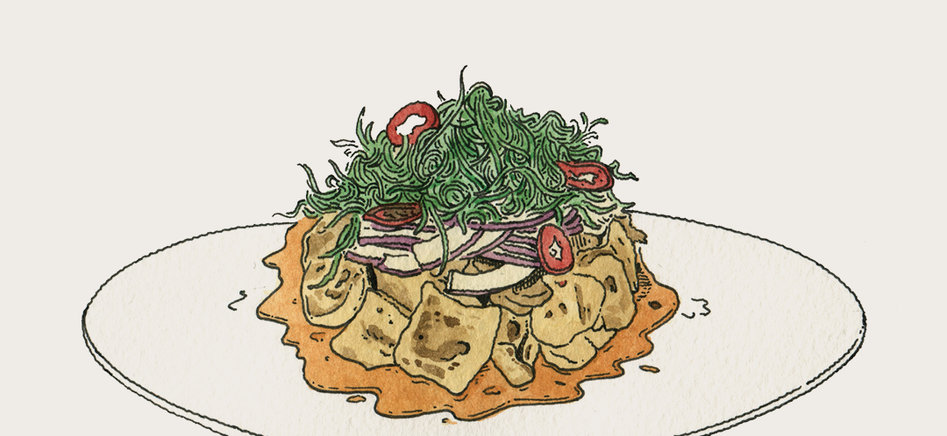 Chef Joo Won shares one of his recipes to cook at home: A Korean inspired recipe of marinated pork belly Bulgogi. This Korean Pork Belly Bulgogi is one of Korea's most beloved meat dishes – and it's soon to be yours too! Bulgogi, literally means "fire meat". It is a "gui" (meaning grilled dish) made of thin, marinated slices of beef or pork grilled on a barbecue or on a stove-top. Commonly, the main ingredient is meat: beef, pork, or chicken.
Ingredients
Serves 4 as a main
1 kg pork belly (skin removed)
Bulgogi Marinade:
5 Tbsp soy sauce
4 Tbsp water
2½ Tbsp sugar
1½ Tbsp honey
1 Tbsp sesame oil
3 garlic cloves
½ cm thick slice of fresh ginger
¼ pear, roughly chopped
¼ apple, roughly chopped
¼ medium sized onion, roughly chopped
10 twists of pepper mill
Sweet Soy Sauce:
5 Tbsp soy sauce
3½ Tbsp sugar
1 Tbsp water
1½ Tbsp rice wine (sake)
¼ apple, chopped
¼ lemon, sliced
French Dressing (optional, as can use shop bought):
10 Tbsp rapeseed oil or vegetable oil
1 Tbsp shallots, finely chopped
3 Tbsp white wine vinegar
1 Tbsp Dijon mustard
1 tsp salt
A few twists of pepper mill
Red Onion Salad:
2 medium sized red onions, sliced thinly
15 Perilla leaves (Kkaennip), chopped (or alternatively substitute with 1
bunch fresh coriander)
1 Tbsp toasted sesame seeds
2 red chillies, sliced thinly
Method
To make the bulgogi marinade, put all the ingredients into a blender and blend together. Set to one side.
Make the sweet soy sauce by putting the soy sauce, sugar, water and rice wine into a pan and bring to a boil. Add the apple and lemon.
Turn off the heat then leave to cool at room temperature. Keep it in the fridge overnight, strain, keep the liquid and get rid of the rest.
If making your own French dressing, mix together the French dressing ingredients in a small bowl. Alternatively, use a store-bought French dressing and skip this step.
Make the soy vinaigrette by mixing together equal amounts of the sweet soy sauce with French dressing, stirring well (you can adjust to your own preference).
Slice the pork belly thinly (it is easier to do this when the meat is semi frozen - or simply ask your butcher to slice the pork belly for you).
Put the pork belly into the bulgogi marinade at least an hour before cooking. You can keep the meat in the marinade until the next day. Add oil to a frying pan and wait until it gets hot, near smoking. Add the meat and sauté. Keep the frying pan on a high heat to ensure the sauce caramelises and creates a good savoury flavour.
Put the meat onto a plate, spread the slices of red onion and chopped perilla over the top. Stir the soy vinaigrette and drizzle over salad.. Garnish with the sesame seeds and chili. Enjoy!
Recipe source: Chef Joo Won
Chef Joo Won is originally from Busan, Korea. He studied Le Cordon Bleu Grand Diploma cuisine & pastry in London. He was a part of the opening team of Galvin at Windows as chef de partie and he became Head Chef in 2013. Joo developed dishes showing gentle Korean touches in a very smart way, not over taking traditions or deviating from classic French style but instead harmonising it by giving a depth and interests to the flavours. In Aug 2020, after 15 years of service, Joo left Galvin at Windows and is looking forward to establishing his own ventures.
Illustration source: @thibaudherem
Pork Belly Bulgogi, Red Onion, Perilla & Soy Vinaigrette