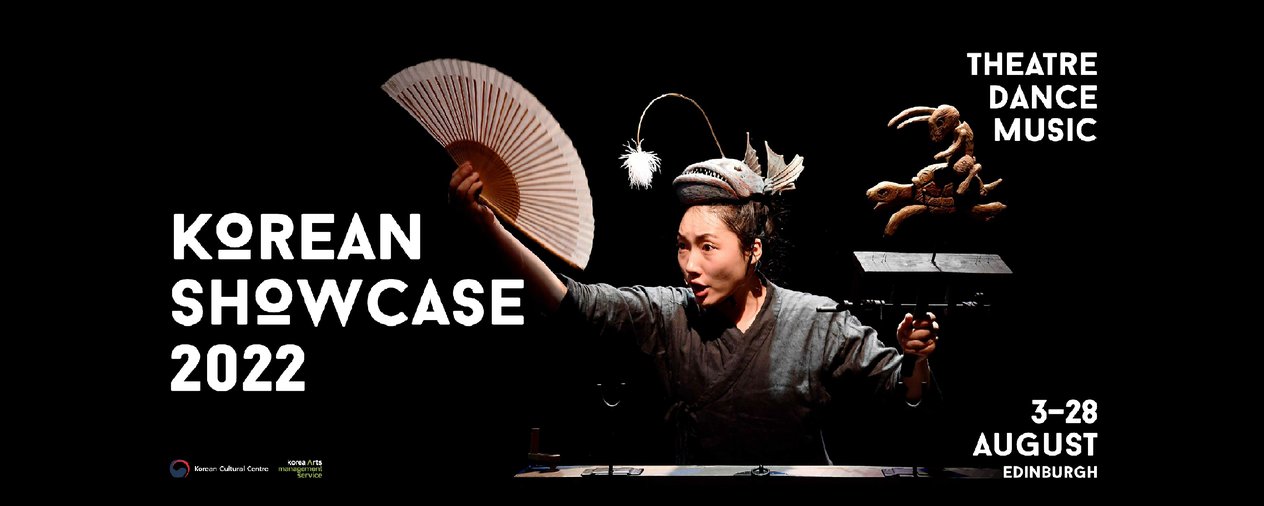 Korean Showcase 2022
3 - 28 Aug 2022
The Korean Showcase is a programme of cross-genre theatrical work performed at the Edinburgh Fringe presented by the Korean Cultural Centre UK (KCCUK). The programme gives international Fringe audiences a taste of the breadth of performing arts happening in modern Korea. This year, the showcase includes seven shows: Are You Guilty?; BreAking; Klaxon; Korean Yoenhee Concert; Mary, Chris, Mars; Puppet Pansori Sugungga; Six Stories.
Are You Guilty?
TOB Group
Dance Base (Studio 3) |16~28 August
TOB Group presents a double bill of contemporary dance shows exploring the bystander effect and mass consumerism. The show fuses hip-hop, theatre and dance to illustrate our social landscape, relatable to audiences anywhere in the world.

BreAking
Korea National Contemporary Dance Company
Choreography Lee Kyungeun (Lee K-Dance)
Dance Base (Studio 1) |5~14 August
'Don't fit myself into the world. Do it the other way around!' Break away from fixed systems and be the creator of your own rhythm and individuality. BreAking brings together artists who imagine, play and reconstruct this new world, inviting you to meet a feast of unique selves who break up and mix up the status quo. With music by Lee Ilwoo, of the traditional Korean folk, post-rock band Jambinai, five contemporary dancers and three top street dancers including the amazing DROP (Go Junyoung/Uptown Family), the crew transport the audience into a trance.

Klaxon
Gum-sul
theSpaceUK Symposium Hall, Garden & Niddry St, Cobbled Courtyard|5~12 August
An outdoor performance about discarded people and objects, Klaxon is a solo performance from an elderly puppet approaching the end of her life.

Korean Yeonhee Concert
Variety E-Seo
theSpaceUK, Triplex 'Big'|12~20 August
Variety E-Seo is a young company taking the Korean traditional performing arts in a new direction: this concert takes the form of four pieces of yeonhee music and dance, with rhythmic, powerful and ritual interpretations of ancient traditions. Expect shamanistic rituals, beautiful costumes, vibrant and exciting movements, as they perform three movements based on traditional music forms Mungut and Gilnori, and nongak (farmer's music) with participation from the audience!

Mary, Chris, Mars
Trunk Theatre Project
Summerhall (Red Lecture Theatre) |3~28 August
Lonely, single astronauts Mary and Chris meet by chance in outer space and spend a surreal Christmas day together on Mars. This family-friendly show takes us on an absurdist's journey through what it means to spend time together in person, using intricate miniature sets pieces, physical theatre and puppetry, accompanied with beautifully melancholic live music.

Puppet Pansori Sugungga
Theatre Moksung
theSpaceUK, Niddry St(Lower)|5~20 August
An untraditional staging of classical Korean themes using the traditional puppetry of pansori and live music. Witty and creative, and appealing to adults and children alike, Moksung brings international influences to traditional forms.

Six Stories
WeMu
theSpaceUK, Symposium Hall|8~18 August
Taking inspiration from the Korean shamanic rituals known as Gut, WeMu reimagines the traditional in a concert combining Western and Korean instruments, creating modern music based on ancient customs. Gut is a ritual that has been designated as part of Korea's National Intangible Cultural Heritage and is safeguarded by dedicated preservation societies. In this concert, WeMu breaks down the shamanic rituals into new forms, transforming the welcome and repatriation of deities into a welcome to audiences.