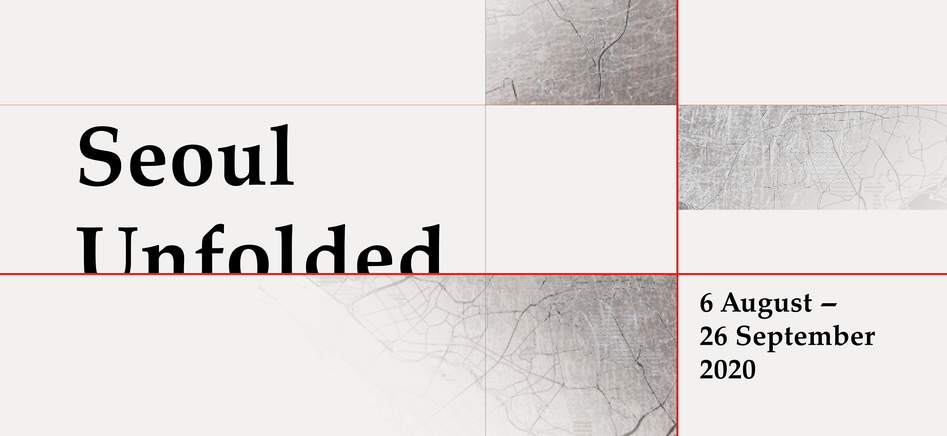 KCCUK is pleased to present the architecture exhibition 'Seoul Unfolded' developed by the Department of Architecture at the Korea National University of Arts.
This exhibition will be available online through Youtube and Instagram.
Seoul Unfolded
We rethink Seoul, concerning how to live together in the current context of the city where extreme conditions, driven by political, social and economic forces, become normal, forcing residents to live one or the other way and to accept only the values fallen into a rut. We believe 'Humanity, Nature and Space' are the values that were most neglected, forgotten or lost in this process, and aim to reclaim them through 'Sociopolitical Architecture, Territorial Nature, and Spatial Infrastructure.
This exhibition presents works of students and faculty in the Department of Architecture of K-ARTS from 2015 to 2019. A key feature is a spatial arrangement in the main hall where one axis is for the Seoul map and the other is for agendas that are dealt with in the design studios, generating the coordinates for perspectives of the portfolios and related publications. It allows a systematic way to observe the multiple layers of how Seoul has been explored, investigated, and proposed in the design studios with unique agendas. It reveals the sites that have been persistently looked into by different studios with varying approaches. It connects some sites, which have been regarded to be completely unrelated, like a constellation of propositions under a specific agenda. Depending on the agendas that guests choose to follow, the same sites are understood differently. All these multiple readings will create a pleasurable experience of discovering hidden or untold parts of Seoul in relation to the agendas.
Media and structure studies are individual students' works and are to be exhibited as a collective pattern according to the characteristics of media, the scale of objects, and changing complexity. The way they are exhibited carefully responds to the two corridor windows respectively, keeping the space between them occupied by the papers from the thesis seminar. At opposite ends of the corridor are two corner rooms that offer an overview of the publications of K-ARTS and the Department of Architecture. The last part of the exhibition is the showcase of 13 faculty members' practice and research works.
Bookings are essential
Read the instructions below, send us an email or call us on +44 (0)20 7004 2600 to make your bookings.

How to Visit:
Please book in advance via e-mail (info@kccuk.org.uk)
This is to help us manage the number of people inside the exhibition space, minimise queuing time and reduce contact with one another.
For Track & Trace purposes, please email info@kccuk.org.uk with the following details: Name / Address / Telephone number / 2 selections of your preferred date and time
Each booking is for a maximum of 2 people – contact details of both visitors must be provided
A confirmation email will be sent to you with your selected Arrival Time.
Wearing face masks or face coverings is mandatory when inside the KCCUK, and we kindly ask that all visitors follow the latest Social Distancing Guidelines.
Time Slots Available (Mon – Fri):
Slot 1 : 11am – 12:00
Slot 2 : 13:00 – 14:00
Slot 3 : 14:00 – 15:00
Slot 4 : 15:00 – 16:00
We will be accepting a maximum of 5 bookings per slot (10 visitors) – each booking will have an allocated arrival time.
Please note that wearing of face masks and abiding to the latest Social Distancing Guidelines is mandatory when entering the KCCUK.

Safety and Hygiene
Please be aware of the additional guidelines we have employed for your safety and the safety of our staff.
Social Distancing: We control the number of visitors to the exhibition space so that you can maintain social distancing during your visit. Please do not gather in the reception area during your visit.
Hand Sanitiser: Hand sanitiser will be available for you to use.
Face Coverings: Face coverings must be worn for your safety and the safety of other visitors and staff.
If you are feeling unwell: If you or anyone you live with displays symptoms associated with COVID-19, please delay your visit until it is safe to do so.
*Contact details are needed for Track & Trace purposes; they will be not used for marketing purposes and will be deleted after 21 days.