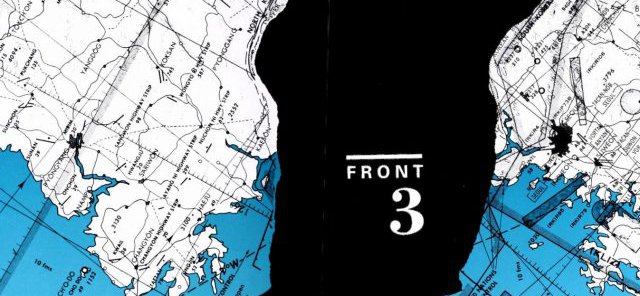 Negotiating Borders
Art exhibition based on the DMZ (Demilitarized Zone) in South Korea and its border area with North Korea
About The Exhibition
The Korean Cultural Centre UK (KCCUK) announces Negotiating Borders, a new exhibition from the Real DMZ Project featuring artists Heinkuhn Oh, Kyungah Ham, Lee Bul, Minouk Lim, Suntag Noh, with more to be announced. Founded in 2012 by curator Sunjung Kim, the Real DMZ Project is an ongoing contemporary art project centred around research conducted on the demilitarized zone (DMZ) between South and North Korea. Engaging with this unique and complex territory, artists present new commissions and recent works across installation, sculpture and film, confronting the sensitivities, perceptions and realities of a divided Korean peninsula.
Since its establishment in 1953, the DMZ has been regarded, paradoxically, as one of the world's most heavily militarised areas. With border tensions easing, and unprecedented progress in inter-Korean relations, recent measures – including the demolishing of twenty guard posts in December 2018 – can be seen as a first step towards disarmament.
Positioned within this context, the exhibition at the KCCUK is built around two conceptual pillars of time and space to link the past, present and future of the DMZ. Whilst the exhibition offers a unique insight into the complexities of the Korean peninsula, research and archival material offer alternative views of the DMZ's surroundings, encompassing themes such as landscapes, villages, military and natural bio-environment.



Participating artists
Dongsei Kim, Heinkuhn Oh, Joung-Ki Min, Jung Heun Kim, Kyungah Ham, Lee Bul, Minouk Lim, Seung H-Sang, Seung Woo Back, Seungman Park, Soyoung Chung, Suntag Noh, Kyong Park and Zoh Kyung Jin / Cho Hye Ryeong



Featured Events:

Curatorial Talk | 7 November 6:30 - 8 pm | The Courtauld Institute of Art
Please join Nikolaus Hirsch and Kyong PARK, who will discuss art historical and architectural significance of the DMZ based on their own experience of curating exhibitions on the DMZ. Nikolaus Hirsch co-curated the Real DMZ Project in 2014 with Sunjung Kim, and Kyong PARK, together with Cathleen Crabb, curated the Project DMZ exhibition at the Storefront for Art and Architecture in New York in November 1988. Ever since, both have been closely engaged with the Real DMZ Project, and the talk will convey how such investigation contributed to the ongoing artistic speculation on the DMZ, and its potential expansion to a wider geopolitical discourse on borders.
Nikolaus Hirsch is a Frankfurt-based architect and co-founder of e-flux architecture. He was the director of Städelschule academy in Frankfurt (2010-2013) and previously taught at the Architectural Association in London, University of Pennsylvania in Philadelphia, and at the Institute of Applied Theatre Studies at Giessen University. His projects include the award-winning Dresden Synagogue (2001) and a studio structure for Rirkrit Tiravanija's The Land. Hirsch curated numerous exhibitions including Mengele´s Skull at Portikus Kunsthalle, Folly for the Gwangju Biennale (2014), the Real DMZ Project in Korea (2014), and Housing Question/Wohnungsfrage at the HKW in Berlin (2015). Hirsch is the author of the books On Boundaries (2007), Track 17 (2009), Institution Building (2009), and Folly (2013).
Kyong PARK is Professor of Public Culture and Speculative Design in the Department of Visual Arts, University of California, San Diego. He was the Founding Director of Storefront for Art and Architecture in New York (1982–1998), the international Centre for Urban Ecology in Detroit (1998–2001), and the Centrala Foundation for Future Cities in Rotterdam (2005–2006). He was also a curator of the 1997 Gwangju Biennale and Artistic Director and Chief Curator of Anyang Public Art Project 2010 in Korea. He is the author of Urban Ecology: Detroit and Beyond (2005) and Imagining Eurasia: Visualizing Contemporary History (2019).
BOOK via https://www.eventbrite.co.uk/e/dmz-revisited-nikolaus-hirsch-and-kyong-park-in-conversation-tickets-73797940627


Artist Video Screening | 3, & 10 November 2 pm | LUX
In response to Negotiating Borders, 2019 London Korean Film Festival, in partnership with LUX, will present three films by PARK Chan-Kyong: Sets, Flying and Believe it or not and two films by YOO Soon-mi: Dangerous Supplement and Songs from the North.
PARK Chan-Kyong is an art critic, producer of multimedia artworks, a curator of large-scale exhibitions and also a creator of moving image works, sometimes in collaboration with his brother PARK Chan-wook (The Handmaiden, 2016). In his practice, one can find deep engagement in the modern Korean history, particularly of the separation between North and South and the geopolitics of the Cold War era. The three formally different works shown at this year's film screening are connected by their investigation on the seemingly absurd relationship between the two countries.
YOO Soon-mi, South Korean film director and cinematographer, explores the repressed memories and unresolved conflicts which haunt the Korean peninsula, through her avant-garde essay films, showing at the London Korean Film Festival. Awarded with a Golden Leopard for Best First Feature at the 2014 Locarno Film Festival, Songs From the North poetically highlights the differences between the presumed visuals of communism and the actual images of North Korean television. Dangerous Supplement, an earlier short film examining the damaged landscape of Korean peninsula will also be screening.
BOOK via http://koreanfilm.co.uk/site/film-festival-2019/artist-video




About The Real DMZ Project
The Real DMZ Project is a contemporary art project based on research conducted on the DMZ (Demilitarized Zone) in South Korea and its border area. Having begun with a critical perspective on the ironies that surround the Demilitarized Zone, its first edition in 2012 was a project organised in the form of an exhibition held both in and out of the Civilian Control Zone in Cheorwon County. The Real DMZ Project has extended its parameters - not only geographically to the Art Sonje Center in Seoul, and the establishment of a new artist residency in the former propaganda village of Yangji-ri - but also by experimenting with new productions and exhibitions, as well as talks, workshops, and lectures within the fields of the humanities and social sciences. The long-term vision of the Real DMZ Project is to create a platform that supports a variety of research methods and exhibition formats, ensuring that the results are made accessible in open archive.