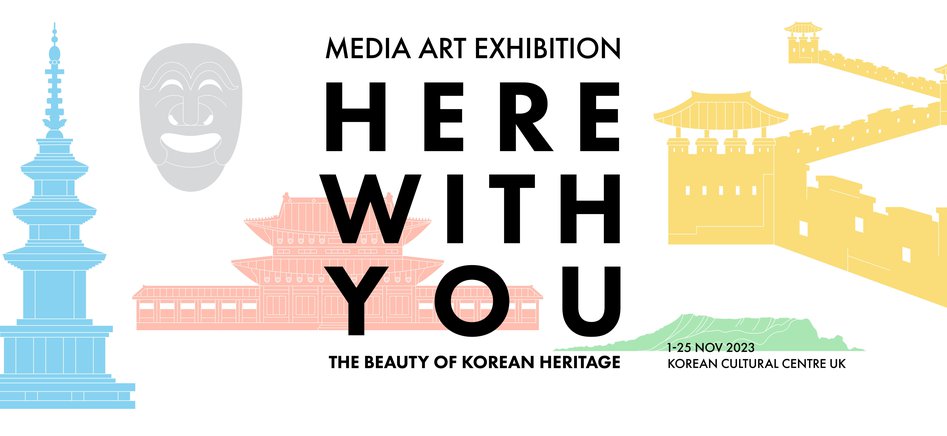 The Beauty of Korean Heritage
To mark the 140th anniversary of Korea-UK diplomatic relations, the KCCUK is pleased to be hosting the exhibition 'Here with You: The Beauty of Korean Heritage' presented by the Korea Cultural Heritage Foundation.
Utilising advanced digital technology, the exhibition illuminates the profound splendour of Korean cultural heritage. Visitors are invited to immerse themselves in the very essence of Korean beauty, all brought to life through digital media. The exhibition portrays Korea's rich history, narrating compelling stories, and evoking a distinct aura that envelops you as you walk through the displays.
Features vibrant AI-generated images and music presented in a circular unfolding format to reveal the cultural heritage of Korea. Prominent heritage sites such as Changdeok Palace, Seongsan Ilchulbong, Suwon Hwaseong Fortress, Hahoe Folk Village, and the revered Korean Buddhist Temple Bulguksa are included. The unfolding visuals take the audience on a captivating visual journey through Korea's beauty.
This exhibition forms an integral part of 'The Visit Korean Heritage Campaign,' a visionary initiative promoted by the Korea Cultural Heritage Foundation. The campaign aims to help people rediscover the value of cultural heritage whilst explaining its pivotal role in the foundation of the global Korean Wave phenomenon.