Korean Sounds - East Meet West:
Spring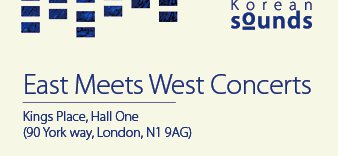 with the Members from London Philharmonic Orchestra & Court Music Orchestra of the National Gugak Center
Korean Sounds - East Meet West: Spring

with the Members from London Philharmonic Orchestra & Court Music Orchestra of the National Gugak Center
Wednesday 12 April, 7.30pm
Kings Place, Hall One
Tickets from £9.50 online
PROGRAMME

Cheonnyeongmanse
Saenghwang and Danso byeonju 'Yeomyangchun'
Ujo Sijo 'Nabiya (butterfly)'
String ensemble 'Dodeuri'
Cheongseongjajinhannip
Gasa 'Chunmyeongok (Spring Indolence)'
Interval
Fauré Piano Quartet No. 1 in C minor, Op. 15
Piazzolla (arr. Clint Edwards) Primavera Porteña (Spring) for piano quartet
COURT MUSIC ORCHESTRA OF THE NATIONAL GUGAK CENTER

Gun-hoy Lee piri – double-reed oboe
Gap-su Han haegeum – fiddle-like string instrument
Seung-yeop Lee daegeum – bamboo transverse flute
Sung-il An janggu – double-headed drum
Yun-jung Ko gayageum – Korean zither with 12 strings
Sung-hye Yoon geomungo – blank crane zither
Oh Hoon Lee danso – vertical bamboo flute
Sung Joon Kim saenghwang – 17 bamboo pipes
Jee-young Chung yanggeum – hammered dulcimer
Il-ha Cho Sijo - Traditional three-verse Korean poem
The Court Music Orchestra has been a part of the National Gugak Center throughout its entire history, performing and handing down royal court music in the spirit of Korean traditional culture. In general, the court music of Korea that is performed today mainly consists of pieces which were played in the royal court or in events organized by the royal household of the Joseon Dynasty (1392–1910). Some genres of court music were created during the Joseon Dynasty, whereas origins of other res pre-date these. Court music was considered and served as a medium for people to live in a harmonious way as well as an important mode of communication in a variety of court rituals and banquets. In modern times, it is still enjoyed by Korean people who appreciate its beauty of movement and its stillness. Among this great tradition, Jongmyo Jeryeak (Royal Ancestral Shrine Music of Joseon Dynasty) was designated in 2001 as a part of the world cultural heritage list by UNESCO, substantiating its value and importance.
MEMBERS FROM THE LONDON PHILHARMONIC ORCHESTRA:
Jeongmin Kim violin
Emmanuella Reiter viola
Pei Jee Ng violoncello
Chiao-Ying Chang piano
South Korean violinist Jeongmin Kim successfully combines her orchestral and chamber music careers as well as other interests as conducting and writing. She studied violin with Young Uck Kim in Detmold and Thomas Brandis in Berlin. She also completed a chamber music MA course with Christoph Poppen in Munich. She became sub-principal second violin of the London Philharmonic orchestra in 2008 and has been based in London ever since. She has appeared twice at Wigmore Hall as part of the LPO's chamber music series as well as other UK venues, and continues to play chamber music in various groups. Cellist Pei-Jee Ng is also a principal player of the London Philharmonic Orchestra. Violist Emanuella Reiter, formerly of the LPO, has recently joined the orchestra of the Royal Opera House, Covent Garden. Having previously performed in various chamber music groups, they have now formed a piano quartet with the British-Taiwanese pianist Chiao-Ying Chang of the Fournier Trio. Young, vibrant and from diverse backgrounds, these are some of London's finest musicians.