Inspired by Nature, The Traditional Cosmetics of
Korea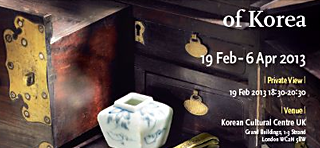 From 19 February to 6 April 2013, the Exhibition Inspired by Nature, the Traditional Cosmetics of Korea features 150 handpicked traditional makeup tools and accessories from the largest collection of artifacts related to the history of Korean cosmetics and beauty culture. With exhibits dating from the Three Kingdoms period(57 BC- 668AD) to the early 20th century this exhibition offers the viewer a unique opportunity to sample Korea's beautiful heritage.
The history of Korea's cosmetic culture runs back to the Three Kingdoms period, from the women depicted in the murals of tombs shown with rouged cheeks and lips as well as delicately shaped eyebrows. It has been recorded that ladies from Goryeo(918-1392) favoured light make-up, using powder but without rouge or blusher, and eyebrows in the shape of a "willow leaf". Although the Joseon Dynasty(1392-1910) was dominated by Confucianism and so restrained the practice of sumptuous makeup, it did however present the opportunity to decorate oneself with hair and apparel accessories.
Such changes in tastes and fashion also extended to the cosmetics containers and makeup tools. As traditional cosmetics were made from natural materials, without preservatives most cosmetics containers therefore were relatively small. During the Three Kingdoms, earthenware was mainly used for the cosmetic containers but the growth of a celadon culture in the Goryeo era produced various new designs.
Subsequent Joseon craftsmen and women developed the manufacturing techniques and designs for white or blue and white porcelain, which were among the most beloved of domestic items a new bride would include in her marriage dowry.
Korea's cosmetic culture refers not only to makeup but also decorating oneself. As Korea's makeup culture is also closely related to the hair styles and attire, this exhibition showcases various hair and apparel accessories, Toilet Cases and Mirror Stands within their cultural context. Furthermore, the natural ingredients used to produce facial scrubs, beauty lotions, facial creams and oils, along with coloured powders, rouge and eyebrow ink will be introduced at as part of the Exhibition's public workshop programme, when guests can create their own nature-inspired cosmetics and perfumes.
Covering all elements of the makeup routines of Traditional Korea, this exhibition offers a rare and intimate glimpse into traditional Korean life.