Contemporary Korean Silversmithing &
Jewellery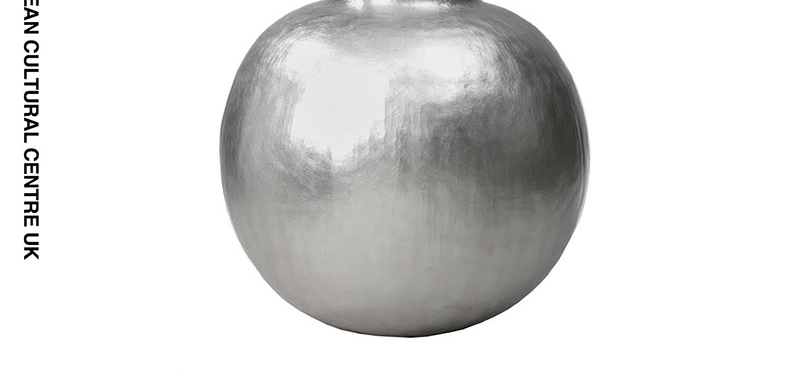 CONTEMPORARY KOREAN SILVERSMITHING & JEWELLERY
The Korean Cultural Centre UK presents Contemporary Korean Silversmithing and Jewellery an exhibition bringing together some of the finest Korean silversmiths and jewellers in the UK. From classic silversmithing to contemporary pieces, the diverse range of their practice reveals the highest quality of craftsmanship and creativity. This is a rare chance to get an overall sense of each of designers oeuvres and directly commission from the maker something special for the Christmas season.
The finest silversmithing craftsmanship is evident in William S. H. Lee's series of Moon Jar. Through the process of raising from one disk of silver, only by hand hammering and ornamented by hammering without addition and reductions, his innovated forms and surface reveals his inspiration from oriental traditional philosophy. Kyosun Jung's high quality craftsmanship is revealed in her signature technique of bending wires and individually soldering them onto the cups to create water patterns. Misun Won's in-depth study in the fractal geometry and Jogakbo (traditional Korean patchwork) plays a key role in creating dynamic structures in her jewellery collection. The characteristic of Heeyoung Kim's jewellery is revealed in her hand crafted work, with modest structures such as straight lines, clean joints with 90 degree angles and small hidden spaces.
Along with these silversmithing and jewellery works, Min Yoo's "Hybrid Creatures" combine different characteristics from various animals thus revealing the sense of humour and wit in contemporary Korean Jewellery. Yunsun Jang's manipulation of surface design by switching the original material with other materials further opens up the discursive possibility in the field of jewellery design.
YUNSUN JANG
EXHIBITION
2014
Power of Process exhibition C/ 159 , Camden High Street
Working In Progress show , Royal College of Art
2011
National University Excellent Graduation Work Exhibition
2010etal art& design Graduation Exhibition, Hongik University
EDUCATION
2006 - 2011
Hongik University, Seoul, South Korea
BFA Metal art& design
2013 - 2015
Royal College of Art, London, United Kingdom
MA Jewellery& Metal
KYOSUN JUNG (http://kyosunjung.com)
EXHIBITION
2014
Goldsmiths' Hall Silver Sake Set and Reversible Drinking Set
New Designers, London, UK
2013
Goldsmiths¡ths' Hall - 2D medal design
Goldsmiths¡ths' Centre - The British Art Medal Society, Ivory Exploitation
New Designers, London, UK
V & A Museum - Young Designer Silversmith Award, Silver Sake Set
EDUCATION
2003-2006
Jangan College, Korea
BA (Hons), Jewellery Design
2011 -
Rochester, UCA
HEEYOUNG KIM (http://heeyoungkimjewellery.com)
EXHIBITION
2014
SIERAAD International Jewellery Art Fair, Amsterdam, Netherlands
Goldsmiths£§ Fair 2014 London, UK
Gill Wing Gallery, London, UK
Hallmark Salon 2014,London, UK
Interart Sculpture Garden & Gallery, Netherlands
2013
Dazzle 2013-14, London, UK
Sieraad International Jewellery Art Fair,Amsterdam, Netherlands
Goldsmiths' Fair 2013, London, UK
Goldsmiths' Company Pavilion 2013, London, UK
2012
Roger Billcliffe Gallery, Glasgow, UK
Goldsmiths' Fair 2012, London, UK
Canary Wharf Window Gallery, London, UK
2011
Lesley Craze Gallery, London, UK
New Designers, London, UK
BA Jewellery Design Degree Show, Central St. Martins College of Art and Design, London, UK
2009
Swarovski, In-store Showcase of Competitio+C10:C12n Winners for A/W 10/11 Trend ,London, UK
British Art Medal Society, Exhibition of BAMS Student Medal Project Shortlisted Entries, Cornwall, UK
EDUCATION
2008-2011
Central St. Martins College of Art and Design, London, UK
BA(Hons) Jewellery Design
WILLIAM S.H. LEE (http://williamshlee.co.uk)
AWARDS
2009
The Goldsmiths' Company Craftmanship & Design Award, Silversmith senior section, Silver Prize and Council Award
2005
The Goldsmiths' Company Craftmanship & Design Award, Silversmith senior section, Commended Award
2003
The Goldsmiths' Company Young Designer Silversmith 1st Prize
MISUN WON (http://misunwonjewellery.com)
EXHIBITION
2014
Catching the Light ,Dorothy Wightman, Lancashire, UK
Inhorgnta Munich ,Messe Munchen, Munich, Germany
2013
SIERAAD International Jewellery Art Fair, Amsterdam, The Netherlands
Make it Slow touring exhibitions (part of Art Unpacked) created by Chrysalis Arts,
North Yorkshire, UK, November 2013- October 2014
MADE LONDON the Design and Craft Fair,One Marylebone, London, UK
Goldsmiths' Fair, London, UK
Transparenz ,Cebra Galerie, Dusseldorf, Germany
Growing , The National Centre for Craft & Design, Lincolnshire, UK
Growing Talent ,Goldsmiths¡¯ Hall, London
2012
SIERAAD International Jewellery Art Fair (WesterGasfabriek, Amsterdam, Netherlands
Goldsmiths£§ Fair, London, UK
Color is More ,iii-gallery, Brussels, Begium
SOFA New York, Park Avenue Armory, New York, USA
La appariencia solida, de la materis vacia/ The solid appearance of the empty field,
Galeria Dtreea, Sant Cugat del Valles, Spain
Solo Exhibition ,Beyond Fashion, Antwerp, Belgium
Visual Arts Scotland Annual Open Exhibition, The Royal Scottish Academy Upper Galleries, Edinburgh
2011
Christmas Cracker 2011, Byard Art Gallery, Cambridge, UK
Dazzle ,Royal National Theatre, London, UK
SIERAAD International Jewellery Art Fair, Amsterdam, The Netherlands
JOYA Barcelona Contemporary Jewellery Week, FAD Placa dels Angels, Barcelona, Spain
Dazzle ,Assembly George Square Theatre, Edinburgh, UK
Designer Jeweller Group Summer Exhibition ,Barbican Centre, London, UK
Lades Night-Jewellery Event (Byard Art Gallery, Cambridge, UK
Similar Threads (Oriel Mostyn Gallery, Llandudno, UK
Collect , Saatchi Gallery, London, UK, presented by craftscotland
Dazzle,Merchant Square, Glasgow, UK
Showcase ,The Santa Monica Museum of Art, Los Angeles, USA
2010
Dazzle,Royal National Theatre, London, UK
SIERAAD International Jewellery Art Fair, Amsterdam, The Netherlands
SOFA CHICAGO,Navy Pier¡¯s Festival Hall, Chicago, USA, presented by Ornamentum Gallery
Goldsmiths' Fair, London, UK
Dazzle,Traverse Theatre Atrium, Edinburgh, UK
Summer Showcase ,Platform Gallery, London, UK
Designer Jeweller Group Summer Exhibition ,Barbican Centre, London, UK
Collect, Saatchi Gallery, London, UK, presented by craftscotland
Jewellery of Misun Won & Ulrike Hamm ,Expo Arte, Oslo, Norway
Silver Schools, The Gallery of Art in Legnica, Poland, part of the Legnica Festival SILVER
SOFA New York, Park Avenue Armory, New York, USA, presented by Ornamentum Gallery
Dazzle ,Merchant Square, Glasgow, UK
Spring ,Galerie Sofie Lachaert, Tielrode, Belgium
Coburg Jewellery ,Audalde Gallery, Edinburgh, UK
Black & Gold ,Platform Gallery, Lancashire, UK
Coburg House Jewellers Showcase ,The Harley Gallery, Nottinghamshire, UK
2009
Designer Jewellers Group Christmas Exhibition ,Barbican Centre, London, UK
Gifted ,National Museums of Scotland, Edinburgh, UK
Alchemy 10, The Craft Centre and Design Gallery, Leeds, UK
SOFA CHICAGO, Navy Pier's Festival Hall, Chicago, USA, presented by Ornamentum Gallery
Lustre (Lakeside Arts Centre, Nottingham, UK)
Origin (Somerset House, London, UK)
Goldsmiths' Fair, London, UK
Dazzle ,Traverse Theatre Atrium, Edinburgh, UK
The Ring Theory ,Yorkshire Sculpture Park, UK
Showcase ,The gallery tal20, Munich, Germany
Barbican summer exhibition/Coutts London Jewellery Week ,Barbican Centre, London, UK
Blutenzauber- Floral Magic,the Handwerksform Hannover, Hannover, Germany
Emboss,RBSA gallery, Birmingham, UK
Reclaimed,Galanthus Gallery, Hereford, UK
SOFA NEW YORK, Park Avenue Armory, New York, USA, presented by Ornamentum Gallery
Inhorgenta Europe, Special Show Brand New-New Brand ,New Munich Trade Fair Centre, Munich, Germany
New Beginning 09, SDC Gallery, London, UK
Jewellery Showcase ,Open Eye Gallery/Eye Two, Edinburgh, UK
2008
Designer Jewellers Group Christmas Exhibition ,Barbican Centre, London, UK
Christmas Exhibition,Bute Space Gallery and Studios, Cardiff Bay, UK
Lustre ,Lakeside Arts Centre, Nottingham, UK
The Great Northern Contemporary Craft Fair ,The Manchester Grammar School, Manchester, UK
Origin ,Somerset House, London, UK
International Jewellery London Trade Fair,
presented by Goldsmiths' Craftsmanship & Design Award, Earl's Court, London, UK
New Designers, Business Design Centre, London, UK
The Goldsmiths' Craftsmanship & Design Award ,Goldsmiths' Hall, London, UK
Design for Science ,The Museum of Science & Industry, Manchester /The Nobel Museum, Stockholm, Sweden
2007
ECA Centenary Masters of Design ,Edinburgh College of Art, Edinburgh, UK
Design for Science ,Sunderland Museum & Winter Garden, Sunderland, UK
Precious Fresh and New ,Edinburgh, UK
EDUCATION
2008
Edinburgh College of Art, United Kingdom
MA Jewellery & Silversmithing
2003
Hanyang University, South Korea
BFA Precious Metal Design
MIN YOO
EXHIBITION
2014
SIERAAD International Jewellery Art Fair, Amsterdam, The Netherlands
2013
SIERAAD International Jewellery Art Fair, Amsterdam, The Netherlands
2011
Grotesque Genome¡, Mok Space Gallery, London, UK
British-ish, Victoria & Albert Museum, London, UK
New Designers Exhibition, Diana Porter Contemporary Jewellery Gallery, Bristol, UK
New Designers 2011, London, UK
BA Jewellery Design Degree Show at Central St Martins, London,UK
2008
Memento Mori Exhibition, ECOne Gallery, London, UK
EDUCATION
2011-2007
Central Saint Martins College of Art and Design
BA (Hons) Jewellery Design
2003-2002
Dongguk University
Sculpture c
- See more at: http://london.korean-culture.org/en/22/board/1/read/1543#sthash.q0V2yXA5.dpuf